Six Nations: Brian O'Driscoll hoping to heap misery on Warren Gatland's Wales
Brian O'Driscoll insists he has moved on from his spat with Warren Gatland and is now focused on the Six Nations.
Last Updated: 28/01/14 5:27pm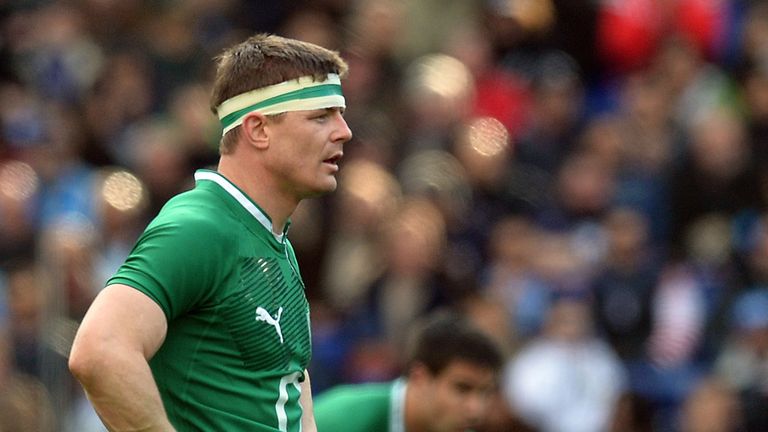 O'Driscoll is bracing himself for a 14th and final Six Nations campaign over the coming weeks, which starts with a home clash with Scotland in Dublin on Sunday.
The Ireland stalwart is also desperate to get on with life after the Lions, and certainly the furore over being dropped by head coach Warren Gatland on last year's tour Down Under.
O'Driscoll slammed Warren Gatland for dropping him for the Lions' final Test in Australia before a 41-16 landslide victory to claim the series offered vindication.
Emotions
The row has rumbled on, though, with Wales boss Gatland admitting last week he jokingly asked O'Driscoll to influence the Aviva Stadium crowd not to boo him.
"What happened, happened, no one can change it," said O'Driscoll. "I don't have any ill-will towards Warren. When it was raw afterwards your emotions are a bit different. Time does heal all wounds and I don't have any animosity towards him.
"What I will look towards is just trying to be involved in a team that can potentially beat his team, but that's next week.
"The coaching thing at the moment doesn't really float my boat. Before Christmas I started thinking too much about the afterlife. There's no rush.
"I'll just enjoy the Six Nations and hopefully the knock-out parts of the Heineken Cup. Hopefully I can try to win some silverware, and once the season's done and dusted and the boots are finally hung up, there will be plenty of time to think about what the next plan is.
"I don't want to look back in a year's time and regret not having given this time everything. That's why I'm focusing solely on rugby and all other thoughts are on the backburner."
Stressful
O'Driscoll wrestled with retirement this time last season and decided against it.
Reaffirming his commitment to quit in the summer come what may, the 128-cap centre revealed no torment over his future has cleared his mind for the tournament ahead.
"I was really unsure last year and it was strange emotions," said the former Ireland skipper.
"It's nice knowing you can empty the tank in this Six Nations knowing it will be the last. From my own point of view it's probably a little less stressful.
"It's probably easier to be a leader when you don't have the captain's armband than when you do have it, there's less expected of you.
"And when you're not captain I think there is an extra onus on you to make sure you are helping out and you're sharing that workload.
"So I will always try to give Paul O'Connell a dig-out wherever I can, just take a little stress off him being the only voice."