Alex Cuthbert hopes Wales will respond after hammering in Ireland
Alex Cuthbert hopes Wales can show their character when they try to rebuild their Six Nations campaign against France.
Last Updated: 09/02/14 10:07pm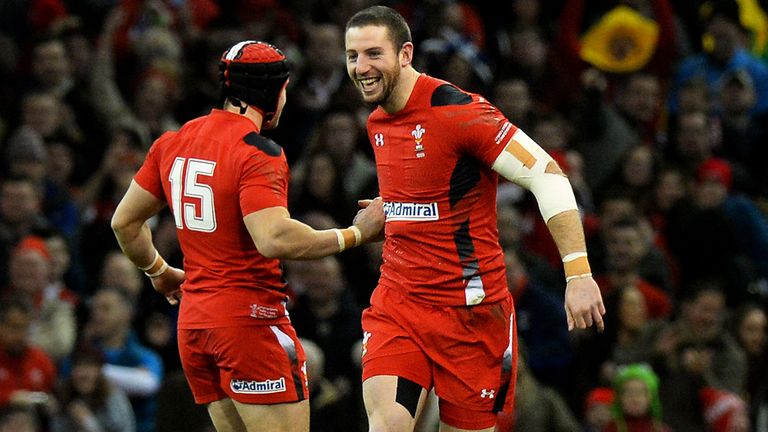 The defending champions were dealt a humbling defeat by Ireland, who underlined their own title ambitions with Saturday's 26-3 win in Dublin.
Wales next face a clash against France in a fortnight and winger Cuthbert believes the players need time to heal their mental scars after Saturday's thrashing.
"We have got two weeks to prepare for France, and that game is going to really show our character and how we bounce back as a squad," he said.
"Fair play to Ireland. From minute one, they turned up and were ruthless in what they did.
"Last year, it was a game of two halves (against Ireland). We kept going up and up in the second-half, but on this occasion we couldn't click as a team.
"I haven't had many of these losses. I've had losses from last-minute kicks and stuff, but this is completely different when you haven't been in charge of the game from minute one.
"Maybe a couple of 50-50s didn't go our way, but we weren't at the races, and they were from minute one to minute 80. We couldn't get into the game.
"It is going to feel like a long week this week. We have got a lot of things to get right, but we've got a lot of time to get them right, which is good. Physically, we are in peak shape, I think it is more mentally."
Flanker Dan Lydiate insists there is no need for knee-jerk reactions and remains confident that Wales can compete with Europe's best.
"We've got to dust ourselves off and work even harder," said Lydiate.
"It was about 60 minutes before we actually started to play. Ireland stopped us playing, especially at the breakdown. It's something we need to sort out.
"The worst thing that you can do is panic. As long as we turn it around for the next game, that's the main thing. It's just working hard to get the result in the next game.
"You've got to have confidence, otherwise what's the point in being here? It's hard to lose, nobody likes losing. We've got to dust ourselves down and put it right.
"We have a massive challenge in the rest of the games, and we are certainly concentrating on sorting ourselves out to put us in a position to do well in this championship.
"You almost feel like you want another game tomorrow after having such a bad game. You want to turn it around and play it again.
"We will have a good sit down this week. We are tying to pick through the bones of it as much as we can."