Delport, Lynagh and Fitzpatrick on the opening round of the Rugby Championship
Sky Sports pundits on the All Blacks' victory over Australia and South Africa's win against Argentina.
Last Updated: 17/08/13 7:51pm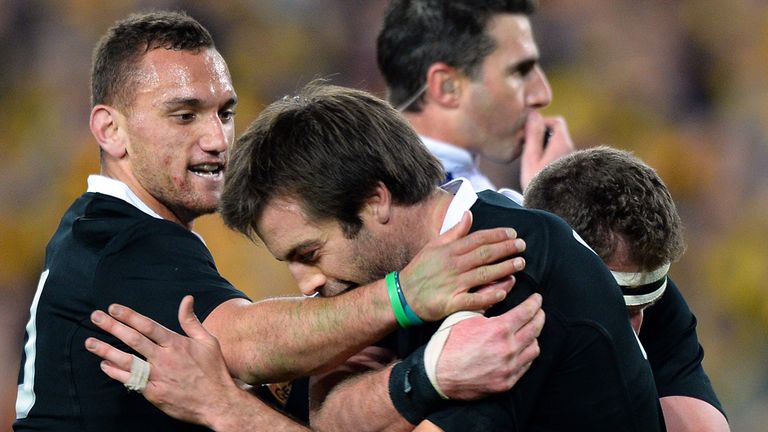 All Blacks ran in six tries to defeat Australia 47-29 in the Bledisloe Cup clash in Sydney with winger Ben Smith scoring a hat-trick. Aaron Cruden, deputising for the injured Dan Carter, Conrad Smith and Richie McCaw, on his international return, also touched down for the defending champions. Read the full Bledisloe Cup match report
Will Genia and James O'Connor scored tries for the hosts in Ewen McKenzie's first game in charge after replacing Robbie Deans, but it was another chastening experience for the Wallabies following their series loss to the British & Irish Lions.
In Johannesburg, South Africa ran in nine tries against Argentina as they racked up a 73-13 scoreline on a day of national celebration in tribute to Nelson Mandela. The Springboks raced to a 60-point victory courtesy of tries from JJ Engelbrecht, Adriaan Strauss, Willem Alberts, Jean de Villiers, Fourie du Preez, Bryan Habana, Duane Vermeulen and Bismarck Du Plessis. Read a full match report here.
Here Sky Sports pundits Sean Fitzpatrick, Michael Lynagh, Thinus Delport and Alfredo Lalanne give their verdict on the opening Rugby Championship weekend.
Fitzpatrick: All Blacks a class apart
"I think they were a class apart. We said they need to 15% better that they were when they played the French and I think they definitely stepped it up. Even in the second half from where they were in the first half. They made a lot of mistakes in the first half. They were very clinical and asked a lot of questions of Australia and then took their opportunities. They were happy to play without the ball and you can name any number of players who played superbly.
"The coaches are putting pressure on the players and saying, 'we need to get better in every game'. It is going to be interesting to see where they go to now. They will be working on things they need to do better and things they can do differently. Different players may come in and that is putting pressure on players to deliver the performance that is necessary to continue to beat teams like Australia, South Africa and Argentina.
"Players are putting pressure on right through. Aaron Smith is under pressure from Kerr-Barlow and TJ Perenara while Dan Carter must be thinking, 'golly I have given Cruden a chance here and he has taken that chance'."
Lynagh: Sensational Smiths
"Ben Smith is so good that you just have to get him in the team. It is surprising sometimes as he just break tackles when he does not look like a big guy. He does things so well and he reminds me of Conrad Smith.
"And there is no mistake Ben Smith scored his three tries on the wing because of the Conrad Smith inside him. Conrad Smith was outstanding, defensively in the first half he read Australia's play so well. Both Smiths have to be in the team."
Lynagh: McKenzie must change culture
"James O'Connor, Kurtley Beale and Quade Cooper have all had trouble in the past. We want people who are going to two the line but because they are so talented and so good, it almost as though as a team or rugby supporters we say, 'ok they are pretty good players and we will keep them,' because there is nobody else really there putting them under pressure.
"I quite liked the team that McKenzie picked. There were a lot of Brumbies in there - they have been good this season so they have been rewarded. But it needs time under a new regime like this and a new environment to try to change the culture of the Australian team where we don't rely on talented players who misbehave off the field.
"I don't think we can (make too many changes for next weekend). Bear in mind that McKenzie was only announced as coach six weeks ago. He needs time and the players need time to get used to him, especially the guys who have not been with him at the Queensland Red. There were times tonight when Australia looked ok but they just came up against this New Zealand avalanche that just did not allow them any space whatsoever."
Fitzpatrick: Richie 's return
"I thought Richie McCaw did well. Considering he has only played one club game and then come on off the bench fo two ten minute spots for the Crusaders, he was quite outstanding. I think he looks fresher (for his year away from the game). You can just see the smile on his face; he looks excited and is enthused to be back in the All Black environment.
"Richie drove around America, came over here (England) and had a total chill out away from rugby. His goal is to go through to 2015 and in any good business you look after your key staff and that is what the All Blacks are doing."
Delport: Brilliant Boks
"We have just got to be so careful of bordering on over-confidence now. Going to play Argentina is always going to be tough but in terms of a display of powerful dominant rugby, that second half was very impressive by South Africa. They pretty much dominated all aspects of the game, but most importantly in the collisions and in the lineouts. That dominance upfront was impressive.
"The driving maul is such a vital area of attack for us and a lot of tries today came out of the driving mauls. Unfortunately today Argentina were not able to deal with the strength of South Africa up front. "
Lalanne: Woeful Pumas
"I would have to go back to 2008 in the same city against South Africa, but I cannot remember a more recent game where Argentina were outplayed so badly. Argentina have been doing well and performing with a solid set piece but none of that appeared today. In defence they were missing lots of tackles.
"It will not be easy to turn things around but that is one characteristic of Argentinian players that they can leave that behind and focus on the next game. I said at the beginning that I think Argentina are targeting the home games but they were not expecting to lose like this I am sure. But I think the home game will be vital. They know they will have the crowd behind them even after this big loss and I think they will try to build from there. They need to pick themselves up quickly because it is seven days away."
Delport: Pick of the players
"Morne Steyn is really on the up and really controlled that game. Willie Le Roux at the back stamped his authority on the game. Francois Louw was ever present and impressive at the breakdown and even Fourie du Preez when he came on really lifted the pace of the game with some great service at the base. As a unit, the forwards were really impressive, especially at scrum time. I thought that was going to be an area of concern but the Beast, Jannie du Plessis and Adriaan Strauss were very strong up there and that is were it started for South Africa."
Delport: A fitting tribute
"It was a wonderful day with Bofana Bofana taking the win and then the crowd really supporting the Springboks. It was amazing to celebrate Madiba in such a way."