Saracens will have plenty of confidence for the Heineken Cup final after destroying Clermont
Saracens will be full of confidence for the Heineken Cup final after destroying Clermont Auvergne at Twickenham.
Last Updated: 26/04/14 6:52pm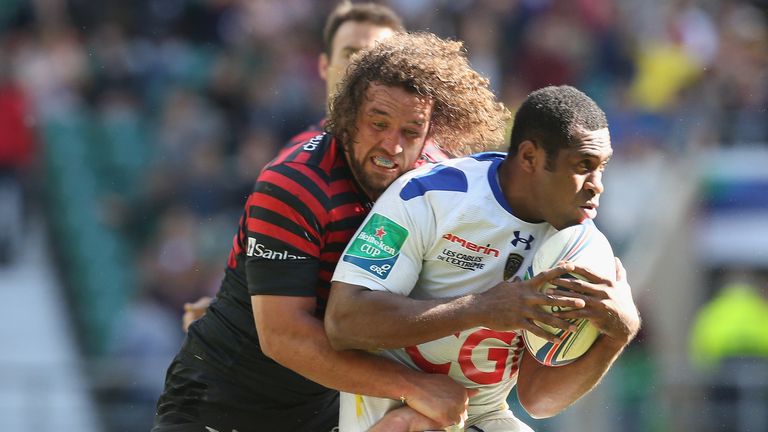 Stuart Barnes called it the best defensive display he has ever seen from an English team as they smashed back Clermont's vaunted forwards and cut down their dangerous backs.
But they were also highly impressive on attack and made every opportunity count as they racked up a record score for a Heineken Cup semi-final.
Saracens will meet either Toulon or Munster in the final and Paul Wallace says this win will have really boosted their confidence.
"This will be huge from a confidence perspective," said Wallace on Sky Sports.
"They have been turned over most times especially in the power stakes by the big French sides. Now they have gone and done it and they will have a real belief in the side. What I really liked was the bench coming on - names like Tim Streather, and how well they performed, so they have real competition for places within the squad.
"One area they will need to look at is the scrum that did struggle at times and they will need to improve for either Toulon and Munster. But they know that they have the fundamentals and the work rate."
Out thought
Jacques Burger, Schalk Brits and Mako Vunipola were exceptional in defence - in fact the whole team put their bodies in the line as they made 156 tackles.
However Will Greenwood felt that is was not just the tackles that won the day.
He said: "It was not just the defensive system from Saracens, it was the understanding of the short side; it was those kicks that turned Clermont's big men. It was waiting for the chances to come, putting the ball through the hands and taking their tries beautifully."
Wallace agrees: "Clermont were out-thought as well. If you look at Saracens it was all about stopping their big powerful players. Clermont are great when they are on the front foot - when they have got the maul going but when Sarries closed that down they looked rudderless and did not have a clue what to do.
"Not having Aurelien Rougerie was a big loss for Clermont - he is a big leader and I think it was a big factor. After the game he was the one taking the team-talk and trying to get them back on track as it were.
"He might have been able to help from a leadership point if he was on the pitch but it was a very disappointing display from Clermont."
Back to business
Wales and Lions star Jonathan Davies, who will be heading to Clermont next season, also had high praise for Saracens but said his future club needed to get back on the horse.
"I think today Clermont ran into a machine that was Saracens defence," said Davies.
"They just could not get their game going. This will hurt them but they have to turn it around as they have a big few weeks coming up in the Top 14. They have to change their focus and get back on the horse."
"Saracens were outstanding - defences win matches and they can really destruct teams. Whoever they meet in Cardiff, well it is going to be a cracking game and they just have to make sure that they can replicate the intensity they brought today."