Sir Clive Woodward and Sean Fitzpatrick discuss the lessons that England must learn from the second Test defeat
Last Updated: 14/06/14 4:20pm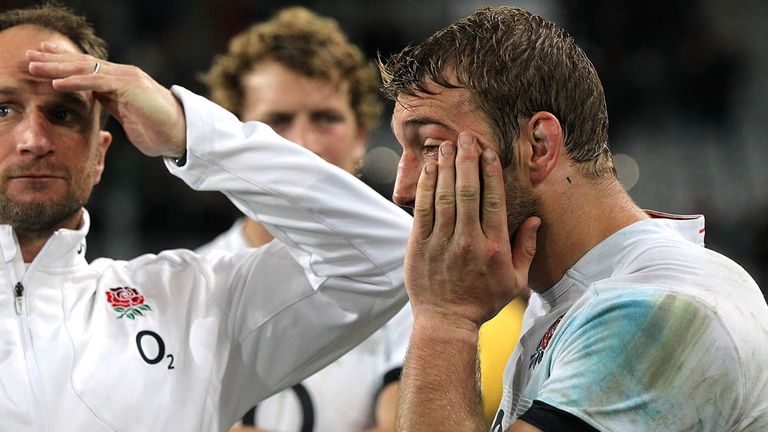 England showed plenty of character and grit but ultimately New Zealand were too good as they wrapped up the series with a 28-27 win at Dunedin on Saturday.
Despite the score line, this was a much improved performance from New Zealand who also won the first Test 20-15 where they were totally dominated upfront by England. This week the All Back front five hit back with an impressive display – especially at the breakdown. England played their part in an exhilarating Test match but were ultimately undone by a 30-minute All Black blitz in the second half.
"That was very pleasing for the All Blacks," said Sean Fitzpatrick. "I thought they were lucky to be 10-6 down at half-time but they definitely picked up the pace in the second half. Once the All Blacks got a bit of momentum then the big names really stepped up. Ben Smith was outstanding as was Julian Savea and Richie McCaw did his job.
"The tight five really stepped up to the plate and delivered a platform – and something that they did not deliver last week. The lineout went well and scrum went superbly. But for me the collision area was quite outstanding.
"For England, well they played very well last week and the challenge this week was always going to be mentally and physically to be able to deliver that three weeks in a row. They delivered it for three halves of rugby but unfortunately in that second half the mental pressure and the physicality of the All Blacks told on the English boys."
A class apart
Sir Clive Woodward, who was the last England manager to win in New Zealand, agrees that New Zealand were a class apart in that second half, but says there were plenty of positives for England to build on.
"New Zealand were just fantastic in that second half - England were very much second best in that thirty minute spell. England need to learn the right lessons here. The Twelvetrees incident [which resulted in Ben Smith's try] was a try!  The offload was on and if Wood had taken the ball England would have scored. So we can't look at that incident and say we have to tighten our game up.
"England need to keep on playing the way they played, they just need to be far more accurate. If England are to win the World Cup then they need a team who score tries. We have scored three tries against the best team in the world.
"The higher you go up in this game it comes down to one or two key moments in the game," added Woodward.
"The result has been a one point game despite the fact that New Zealand have been superior – so it's all down to one or two incident. Yes England are a very good team but at the moment they are not a great team because they are making one or two fundamental errors which is allowing the top teams. I think England have got some very good players who will do very well in a years' time, they just have to learn some hard lessons.
"Let's remember that the World Cup is in England and I think it will take a very good team – including New Zealand to beat England at Twickenham."
Woodward was unsure about England's replacement policy though and says that the likes of Billy Vunipola, Dylan Hartley and Courtney Lawes should have started for England.
"The key thing for me from England's point of few is the substitutions. They brought on Lawes, Hartley and Vunipola on but if we are honest they did not make a big difference. The question for me then is why did we not start with our strongest team – those three starting for me is our strongest team. If you are going to go and play New Zealand you have to put your strongest team on the field of play."
Sean Fitzpatrick says that England's decision making on and off the field was a little confusing and would have liked to have seen Rob Webber stay on at hooker.
"It's down to experience –on and off the field. Robshaw on the field making the right decisions but it's also off the field in terms of the coaching decisions and selection to start with and the replacements," added the former All Black hooker.
"Rob Webber played 45 minutes at hooker – I can't work that out. He played very well last week and was superb for 45 minutes today – he gets subbed for a player who typically does not play well off the bench.
"I would not be too hard on England though. That 30 minute spell in the second half is the best I have seen New Zealand play in probably two years."