McCaw fully motivated
Richie McCaw has urged New Zealand not to waste their opportunity to be crowned world champions.
Last Updated: 22/10/11 7:36pm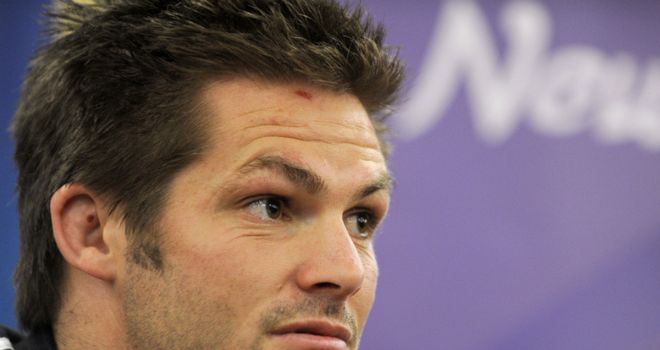 New Zealand captain Richie McCaw has urged his team not to waste their opportunity to be crowned world champions against France on Sunday.
The All Blacks will start as overwhelming favourites to win their second World Cup, 24 years after they also toppled the French on home soil in the inaugural edition of the tournament.
Everything is stacked in New Zealand's favour - home advantage at Eden Park, their status as the tournament's only remaining unbeaten team and the fact they beat France 37-17 less than a month ago.
"It is an opportunity, but there is absolutely nothing for granted," McCaw said.
"We've given ourselves a chance. There are two teams on the start line, and it's making the most of that. It's about everyone, regardless of what happens, knowing that they couldn't have done any more.
"It is putting everything that you've done into action, it's as simple as that, really. The boys are motivated, they're excited.
"But we are up against a team that will be exactly the same, and it is about doing the job for 80 minutes."
Opportunity
In the absence of All Blacks fly-half superstar Dan Carter, there will be even greater emphasis on McCaw's ability to make things happen against a French side whose poor form has seen them scorned in many quarters as lucky finalists.
And he has no doubt where the final stands in his career, adding: "This is the biggest game that I've played in.
"If you are going to pick a game before you start playing any rugby what one would you want to play in, it would be a World Cup final.
"The opportunity to go out on the biggest stage and play for your country against a team like the French, that is an opportunity you play the game for.
"I just want to get out there and show that this team and myself can play our best.
"Being captain of the All Blacks, it's a huge honour for starters, but there there is a lot of responsibility that comes with it.
"The expectation is that you set the standards that have been forged over a long period of time, and I guess I've got to, along with the coaches, drive that. And you have still got to go out and be a top player.
"I look at it as a huge privilege, a huge honour every time you take the field.
"I won't be around forever, but hopefully when I leave one day, people will say that all the history has gone before, all the legacies that have been set, have been upheld if not raised."
Caution
New Zealand have been the world's number one team for so long that it would be a travesty if they do not lift a trophy that has seemingly had their name written on it since day one of this tournament.
Even so, McCaw has urged caution to those who feel that the All Blacks merely need to turn up to win.
"We've got guys that are good enough, but that guarantees nothing," he said.
"People say who deserves what, but at the end of the day in a final it's not about who deserves what, it is about who goes and plays the best rugby on that stage, in this game.
"It is about going out and performing, playing the best game we've ever played in a World Cup final. That is the opportunity that is there, and from our point of view we don't want to let it slip by.
"You have got to produce the goods when it counts. I think a lot of the guys that have been around a while understand that. There are absolutely no guarantees."