Jonathan Sexton is crucial to the Lions' prospects in Australia say Dewi Morris and Ieuan Evans
The Lions will want to wrap Jonathan Sexton in cotton wool ahead of the Six Nations, says Dewi Morris.
Last Updated: 01/02/13 10:35pm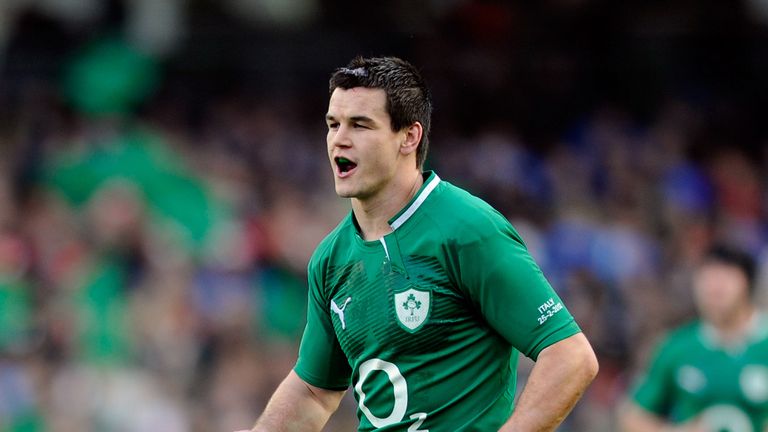 Players hoping to represent the Lions in the three-test tour of Australia this summer are set to go head-to-head in the Six Nations, which starts this Saturday with Wales against Ireland and England against Scotland.
And Morris and Evans insist Lions coach Warren Gatland will be hoping Sexton, more than any other player, will be the first player hopes will come through the Championship unscathed - partly due to the current lack of competition for the position.
"With the Six Nations coming up it is the biggest trial for these guys and I wouldn't wrap anyone up in cotton wool," Morris told the Rugby Club. "I want them to knock lumps out of each other, including the forwards.
"There is a lot of debate about Warburton and a lot of the forwards and they have got to peak in the Six Nations. Gatland will choose after that."
"If there was one, it is the fly-half Jonathan Sexton. He is so, so important to this Lions. He takes the ball flat and he makes back-rows honest.
"You can't leave him alone because he will cut inside and he's gone. I think to beat Australia down there you have to have a No10 that attacks and not just distributes and kicks his goals. They are important but someone who can frighten the living bejesus."
Physical
Evans, who toured alongside Morris in the 1993 Lions, agreed Sexton - currently top fly-half in the Sky Sports Lions Index - is potentially a key player for the tourists and is concerned about the lack of competition at No10.
The former Wales winger is also anxious to see Ireland flanker Stephen Ferris prove his fitness before the series against the Wallabies.
"I would say Sexton as well. Warren Gatland likes his outsides halves to play on the gainline and I like his mix of the game, his stewardship," Evans said.
"He is chippy as well and has that edge to play. He is physical in defence, has a big boot on him and I think that at the moment he is head and shoulders ahead of everybody else and that is too big a distance between him and the next cab on the rank. I would worry about that.
"We need someone else to come through this Six Nations and actually put there marker down.
"As regards the pack, I think there are a lot of runners and riders out there. It is very competitive out there. I think that one guy who strikes me as someone we would need out there if he is fit is another Irishman, Stephen Ferris.
"But he literally needs to be wrapped in cotton wool. That is his problem; he is injure far too often. But he brings so much to bear. I think he could be such an influence on that tour if he is fit so he is another one for me."