Six Nations: Ruaridh Jackson says going back to basics has been key for Scotland
Ruaridh Jackson believes going back to basics has been the turning point in Scotland's Six Nations improvement.
Last Updated: 27/02/13 5:47pm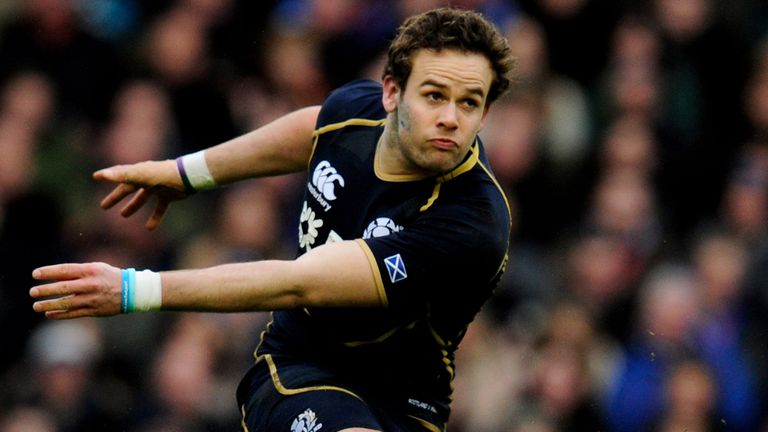 Scotland claimed consecutive wins in the Six Nations on Sunday for the first time in 12 years as they secured a 12-8 victory over Ireland at Murrayfield.
While interim head coach Scott Johnson was critical of his players' tackling following their opening defeat by England, he has had little to complain about since as Scotland have conceded just 18 points in two games against Italy and Ireland.
Jackson said: "It's hard to specify an exact thing that has changed. It's quite crazy to think it has been that long since we won back-to-back games in the Six Nations.
"It shows how frustrating a time it probably has been for Scotland.
"But Johnno has come in and freshened things up a bit. Guys are enjoying it, there is a bit more relaxed atmosphere around the camp.
"We have really stripped back things and are simplifying. We are targeting a few areas we want to work on and that is our focus.
Focus
"It has really narrowed that focus down and it seems to be working. Hopefully we can keep on that uphill rise and hopefully get a third win."
Victory over Italy on March 9 would see Scotland gunning for the title going into the final weekend, and Jackson believes things are finally starting to pay off for his side.
"We are doing a lot of repetitions of our basics - the rucking, the tackle area and all these things that are the backbone of a good solid team," he added.
"Anything on top of that is a bonus, and that will come. We have slowly been getting things right and it is starting to pay off.
"If we can keep doing these things right and keep improving then I think it will put us in a good position to win more and more tests."