Autumn internationals: Scotland coach Scott Johnson reassures dropped Ruarudh Jackson
Ruaridh Jackson has been told he hasn't lost the No 10 shirt despite missing out on Saturday's Test with Australia.
Last Updated: 23/11/13 5:03pm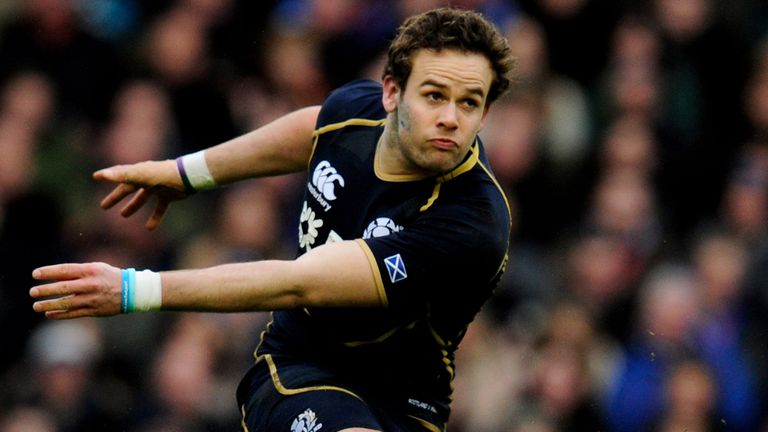 Jackson was responsible for two of the four tries conceded in the 28-0 demolition by South Africa last Sunday and Duncan Weir has been chosen to take over from his Glasgow team-mate at stand-off for the showdown at Murrayfield.
Scotland's Australian head coach Scott Johnson said: "This choice isn't a reflection of Ruaridh's performance last week. Duncan was always down for this game.
"We thought it was appropriate that Duncan was given the time to show what he can do. We want competition at No 10 and they both have different skill sets.
"Ruaridh was disappointed with some aspects of his game against the Springboks but it is easy to go to the obvious things. He did some really brave things in that game and impressed me during the summer tour. He was superb.
"You can't put in what God left out but he has plenty of heart. He is far braver than you would think looking at him. Duncan has that too but his inclusion for Saturday isn't down to what Ruaridh did. It was always in the plan."
Weir made his Dark Blues debut in last year's RBS Six Nations clash with France but made just one further appearance for the national side in 2012 against Fiji.
However, he was recalled midway through this year's championships and replaced Jackson for the final 20 minutes of the Scots' surprise home victory over Ireland.
He went on to start against Wales and Les Bleus and Johnson says he has high hopes for the 22-year old.
Kid
"I remember when I first saw him, I thought: 'Who is this little fat kid playing at No 10?' he added.
"Now I look at him physically and he has changed enormously. He has done really well and despite his looks he is a very good athlete. That helps his game and he has added an ability to attack. I remember during the Six Nations he looked more and more of a threat with every game.
"I like 10s that are threats and he is looking more and more like that. When I first saw him he was static but there is definite development there. I have told all the boys that just because they live in Scotland, you can't be as good at rugby as folk are elsewhere. We can be as good as anyone else, you just need to believe it - so that applies to Duncan.
"How far Duncan can go is only determined by Duncan Weir himself."
For now, however, Johnston has told both of his fly-halves to get used to sharing the pivotal half-back slot.
"It will always get to the stage where it will be one over the other because the best player will always get picked," he said.
"But right now we want to have a look at both Duncan and Ruaridh. They have slightly different games but that is good for us because it means we can play two different ways."
Johnson - born in Sydney - was capped at under-21 level for the Wallabies but insists his loyalties lie firmly with the team in Dark Blue.
"This is really clear cut for me," he said. "As of 6am this morning, my loyalties to Australia have ceased and that was only for the cricket. When it comes to rugby, your loyalties lie with the people you coach. I am with these guys day to day and this is a people's business.
"If you don't respect that, or understand it, then you are in the wrong business. It's not about countries and countrymen, it's about the people you coach. So in that respect, I'm a Scotsman."