Six Nations: Ireland lock Donnacha O'Callaghan delivers damning assessment
Donnacha O'Callaghan admitted Ireland are "a bit ashamed" by their 12-8 defeat to Scotland at Murrayfield.
Last Updated: 24/02/13 8:24pm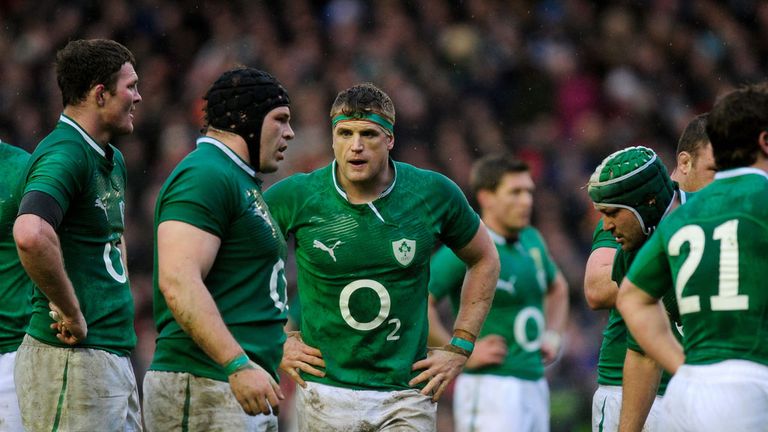 The defeat ended any hopes Ireland had of winning the title and the stats told a very different story to the final scoreline.
Ireland dominated territory and possession by 71% and 77% respectively, while Scotland's tackle count was 128 to their 44, yet they still left Edinburgh with a chastening defeat.
And lock O'Callaghan gave a damning assessment of their performance.
"This will dent our confidence and we must be honest with each other. It wasn't good enough by us today. We're not at Test level to learn, but to win," he said.
"You can look around at other people, but it's man-in-the-mirror time. No fingers are being pointed. That first win in Cardiff does feel like a long time ago.
"Playing for your country is special but you need to get results. You need that buzz, but this feeling is horrible.
"You feel like you've let everyone down and that's the worst part. You're a bit ashamed and that's the way the players were in the dressing room.
"No one was eyeballing each other, everyone's just scurrying around the place. It's a horrible way to spend the next few weeks.
"It's a hard defeat to take, a hugely disappointing one. We're gutted and feel a bit empty.
"When you have that much territory and possession, you have to come away with more. But we were confident at half-time that we'd knocked some of the wind out of them.
"When winning moments are there you have to be good enough to take them, but we came up short in that.
"We can take pride in our defence. We could have stayed out there all day and they wouldn't have scored a try.
"It's a hollow feeling because we implemented our game plan without getting any reward, which is down to the players because sometimes you have to find a way.
"We badly need a result and to get to the Aviva Stadium. We need to get home and find what we need."