Six Nations: Eoin Reddan wants one more Ireland win for Brian O'Driscoll
Eoin Reddan feels Ireland will have let Brian O'Driscoll down if they fail to deliver the Six Nations title in Paris.
Last Updated: 09/03/14 2:07pm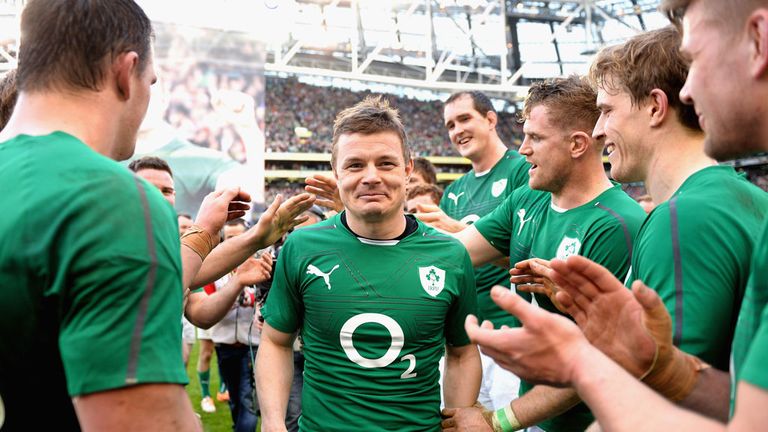 Iconic centre O'Driscoll will retire from international rugby after winning his 141st Test cap against France.
The 47-7 humiliation of Italy at the Aviva Stadium on Saturday leaves Ireland in pole position to win the crown if they beat the French at the Stade de France.
O'Driscoll owns all kinds of Irish, Six Nations and international records but he has only won the title once - in 2009 - and much of that is down to their poor record in France - they have just one win in Paris in 42 years.
"This win over Italy won't mean much if we don't back it up next week," said Reddan. "We already spoke about that in the dressing room after the game.
"It was a great occasion, but the players have to pay their respects in terms of delivering in Paris for him.
"It was right to have it: these moments can pass you by if you don't emphasise them.
Proper send-off
"Now we as players have to deliver, and give him a pat on the back in a different way, and produce a huge performance in France to give him a proper and well-deserved send-off.
"The temptations are there for people outside the group to go over the top on a polished performance, but there's no way we're seeing ourselves as favourites over there."
O'Driscoll's hat-trick in Paris in 2000 saw them to that sole victory in four decades, a game your prop Jack McGrath remembers watching as a 10-year-old, and he will never forget Saturday's atmosphere in Dublin.
"I watched that hat-trick game at home on the TV," said McGrath. "There's a lot of hard work that went into becoming his team-mate.
"If you dwell on it too much it passes you by, but you have to step back and you have to enjoy the times as well.
"This is a time I'll remember for the rest of my life, to be involved in it is brilliant, and it's a pleasure to have been involved in a day like that.
"I don't think there has ever been anything like this in Irish sport, so it's definitely something to remember and something that will go down in history."