Six Nations: Gethin Jenkins is driven to beat England at Twickenham on Saturday
Wales prop Gethin Jenkins accepts that "everything is on the line" in Sunday's Six Nations showdown against England.
Last Updated: 09/03/14 4:03pm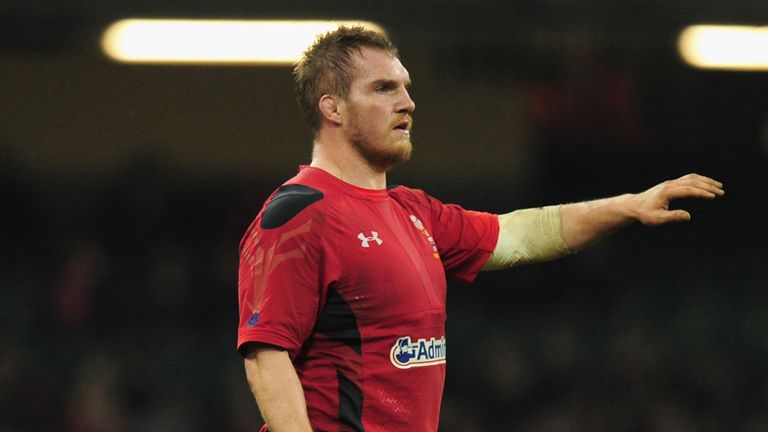 Wales will head to English rugby headquarters in pursuit of a fourth successive victory over their fiercest rivals.
It would also extend their hopes of achieving an unprecedented Six Nations title hat-trick into the tournament's final weekend when they host struggling Scotland.
England, though, will clinch a first Triple Crown since 2003 by avenging last season's record 30-3 drubbing in Cardiff and edge closer towards potentially ending an 11-year title wait.
"There is no bigger challenge than playing at Twickenham," Jenkins said. "I've been lucky enough to get one or two wins there, but it is a fortress for them and a tough place to get a win, especially with the way England that have been performing over the last year or two and the way they have progressed.
"They are a young team and a fit team. They seem to have a very good work ethos and they play for each other. We know we have a tough battle on our hands.
"Everything is on the line on Sunday. It's pretty much whoever wins has a chance of getting the championship. If you lose, you are out of it.
"For us, having won it the last two years, we really want to make a good fist of retaining the trophy."
Good record
It will be triple Grand Slam winner Jenkins' 10th Six Nations appearance against England - he has been on the losing side just three times - on a day that sees him equal Stephen Jones' Wales record of 104 Test match appearances.
Wales recovered from a Dublin no-show against Ireland four weeks ago by crushing France 27-6 last time out, and that impressive recovery act kick-started momentum that could yet lead to a fourth Six Nations crown of Warren Gatland's coaching reign.
"We knew that Ireland wasn't acceptable," Jenkins added. "We were beaten in a lot of different areas.
"We accepted that training wasn't as good as it could have been during that week and the standards weren't where we wanted them to be.
"I suppose we just wanted to prove to ourselves and to the coaches what we could do (against France). We wanted to turn up on that Friday and put the Ireland game out of the memory. Luckily, we did that.
"In the build-up to the France game we went back to what we are strongest at, with sharp (training) sessions and fine detail which we may have let get away from us against Ireland."
Prop Jenkins' longevity at international rugby's coal-face is impressive, given the punishing position he plays in, but the 33-year-old is showing no sign of slowing up as he prepares for another appointment with England, more than 11 years after his first one.
"When I first came through it was a golden era for England. I was on the end of quite a few hammerings in those days," he said.
"So yes, things have changed. They have been rebuilding for the last two or three years and they've brought a few younger players through.
"We went through that phase maybe two years before, but the way they have developed has made them a force in world rugby. Especially looking forward to the (2015) World Cup, they will be right up there.
"I've been on the end of a hiding quite a few times, but we've definitely got a stronger squad these days and we do have more confidence from winning the championship for the last two years.
"That has an effect, but it's a massive game on the day, as we saw in Ireland. We didn't go out there to lose the game, they just out-manoeuvred us and out-muscled us, and you have to bounce back from that."
And as for equalling former fly-half Jones' landmark, Jenkins said: "Stephen has been a great player over the years for Wales and it is a great achievement for me to get to the same level.
"But it won't mean too much during the game. That is where you have to put the performance in and so it will be just like any other game. You have to play well to keep the jersey."