Scott Johnson says Scotland don't fear Sunday's opponents South Africa
Scotland interim head coach Scott Johnson says there is no need to fear Sunday's opponents South Africa.
Last Updated: 16/11/13 2:45pm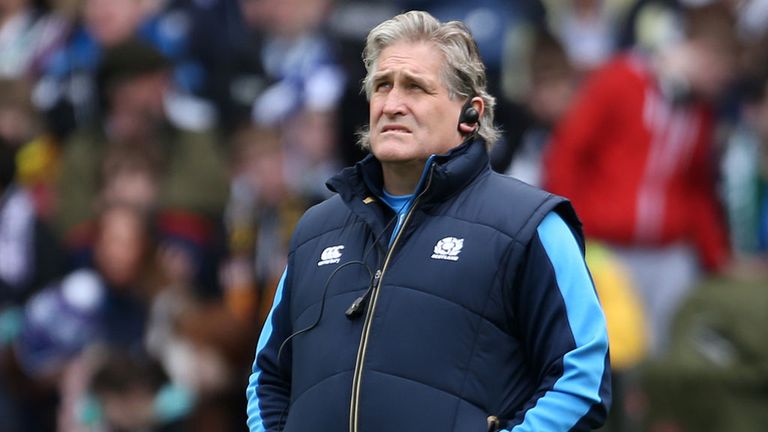 The two teams will lock horns at Murrayfield and the powerful South Africans, who are ranked second in the world, will be hot favourites to prevail.
But Scotland defeated Japan 42-17 last week and Johnson is hopeful of a good display against the Springboks.
"We should be respectful of South Africa but fearing them is different," he said.
"They are a pretty good side and we respect that but fear is the wrong word, on edge is better. Rugby is a combative sport and we want people to be on edge.
"It is all about the performance for me. The guys know I want them to compete, we are not running away from that, but we beat Italy in the summer and I thought the performance was terrible.
"To get to where we want to go, you have to be clear on what you want to achieve, and that is why the result is less of a concern for me at this stage."
Johnson explains changes
Johnson has made six changes to the team who defeated Japan and added: "We are on a different phase to the likes of the Springboks.
"For us, it is a good chance to see guys. We have still got a lot of players sitting on the bench injured, so it gives others an opportunity.
"But part of the phase we are on is about finding out what some of those other guys are about.
"There is no doubt that in certain positions we are a lot deeper than we were when I took over. We are still not where we need to be though.
"The summer tour helped us with 10 new caps and there was another five or six in the Six Nations before that.
"That is what this country needs, a greater pool to pick from so that is why we are doing what we are doing."
Johnson says his team need to tackle well if they are to be competitive on Sunday.
"Putting big men to the ground early is the area we really need to be sharp at," he said. "If they get a roll on, that's their game, and we need to stop that.
"From our point of view, we certainly have the will to do better at the breakdown than we have. Some technical stuff still has to be improved but we are moving in the right direction."
Boks not complacent
South Africa beat Scotland 30-17 in Nelspruit last June but the Scots led 17-6 early in the second-half and only lost control when forward Jim Hamilton was sent to the sin-bin.
Springboks captain Jean De Villiers said: "We are expecting anything and everything.
"I remember the build-up to that game in Nelspruit, when a lot of the South African media wrote them off after their performance against Samoa (a shock loss) and maybe, on the day, they caught us with our pants down. This time we'll expect anything.
"Certain teams will have certain approaches to the game, but we know what to expect against Scotland and we know we have struggled against them in the past. We won't underestimate them.
"For us, it is about improving as a team. We've got two games left this year and we want to end on a high."