Warren Gatland: I took Andy Farrell on Lions tour to spy on England
Warren Gatland took England defence coach Andy Farrell on the Lions tour to get the inside track on England.
Last Updated: 25/10/13 7:34pm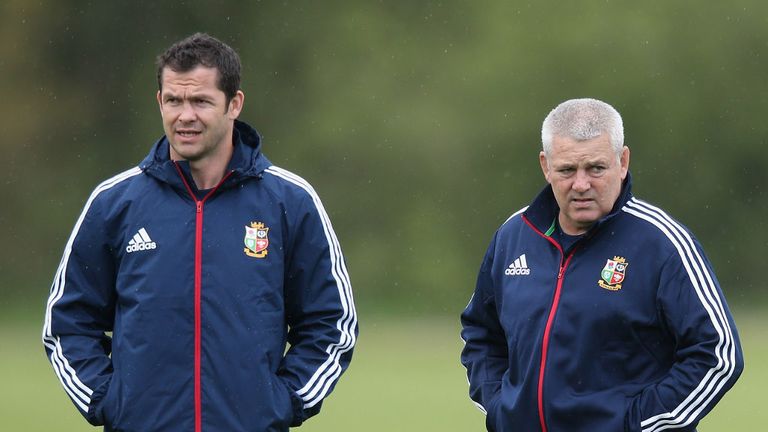 Gatland returned to his former job as Wales coach after leading the Lions to a series victory in Australia in the summer.
His decision to take England man Andy Farrell to Australia as his defence coach ahead of his Wales No 2 Shaun Edwards was a major surprise.
The decision upset Edwards, but Gatland revealed that he had an ulterior motive in taking Farrell.
Talking to the Western Mail, Gatland revealed he had two main reasons for making the decision.
He said: "I made it, a little bit selfishly, it was a chance for me to bring in someone who I hadn't worked with in the past, in terms of Andy Farrell, who was well regarded by anyone who I spoke to.
Reflective
"It doesn't take away from the respect I have for Shaun as a coach, but it was good from that aspect to work with somebody else. I have a huge amount of respect and regard for Shaun.
"There was, I suppose, a part of me looking long term - knowing that Andy could do a good job - but also, if you are thinking you know what the World Cup pool is and knowing that we were going to have England in our pool, potentially it gives me a little bit of an insight into England and their preparations.
"That's a little bit of the cutting side of me. You don't admit those things and that's probably more of a reflective decision, saying what happens afterwards.
"There was no doubt that by us going on the Lions, we have given away, from a coaching set up and backroom staff, a huge amount of information, so it's always nice to get something back as well."
Wales and England are in Pool A for the 2015 World Cup, along with two qualifying teams.