Toulon's Nick Kennedy savours Heineken Cup triumph
Nick Kennedy describes winning Heineken Cup as pinnacle of his career and vindication of his decision to move to Toulon
Last Updated: 19/05/13 2:25pm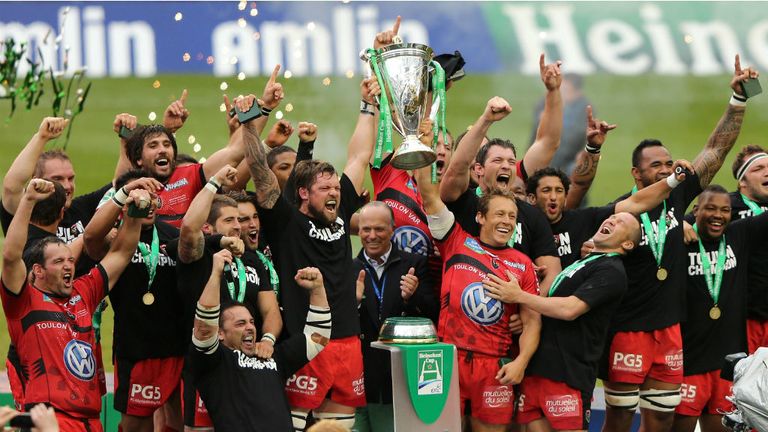 Kennedy knew he was leaving any England ambitions behind when he swapped London Irish for the Cote d'Azur and there were times this season when he wondered if he had made the right call.
The 31-year-old initially struggled to break into the star-studded Toulon team - but that setback just made yesterday's staggering 16-15 triumph over Clermont Auvergne all the sweeter.
"I have absolutely no regrets. It is such an amazing feeling to win after everything," Kennedy said.
"I had some difficult times this year and there were times I wondered if it was the right move - but lifting that trophy has justified it all.
"It is one of the reasons I came here, to win trophies. To win the Heineken Cup has been a goal of mine for years and to win it with these guys is amazing."
Clermont dominated the game in terms of possession and territory and when they surged 15-6 ahead early in the second half, with tries from Napolioni Nalaga and Brock James, it appeared Toulon were set for heartbreak.
But they refused to concede defeat. Jonny Wilkinson landed a third penalty and then converted Delon Armitage's breakaway try to nudge Toulon into the lead.
After that it was all hands back to the pump in defence. Toulon made a remarkable 176 tackles to Clermont's 66 and they held on to claim a first major trophy in 21 years.
Clermont lost their composure at the death, with David Skrela seeing a drop-goal attempt charged down and Sitiveni Sivivatu blowing their last attacking chance with a forward pass into touch.
"They were clear favourites today all around Europe and I have so much respect for the boys. We showed so much heart, especially in that last five minutes," Kennedy said.
"Everyone was shouting 'drop goal, drop goal' because one kick and it was over for us. For Mathieu Bastareaud to get off the line after such a tiring game was great work."
Wilkinson praise
Kennedy reserved special praise for Wilkinson, who not only combined with Bastareaud to deny Skrela but was inspirational in Toulon's European triumph.
Wilkinson did not miss a kick in the knock-out stages, landing 17 from 17 as Toulon beat Leicester, Saracens and then tournament favourites Clermont.
Armitage admitted after the game he should have run around under the posts instead of showboating as he scored his try - but such is their faith in Wilkinson that it never occurred to him.
Kennedy said: "Jonny practises so hard and he deserves everything.
"We are so grateful to him as a team because when we are at home sitting on our backsides he is out there kicking, working for moments like that.
"He hasn't missed a kick in the quarter, semi or final. He is absolutely phenomenal.
"He should have won a lot more silverware but he is a loyal man. He was loyal to Newcastle, who were usually at the other end of the Premiership, and he is very loyal to Toulon.
"That is one of the reasons he is not going with the Lions, because he wants to be there in the (Top 14) final. Jonny loves Toulon and everyone in Toulon loves Jonny."
Toulon have little time to celebrate their Heineken Cup triumph, with a Top 14
semi-final showdown with Toulouse looming on Friday night.
"It's not how you start, it is how you finish," laughed Kennedy. "So far it is just amazing. Hopefully we have two matches left (to complete the double). The guys around me are inspirational characters."