Sprinters Tyson Gay and Asafa Powell have failed drug tests
American 100m record holder Tyson Gay and Jamaican sprinter Asafa Powell have both failed drug tests.
Last Updated: 15/07/13 12:07pm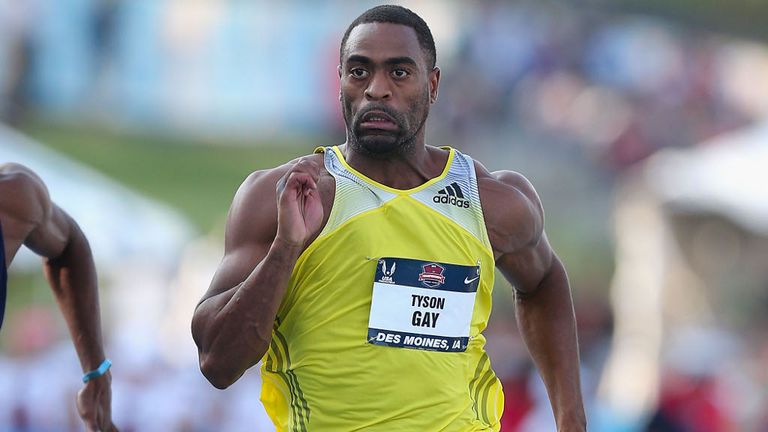 Gay's A sample from an out-of-competition test in May returned a positive result for a substance which has not yet been revealed.
He has now withdrawn from the forthcoming World Championships and promised to take any punishment "like a man", although he denied knowingly taking a performance-enhancing drug.
The 30-year-old, the 2007 world champion and the fastest man over 100m this year, said he was told of the positive test on Friday by the United States Anti-Doping Agency.
He said: "I don't have a sabotage story. I don't have lies. I basically put my trust in someone and I was let down. I made a mistake.
"I know exactly what went on, but I can't discuss it right now. It has been tough for me. I have always been a drug-free athlete.
"I hope I am able to run again, but I will take whatever punishment I get like a man."
Powell later confirmed that he was among five Jamaican athletes who had tested positive for a banned substance at last month's national championships.
The 30-year-old has won gold medals in the 4x100m relay at the Olympics and World Championships and held the world record before his compatriot Usain Bolt.
"I will confirm that a sample I gave at the National Trials in June has returned 'adverse findings'," said Powell, who failed to make the Jamaican team for the World Championships.
"The substance oxilofrine was found, which is considered by the authorities to be a banned stimulant.
"I want to be clear...that I have never knowingly or wilfully taken any supplements or substances that break any rules. I am not now nor have I ever been a cheat.
"My team has launched an internal investigation and we are co-operating with the relevant agencies and law enforcement authorities to discover how the substance got in my system.
"I assure you we will find out how this substance passed our rigorous internal checks and balances and design systems to make sure it never happens again."
Olympic 4x100m relay silver medallist Sherone Simpson was another of the five athletes to test positive for a stimulant at the Jamaican national championships.
These positive tests come a month after another Jamaican Olympic champion, Veronica Campbell-Brown, tested positive for a banned diuretic.