Jeff Horn stuns Manny Pacquiao to claim the WBO welterweight crown
By Rory O'Callaghan
Last Updated: 02/07/17 12:19pm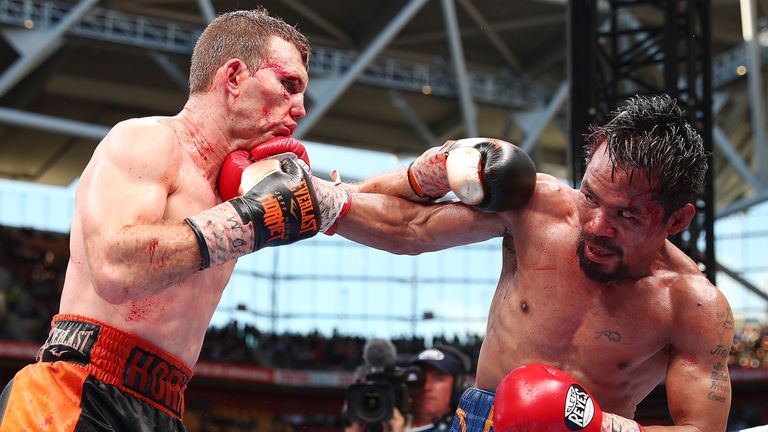 Jeff Horn stunned Manny Pacquiao to claim the WBO welterweight title in front of his home support at the Suncorp Stadium in Brisbane.
The unfancied Australian, who until recently was working as a PE teacher in a secondary school, caused a major upset after the three judges scored the contest 117-111, 115-113, 115-113 in his favour on Saturday night.
Pacquiao was widely expected to dispose of Horn and set up a potential rematch with Floyd Mayweather but the 38-year-old struggled to cope with the aggression of his opponent, who immediately offered the Filipino a rematch in his post-fight interview.
Horn, fighting in front of a 50,000 strong partisan home support, shaded the opening round with his height and reach advantage before former eight-division world champion Pacquiao worked his way into the bout in the following two rounds.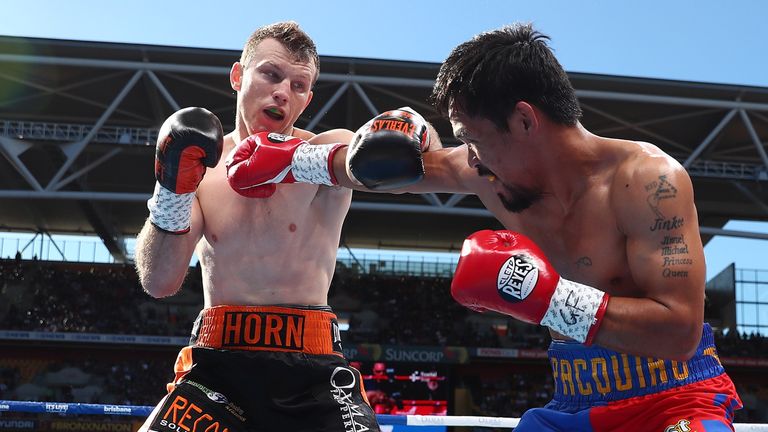 The home fighter was caught by a solid left counter in the fourth which left him bleeding above the right eye as Pacquiao began to dominate the fight.
However, Horn responded well in the fifth before the two men accidentally clashed heads in the following round - leaving Pacquiao with a cut to his hairline, which hampered his vision for the remainder of the fight.
Horn moved ahead of the scorecards after slightly shading the seventh and eighth but was almost stopped in the ninth when Pacquiao landed a flurry of telling shots on the Australian.
The Queenslander showed great powers of recovery to keep attacking in the 10th, with both men exchanging blows in the final two rounds as the fight went to the scorecards.
Pacquiao's late dominance was not enough to sway the judges, although the Filipino fighter may feel aggrieved at the wide nature of the scorecards.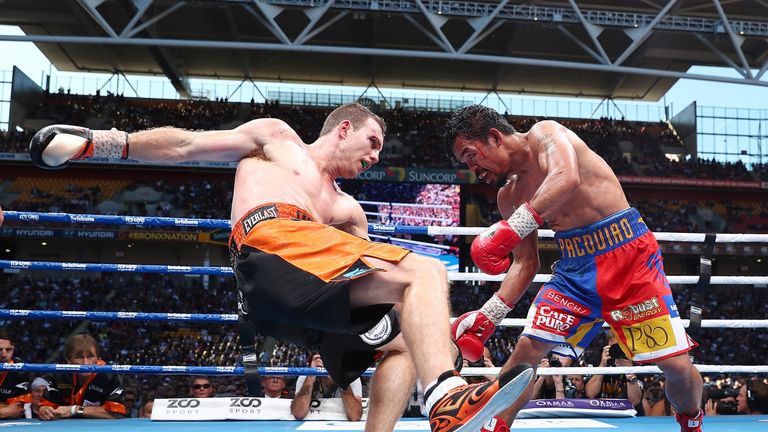 'Very tough. I didn't expect that tough,' the 11-time world champion said. 'It's okay, it's part of the game. That's the decision of the judges, I respect that.'
Horn, meanwhile, has set his sights on fighting Floyd Mayweather, should Pacquiao turn down his offer of a rematch.
The Australian brandished a walking stick after being crowned champion and taunted the 40-year-old, who is set to come out of retirement to face UFC star Conor McGregor later this year.
'This is no joke, which one does he want? The walking stick or the gloves?' Horn said.