Dillian Whyte has laughed off Deontay Wilder's demand for him to earn a WBC title shot by fighting Luis Ortiz, insisting the Cuban turned down an offer this year.
The British heavyweight is yet to receive a fight against the WBC champion, despite working his way into the No 1 spot in the WBC rankings, with Dominic Breazeale granted the next mandatory bout for Wilder, who will firstly make a voluntary defence against Tyson Fury on December 1.
Live Fight Night International


Wilder told Whyte this week "You fight Luis Ortiz, I promise you, you have Deontay Wilder," but the Brixton man says 'King Kong' was not willing to face him in the summer.
"In my last two fights, I fought two former world champions, yet Wilder bleats that I have to fight Ortiz to be second placed mandatory," Whyte told Sky Sports. "Who's Ortiz's best win? A dreadful points win over Malik Scott? Who Chisora knocked out.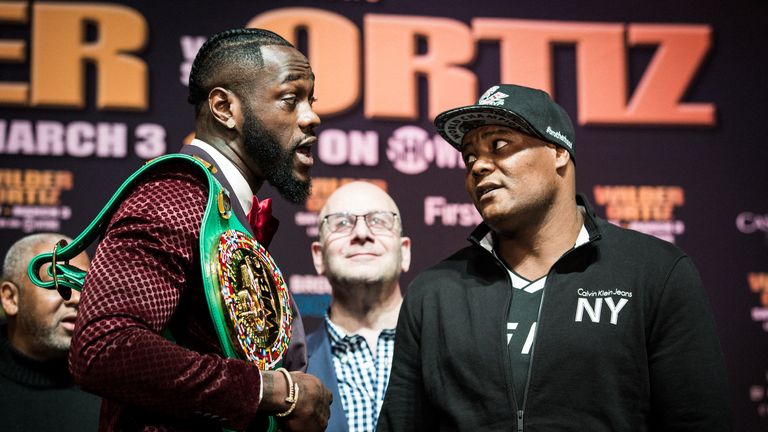 "I offered to fight Ortiz years ago, but he didn't want to know. He didn't even want to know this summer and asked for silly money coming off his knockout loss to Wilder, and made it clear that he wouldn't be ready for July 28, which was the date we had available. Funnily enough it didn't stop him fighting someone else on that day.
"Wilder wants me to jump through more hoops that he dictates before I can fight him, yet he fought journeyman Jason Gavern immediately before he fought for the world title."
Fury and Wilder pushed and shoved each other in front of the watching media as their press tour reached America this week, but Whyte was far from impressed by their antics.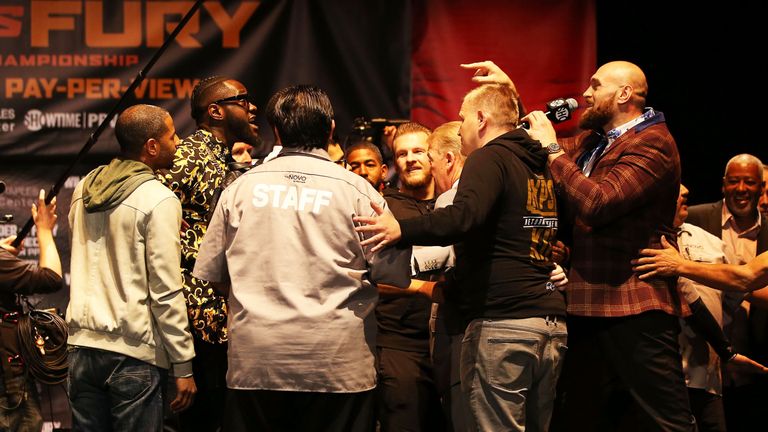 "It was pure pantomime with those clowns prancing around the stage kissing and hugging each other," he said. "All that was missing was the crowd shouting 'he's behind you!' Even wrestling fans wouldn't buy that rubbish."
Promoter Eddie Hearn insists Whyte still has plenty of options ahead of a possible next fight against Dereck Chisora in December, and the WBO could install the 30-year-old as mandatory challenger for Anthony Joshua's WBO belt.
"The WBO is next [mandatory for Joshua], so it's all down to what the WBO decide," Hearn told Sky Sports. "They are going to review it at their convention, which is right at the end of October.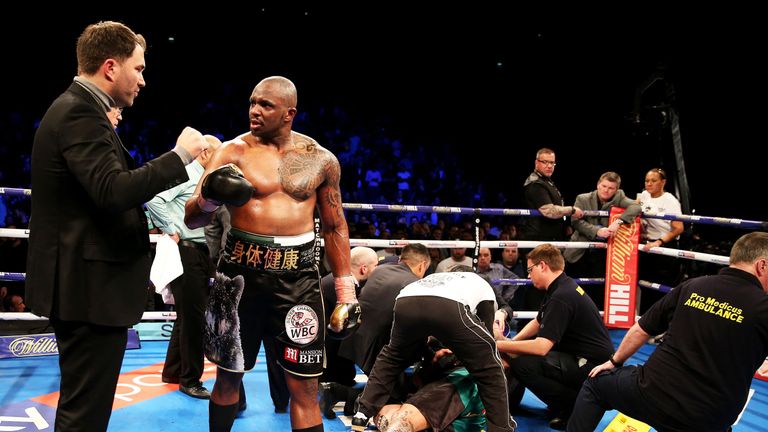 His shot will come, and we'll see if the Chisora fight comes first in December.
"Dillian Whyte is probably the frontrunner right now for the WBO mandatory, and then after that it's IBF mandatory, which is the winner of Hughie Fury against Pulev. That's probably not going to come round until the end of 2019.
"Basically if you're not in a unification, which would be an undisputed fight, you will have to continuously fight your mandatories.
"Again, that will work well for us in terms of, if it's not Wilder on April 13, it will be a WBO mandatory, which could well be Dillian Whyte.
"He won the silver title, he's been No 1 for a long, long time, yet Dominic Breazeale is mandatory for the WBC title, so it's all a bit confusing.
"But Dillian's in a great spot. It looks like he could be mandatory for the WBO, he's got the position in the WBC as well, he's top five with the WBA. His shot will come, and we'll see if the Chisora fight comes first in December."
Watch the action from Chicago with Jessie Vargas vs Thomas Dulorme, Artur Beterbiev vs Callum Johnson, Daniel Roman vs Gavin McDonnell and Jarrell Miller vs Tomasz Adamek, 2am, Sunday, Sky Sports Action or follow it on our live blog at skysports.com/boxing or on the Sky Sports App.