Kevin Pietersen will take some time to consider his England future after the door was opened for a return by incoming ECB chairman Colin Graves.
Graves said on Sunday that he would support the decision of selectors and coaches if they wanted Pietersen back in the fold for the first time since the end of the 2013-14 Ashes whitewash.
Pietersen has been overlooked since the end of that tour to Australia, his relationship with then coach Andy Flower having completely broken down.
He has since been critical of the England setup in his controversial autobiography but has always said he had not given up on the chance of representing the country again, although he admitted Graves' comments had come as something of a surprise.
When asked for his reaction on Sky Sports World Cup's The Verdict, Pietersen said: "I was pleasantly surprised this morning actually.
"The previous chat was clearly that I had been banned from playing for England and that I would never play for England again, which for me was incredibly sad. I do feel my England career was cut short and taken away from me at 33.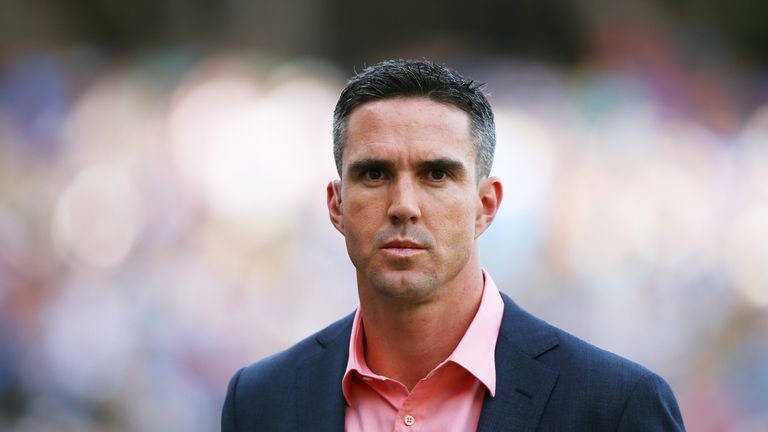 I'm certainly not going to hassle Colin (Graves) on a Sunday, but I'll definitely want to speak to the ECB.
Kevin Pietersen
"You have a look at the guys like (Kumar) Sangakkara, (Tillakaratne) Dilshan, all these guys scoring runs, they are late on in their 30s and it doesn't mean that somebody can't still perform at the best of their abilities. 
"It's one that I will have to have a think through."
Graves said Pietersen would have to be playing county cricket to get the attention of the selectors but Pietersen already has deals with the Indian Premier League and Caribbean Premier League, which led to the early end of his deal with Surrey last October.
But Pietersen said the comments could mean big changes to his future commitments, as he added: "I said that to Surrey when I was told there was no future for me in English cricket and the MD of English cricket (Paul Downton) had said that I was banned... so I had to look for different ventures.
"This has only happened in the last three of four hours. I'm not going to hassle anybody on a Sunday, I'm certainly not going to hassle Colin on a Sunday, but I'll definitely want to speak to the ECB.
"Let's just be clear - I want to play for England again so I am sure if it (the offer) is genuine, I would love to be given that opportunity. 
"I'll need to go away and make some decisions. I'll need to speak to some people and I've spoken to a couple of them this morning already. But this is really encouraging.
"It's decisions like that I'll have to make this week. This is not about money. I live very happily. This is a clear case of wanting to know whether or not there is a genuine appetite out there. Do I want to play for England again? Absolutely."
Pietersen admits to being a fan of Graves, whose plans for a changed domestic scene could include a new Twenty20 franchise league.
"I'm absolutely so positive and buzzing about the new regime that's coming in. It's heartening to see English cricket looks like it's going to go in a positive new direction," he added.