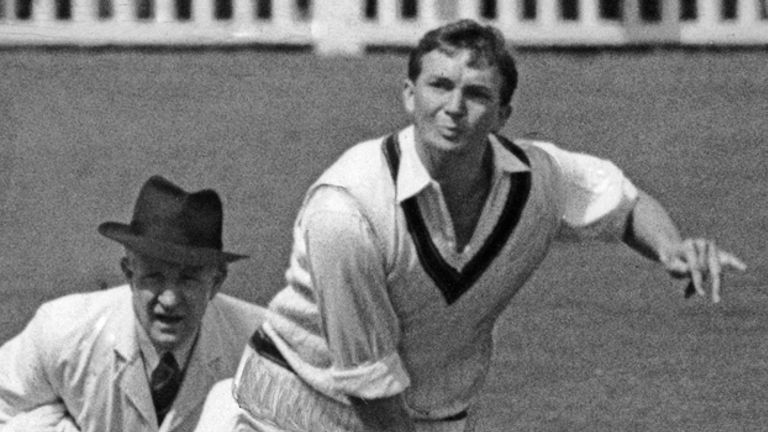 Sir Ian Botham says Richie Benaud – who has died at the age of 84 - will be remembered as an "iconic" broadcaster.
Benaud, who had been fighting skin cancer, was one the most influential voices in the game in the past 60 years.
He was a national treasure in his home country, and much loved abroad too. In England he was one of the most recognised - and imitated voices - in any sport.
One of his most famous pieces of commentary was describing Ian Botham smashing a six in the 1981 Ashes: "Don't even bother looking for that, let alone chasing it. It's gone straight into the confectionary stall – and out again."
Botham said: "He was just a great person - a great leader of teams and men. I got to know him much better as a commentator. I did interviews with him, shared a few glasses of red wine in various parts of the world. He and John Arlott, they were the two guys who, well, the best way to describe is that they could say more in two sentences than most people could in two paragraphs. The late John, now Richie and of course there was Brian Johnston as well…as far as Australian commentating goes, Richie Benaud...iconic."
Botham's fellow Sky Sports commentator and former England captain Nasser Hussain said: "He's one of the greats of the game, especially in the broadcasting sense. He is the top man, as far as commentating is concerned. And every other commentator in world cricket will say that. He is what you set your standards by. Any time you put on a game of cricket in Australia you listen out for one voice...maybe with a bit of Bill Lawrie and Tony Greig and that Channel 9 group. But the main man, make no mistake, the main man was Richie Benaud..."
Michael Atherton added: "One of the early things he said to me was 'you're like a guest in someone's front room, for six hours in the day – so try not to irritate them."
Australia's other great leg-spinner Shane Warne admits he learned a great deal not just about the art of back-of-the-hand spin but about commentating from his old mentor.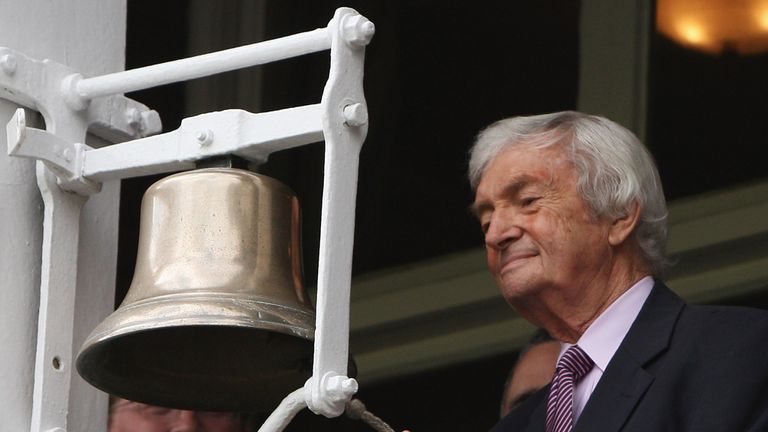 The main man, make no mistake, the main man was Richie Benaud...
Nasser Hussain
Benaud once said: "My mantra is: put your brain into gear and if you can add to what's on the screen then do it, otherwise shut up."
Warne said: "He was brilliant, just great to talk to. He taught me about the pregnant pause - don't talk too much. Just describe what we're seeing."
ECB Chairman Giles Clarke said: "This is a very sad day. Cricket has lost perhaps its greatest advocate and someone who was a true giant of the modern game. Richie was a marvellously talented cricketer who in the early part of his career gave much to the Australian team as a player and a leader. But he will always, above all, be remembered as one of cricket's most influential and authoritative voices; a supremely gifted broadcaster, journalist and author."
England coach Peter Moores said: "Richie sums up all that is great about our sport. He was a true gentlemen with a real insight into the game.
"He made heroes of the players he commentated on and his enthusiasm for the sport made you want to get off the sofa and play. He will be sorely missed."
"As a cricketer he was a fantastic leader and one of the finest exponents of the art of leg spin the game has ever seen. As a commentator his skill was unrivalled – charismatic, engaging and informative. He truly was the master of the pause. He is irreplaceable as a broadcaster and his passing will leave a void in the Media Centre during this year's England v Australia Test match at Lord's."
The MCC flag on the North Clock Tower at Lord's has been lowered as a mark of respect and will remain in that position until the funeral. Benaud's portrait, which usually sits on the south stairwell in the Lord's Pavilion, has been moved to the famous Long Room to allow visitors and MCC Members to pay their respects.
Prime Minister David Cameron tweeted: "I grew up listening to Richie Benaud's wonderful cricket commentary. Like all fans of the sport, I will miss him very much."
A post from India great Sachin Tendulkar read: "#RIPRichie Wonderful personality who was always warm and encouraging. Had great insights on the game.
"Fondly remember our discussion on the art of leg spin along with Official @ShaneWarne in Sharjah. Last spoke to him late last year.
"Was not well but full of enthusiasm. Great loss to the world of cricket. Heartfelt condolences to Richie's family and friends."
Sri Lanka's Kumar Sangakkara added: "So sad to hear about the passing of Richie Benaud. The great voice of cricket is no more. He defined an era with conviction and sincerity."
Benaud's last broadcast in England after 42 years was at the last Test of the Ashes series at The Oval in 2005, when the English reclaimed the old urn.
On the final day, the stadium announcer let the crowd know it was Benaud's last day, and the capacity crowd rose for a standing ovation.
Australian players in the field, including Warne and Glenn McGrath, clapped above their heads.
As the Test was winding toward a draw on the last evening, Benaud's live TV monologue segued from his fondness for a particular song to his own departure.
"That wonderful duet, 'A Time To Say Goodbye.' And that's what it is, as far as I'm concerned. Time to say goodbye," he said. "Thank you for having me. It's been absolutely marvellous for 42 years."