England's Stuart Broad and James Anderson talk bowling with Sir Ian Botham and Bob Willis
By Sky Sports Cricket
Last Updated: 25/08/17 12:56pm
What makes a successful bowling partnership? We decided to ask England's four most potent bowlers of all time.
James Anderson (492 wickets) and Stuart Broad (384) now occupy the top two spots in the wicket-takers list after Broad passed Sir Ian Botham's haul of 383 Test wickets in England's first Test win over the Windies at Edgbaston.
We caught up with the two of them ahead of the second Test at Headingley and, in the company of Botham and Bob Willis (325), discussed a range of topics including the 1981 Ashes, training techniques and why bowlers have a tendency to be a bit grumpy...
That's 1,584 Test match wickets around the table! Click on the video above to watch Ian Ward's interview with the fearsome fast-bowling foursome in full, and read on for more below.
Ian Ward: A fantastic team performance to beat Windies in the first Test at Edgbaston, but also a massive personal milestone for you, Stuart, beating Sir Ian Botham's record. What are your memories?
Stuart Broad: First of all, getting 19 wickets in a day was awesome. You don't get that too many times, bowling a team out virtually twice in a day. It was quite an interesting week; the first day-night Test match meant it was quite difficult to get the sleeping patterns right and the right food in. But it was a brilliant performance to win inside three days and a special moment to go past this legend [Botham]. I remember Jimmy doing it in Antigua, and how much it meant to him - and for the team, for him to get to that level. It was special to do it, and do it on a day we won a Test match.
Ward: [To Botham] Sleeping patterns: did you ever get that right during your career?
Ian Botham: I didn't really bother with them, if I'm honest. They seemed a bit of a waste of time. But, you think back to when I gave Stuart his first England cap, in Colombo, seeing him at zero, and now he has 384 wickets. At the time, you think no one is going to worry me on 383, but then Jimmy cruises past - I said at the time, he'll get 550 and I'm still on course for that, so stay fit Jim - and I thought the other night, how bizarre Broad has done it now too after I gave him his cap.
Ward: You were genuinely pleased to see these guys go past you; you were quite emotional?
Botham: I love it. That's what records are there for, to be broken. I'm safe on the runs I think, safe on the hundreds. But that's what it's all about; you set a benchmark and you want someone to better it. If that happens, it means the game is going forward.
Ward: [To Anderson] Is that any sort of motivation for you - 500 coming up, 550, as Beefy says?
James Anderson: Not really. I just really enjoy playing cricket. I think Stuart touched on it after the game when he spoke to you at Edgbaston, that the moments I'm going to remember, we're going to remember, are having a beer after series wins - the series win in Australia, the one in India when it had not been done for 25 years. Those are the memories I'm going to take with me. The records are obviously great because they mean you've done well personally, you've stayed in the team, contributed to victories, but it's the moments you share together that will stick with you.
Ward: [To Willis] how important is it to have a partnership - Jimmy and Broady's, yours with Beefy - to help you as an individual bowler?
Bob Willis: Very important indeed. You need that workhorse bowler to run up hill, into the wind. That was his [Botham's] job. I then had my little five-over spells downhill, down wind. One time, Mike Brearley had Beefy bowling 41 overs one day from one end, all but about seven overs.
Ward: [To Broad and Anderson] Who is the brains in your partnership?
Broad: Well, he gets the wind behind him, so probably him.
Ward: Is there any jealousy or competition between the two of you? Or is it very much a team job?
Anderson: I think we realise that we need each other. We bring out the best of each other, and not just when we're bowling in tandem. In the field, if I'm at mid-off, I'll try and give Stuart advice and a bit of a helping hand, if I can. And it works the other way round. It's not like, I'm the senior bowler, so I'm going to work with the wind. We try to figure out what is best for the team.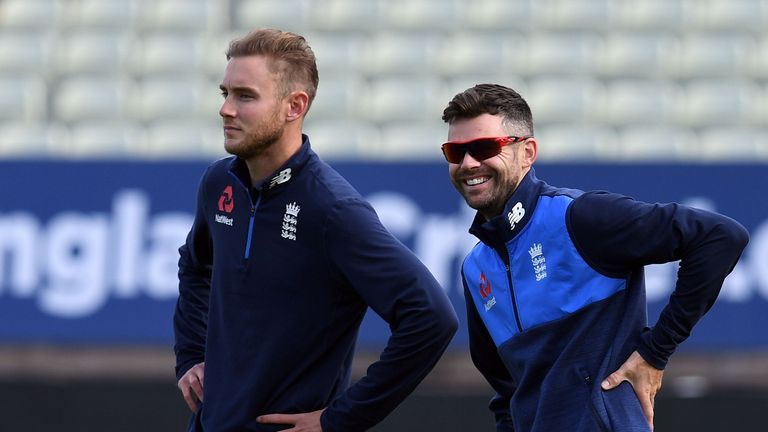 Broad: Also, with bowling in partnerships; the quicker you take 10 wickets, the quicker you're off the field and having a brew with your feet up, so you're always going to work together with the bowling unit to try and create as many chances as possible. What Jimmy says about fielding at mid-off - that's quite a deliberate policy we've turned to over time. If you're fielding at fine leg, you don't actually speak to each other for 12 overs of a spell. Now, being only a few yards away from each other, when we're both bowling, you can pick up what the pitch is doing, if it's swinging, a lot quicker. That has really helped us in the past four or five years.
Ward: [To all] Finally, has your relationship with each other always been so cordial?
Willis: No one likes criticism do they? I started commentating and was really nice to the guys I'd been in the dressing-room with the year before - 'oh, he was really unlucky there' - but then I thought that's not really going to make me a career in broadcasting. So I got the old chainsaw out and starting sawing them off at the knees.