Giles Clarke retiring as President of England and Wales Cricket Board
By PA Sport
Last Updated: 09/05/18 8:27pm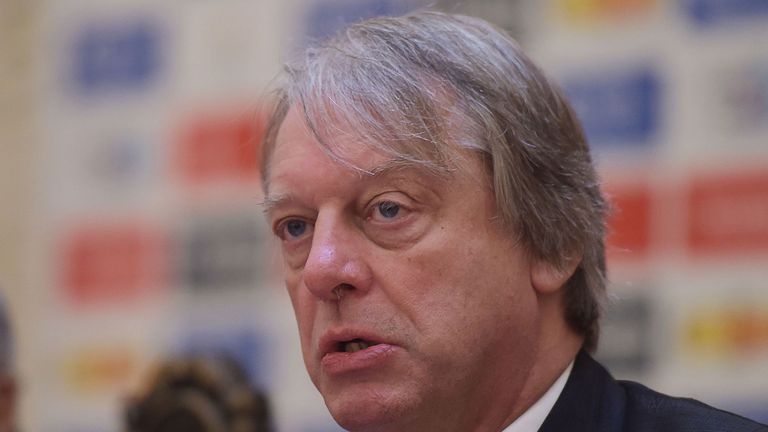 Giles Clarke's long tenure at the England and Wales Cricket Board is over after his retirement was announced following Wednesday's annual general meeting.
Clarke first joined the ECB as non-executive director in 2004 before succeeding David Morgan as chairman three years later. He was appointed the ECB's first president in 2015.
Matthew Fleming, Ian Lovett and Peter Wright have also retired as the ECB board shrinks from 13 to 12 members, with Andrew Nash and Richard Thompson standing down.
Barry O'Brien, Delia Bushell, Alan Dickinson and Brenda Trenowden have been appointed as non-executive directors, while Scott Smith has been added to the board as chief financial officer.
ECB chairman Colin Graves said: "As we welcome our new board members, I must also pay tribute to our outgoing board directors; Giles Clarke, Matthew Fleming, Ian Lovett, Andrew Nash, Richard Thompson and Peter Wright and thank them each for the way in which they have served the game over many years."
O'Brien has stepped down as chairman of Glamorgan and Dickinson has left his role as Surrey treasurer in line with Sport England's governance code.
The board will have three categories of directorship: the chair and ex-officio roles - held by the chairman, chief executive (Tom Harrison) and chief financial officer - and independent non-executives and cricket non-executives.
Graves added: "This is an historic moment for the game. We have fully modernised our governance structures - introducing a fully independent board for the first time.
"These moves will make for good, well-informed decisions - giving us access to fresh perspectives and insights - and a platform for future growth.
"All four of our new directors are outstanding individuals with extensive experience, knowledge and skills. I would like to thank Allan Leighton for his contribution to the recruitment process which led to their appointment as well as praising Ian Lovett for the invaluable role he has played in delivering such a thorough and comprehensive review of our governance model."