India T20 captain Harmanpreet Kaur calls Smriti Mandhana a game-changer
India opener Smriti Mandhana dreams of powering India to World Cup glory
By Kalika Mehta - @Journo_K
Last Updated: 09/11/18 4:03am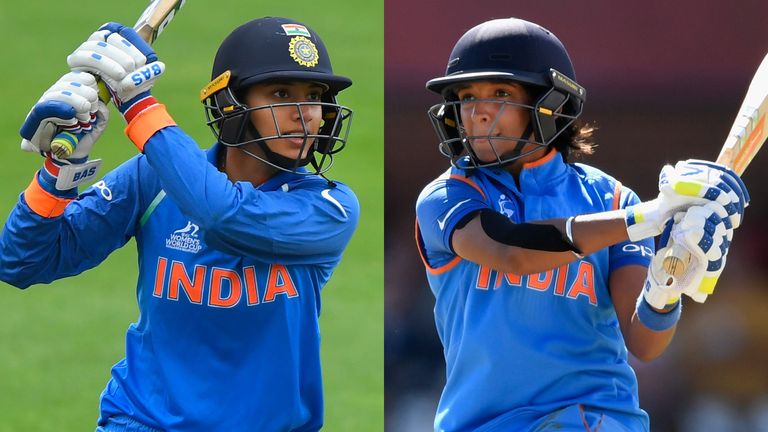 Ahead of the upcoming ICC Women's World T20, Sky Sports Cricket is profiling a player from each of the 10 teams. Kalika Mehta speaks to India stars Harmanpreet Kaur and Smriti Mandhana about a life-changing World Cup and their quest for a first global title.
A little more than a year on from the dizzy heights of reaching the World Cup final at Lord's, India have seen many changes.
After the team exceeded expectations, ultimately falling nine runs just short of the title against hosts England, it propelled women's cricket to the forefront of the thoughts of those watching back home and pushed the Board of Control of Cricket in India (BCCI) to invest in the team more.
Despite missing out on lifting the trophy, the team tasted victory in some senses as their contracts were increased in March 2018 - for the first time since 2015.
A Women's T20 Challenge - a possible precursor to a Women's Indian Premier League - was played this May as the BCCI continued to look to tap into the interest that followed a successful World Cup campaign.
But, for all the positives that came out of reaching the final, it took Indian batter Harmanpreet Kaur time to recover from missing out on a first major title for her country.
"It was a really heartbreaking moment for us as we were so close," Kaur admits. "It took a long time for me to accept that we were so close and weren't able to win it.
"Reaching the final was a turning point for the team, after it we have got a lot of coverage from the media and a lot of girls are coming and playing in clubs."
Opening batter Smriti Mandhana announced herself in the opening game of the World Cup, as her impressive 90 helped India defeat England in the group stages.
The 22-year-old followed it up with the second one-day international century of her career in the win over the West Indies as she showcased her talents at the top of the order.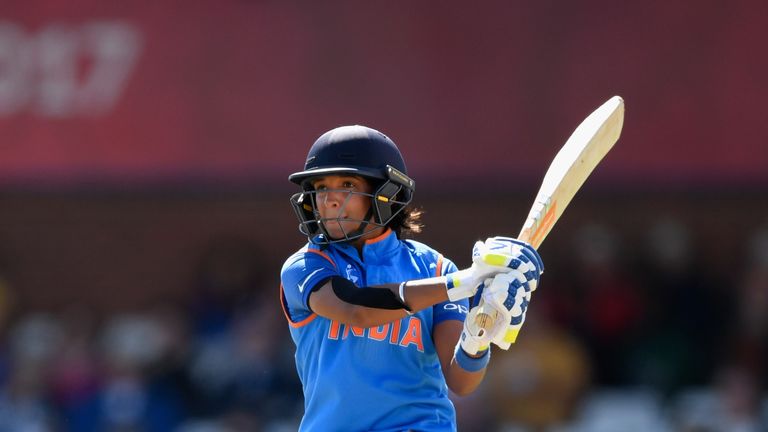 And, Mandhana also reflects on all of the positive changes the followed India's achievements during the tournament.
"Things have changed quite a lot," Mandhana says. "A lot of parents have started to get their girls to academies and are saying 'we want our girl to be a cricketer' and do whatever is possible.
"This used to only happen with boys but after the World Cup there has been maybe a 20 to 30 per cent increase in girls playing and that has only been possible because of them seeing us perform well.
"It's on the team to keep improving that percentage and so a lot of parents see cricket as a career option for girls. It's the only way to increase the competition for places and make women's cricket a healthy sport in India."
Both Kaur and Mandhana began playing cricket as young children, with their families instrumental to their initial involvement in playing the sport.
With her only real exposure coming from watching her sibling play, Mandhana taught herself to bat left-handed despite being right-handed.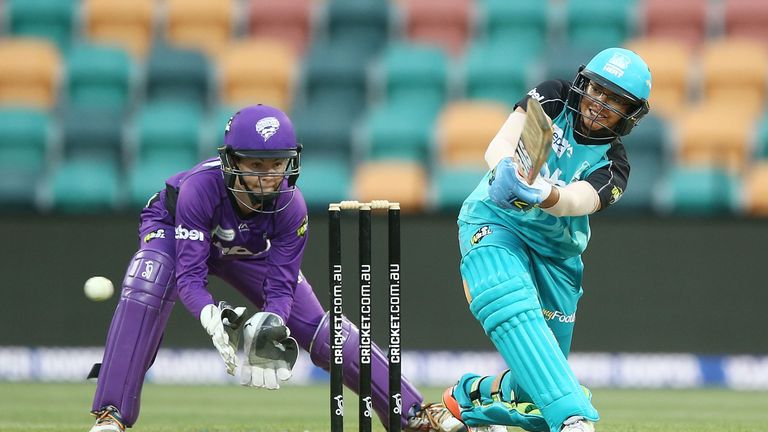 "My brother is the person who inspired me to be a cricketer," she says. "I am a righty, every other thing I do is right handed but I wanted to replicate how he batted.
"Until I was 13 I didn't watch any cricket on TV, a lot of what I saw was watching my brother bat in nets or matches and I tried to just take everything from his batting.
"I didn't know you could bat as a right-handed batsman, I just saw my brother bat as a lefty and thought that's how you bat. It's an advantage for me."
In last year's World Cup semi-final, Kaur scored an unbeaten 171 against Australia - the highest World Cup score since Kapil Dev's 175 in 1983.
Her family were watching on in the late hours of the night at home in India and the all-rounder also expresses the significance her father has played in her career.
"He introduced me to the sport and I dreamt of playing for my country because of him," she explains. "My family were watching on the TV, like they did every game and they were so happy.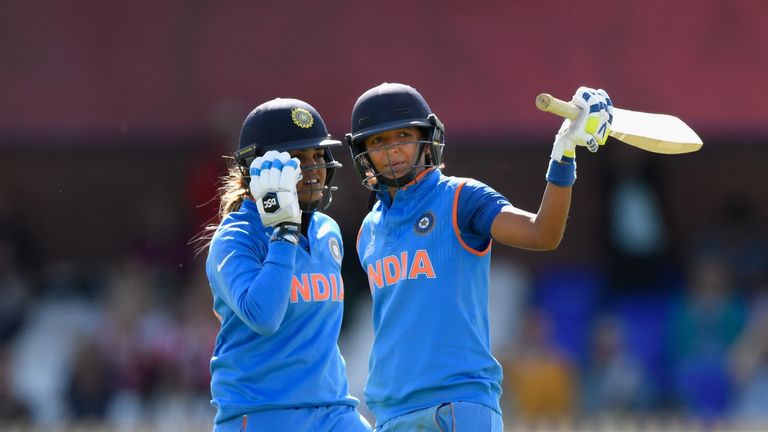 "My dad has always had a lot of confidence in me. When he saw me playing when I was younger, he knew I could play this type of innings.
"His confidence in me is one of the most important parts of my life. Whenever I'm feeling low I talk to him and his words always work for me."
Ahead of the World T20, Kaur was appointed captain with Mandhana selected as her deputy and the skipper had plenty of praise for the young opener and number two.
Mandhana was named Player of the Tournament in this year's Kia Super League as she helped lead Western Storm to Finals Day - finishing as the competition's top-scorer with 421 runs.
"She's in really great form and that is great for India," Kaur said of Mandhana. "She is a game-changer for India."
Mandhana is more modest about her exploits in England over the summer and is keeping her feet firmly on the ground, acknowledging she still has plenty to learn about her own game.
"It has been a good confidence-builder and good experience to get before the World T20," she said. "I've been timing the ball well in the nets and in the games.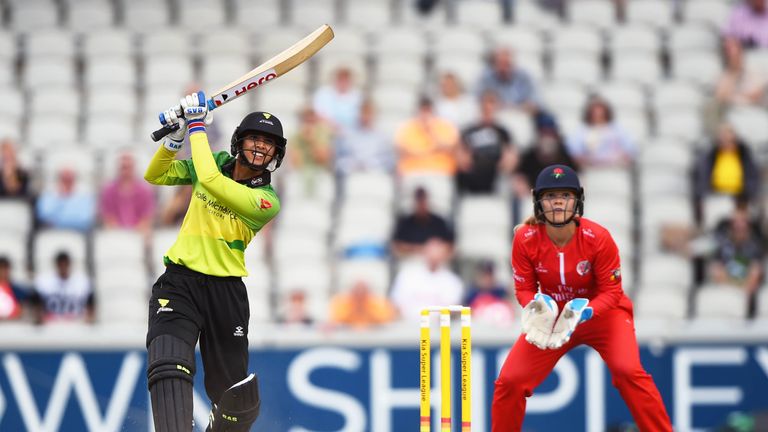 "In the past, I've played a rash shot and got out, but I've been learning from that - playing a bit more straight and lessening the risk of getting out, which has worked.
"I know it's not just about smashing the ball, I've been looking to play the situation and adapting and that is one thing that is lacking a little."
India face a tough test to get out of their World T20 group, which includes three-time winners Australia, New Zealand, Pakistan and Ireland.
But after last year's World Cup final berth, Mandhana is not daunted by the challenge that faces them.
"Any player who starts playing cricket for India the only aim is win a World Cup for your country," she says. "It is one thing that drives the team and me as a player. We need to win a World Cup and be the No 1 team in the world.
"We have a lot of steps to take to improve as a team to achieve that and we are working hard towards that."
Watch every match from the ICC Women's World T20 live on Sky Sports this November.