Phillip Hughes tragedy: Andrew Strauss says cricket is as safe as it has ever been
Former England captain says bouncers should not be banned
Last Updated: 27/11/14 12:37pm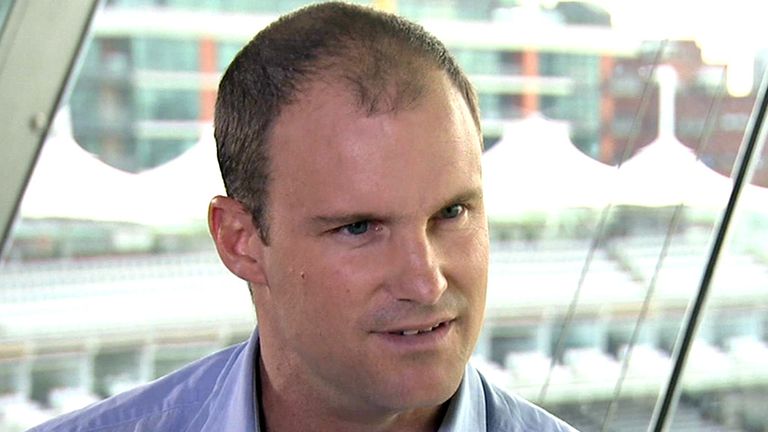 Former England captain Andrew Strauss believes the game of cricket has never been safer, despite the death of Phillip Hughes.
Hughes died on Thursday at the age of 25, just two days after being struck on the head by a bouncer while batting for South Australia against New South Wales at the Sydney Cricket Ground.
Strauss said a player no longer went out to bat "worrying that his life might be on the line" and urged the cricket authorities not to consider banning short deliveries.
"The protection in the game of cricket has never been better than it is today," Strauss, who played with Hughes at Middlesex in 2009, told Sky Sports News HQ.
I think it's really important we investigate this fully and see what can be done but I would hate to see a situation where bowlers can't bowl short balls.
Andrew Strauss
"I don't think any cricketer will go out there to bat these days worrying that his life might be on the line. I think that used to take place in the old days pre-helmet but these days it doesn't happen.
"I think it's really important we investigate this fully and see what can be done but I would hate to see a situation where bowlers can't bowl short balls.
"That is the element of bat versus ball and if you lose that I think it shifts the balance too firmly in the favour of the batsman.
"Let's look if we can do anything more on the protection side. I don't know the full details of it, but it sounds like Hughes got hit on the neck, which is not usually a particularly dangerous place to get hit.
"I've been hit on the neck a number of times – I can remember twice by Brett Lee in the same Test match – so whether this is just one of those freak, tragic accidents or not remains to be seen."
Development
Sky Sports' David Fulton said: "There are elements of sport that are dangerous and facing up to a rock hard ball is dangerous for a batsman. That is part of the magic of cricket.
"It tests your skill and tests your courage. Hughes was not lacking in skill, not lacking in courage, he was just extremely, extremely unlucky.
"One of the few positives that can come out of this, though, is improving safety will be looked at. This will act as a catalyst, for that kind of safety development, but they are already looking at it all the time."
Former England captain Michael Atherton, meanwhile, thinks Hughes' death will "shake" batsmen into recognising the importance of safety.
"It's an incredibly safe game but I think this will shake batsmen slightly out of what might have been complacency.
"I wore the same helmet for 10 years. I never changed it. I didn't give it much thought really. If there is that kind of complacency that I was guilty of, then I think people will be shaken out of that.
"I'll be making sure my 12-year-old boy's helmet is up to scratch and the latest model. But fundamentally it's a safe game with risk attached."
Shock waves
Nasser Hussain added: "You have to think about ways of improving the helmet all the time, balancing protection with being able to move and see the ball.
"Putting bits on the neck... is an area we've never thought about. We were always told to protect the temple but were never really concerned about the neck.
"The instinct to get out of the way of a bouncer is to turn away - this will send shock waves through every cricketer."
Former England bowler Matthew Hoggard said: "I would hate to see the game of cricket change because of this tragic accident.
"Yes, we can have a look at the safety procedures and safety elements but when you go back in time when people didn't wear helmets, facing the likes of [Dennis] Lillee and [Jeff] Thompson, we didn't see a tragic accident.
"I think the game of cricket is in a good place so hopefully our thoughts don't change too much about the game. I think we need to take stock and have a look throughout history at how well the protective gear has worked and put it down as a tragic accident."
Hughes was wearing a Masuri helmet at the time of the incident and the company issued a short statement following the death of the 25-year-old Australian.
It read: "Masuri would like to send sincere and heartfelt condolences to the family of Phillip Hughes over their great loss.
"Everyone at Masuri is truly saddened by this event."