Kevin Pietersen gives a six-hitting masterclass in The Zone
Shane Warne and Mahela Jayawardene join KP in The Zone
Last Updated: 12/05/15 4:04pm
Kevin Pietersen, Shane Warne and Mahela Jayawardene demonstrated the art of big-hitting and bowling in Twenty20 cricket when in The Zone to cover the IPL on Sky Sports.
Click on the video above to watch the full session, in which Kevin Pietersen spoke on ball-striking, Warne on skilled bowling and Jayawardene touch-play.
As part of the IPL Legends day live on Sky, this is what KP had to say before he was offered - and turned down - an advisory role with England one-day international cricket.
KP on big-hitting
"You know the opposition are going to be hitting sixes. 10 years ago you wouldn't take on deep mid-on, deep mid-off, cow corner. Since T20 and the IPL, you're just thinking about how far you can hit it into the stands.
"All I'm trying to do is be as still as possible on contact, on release too, and have my head in a great position. You want your head and your eyes as close to the ball as possible. You're taught as a kid to get your foot to the ball and play through the line but now, you get your head to the ball and the rest of your body follows.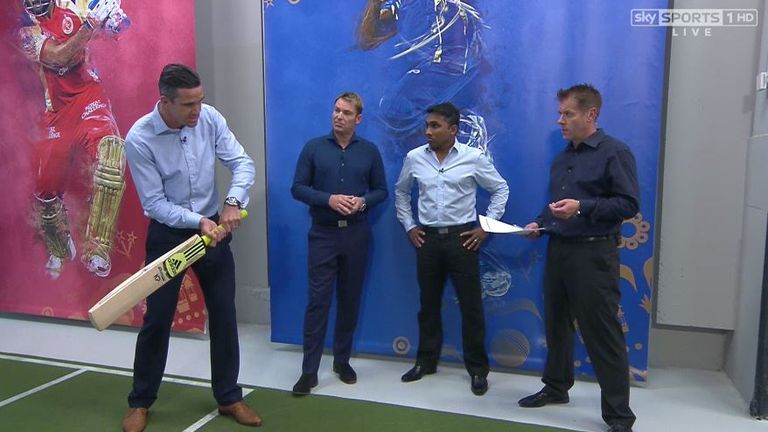 "I start in the strike position – I haven't taken guard, waited for the bowler, triggered to get myself into a good position – because I know that if the ball is in my area, because I'm in a strong position and my head is still, I have the ability to hit it."
Warne on bowling basics
"You have to have your plans on how you're going to get a batsman out. You can't have a defensive strategy, thinking how we are going to block them off because these guys are good enough to hit any sort of shot out of the park.
"You can get into trouble if you start second-guessing what the batsmen are going to do – getting away from your plan. Keep it as simple as possible and then if the batsman reverse-sweeps, runs down the pitch or switch-hits you, then just say 'good shot, do it again'.
"The best ball – and it has been since one-day cricket started – is the yorker. Malinga, Starc, these guys do it and I don't care what the batsmen are doing, it's still the hardest ball to play."
Mahela on touch-playing
"You need guys to control the innings. Some wickets are going to do a bit, some are going to be slow and low, meaning the big-hitting guys won't always be hitting sixes.
"You still need to bat quickly, keep the strike-rate up – so T20 has made me push the envelope a bit more and find ways of creating shots and getting a bit more power and timing into them. Also making sure I hit 360 degrees.
"It's not easy to play the same shot to every ball. You get quicker and quicker guys bowling good bouncers at you for example and I tried to use the pace and play a ramp over the wicketkeeper. It's a great option."
You can catch the full show again on our digital platforms, as well as Sky Go and On Demand.