World Cup Classics: South Africa need 22 runs off one ball as 1992 semi-final is clouded by farce
England progress to final as rain rules ruin intriguing contest...
Last Updated: 15/01/15 9:44am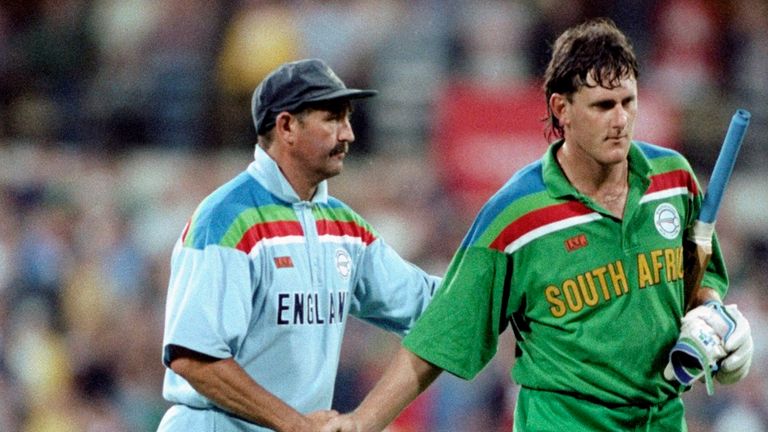 Farce reigned supreme in Sydney as South Africa's hopes of reaching the 1992 final were well and truly scuppered by a short rain burst that resulted in their target of 22 off 13 balls being revised to an impossible 22 runs off one delivery.
England's luck was in from the start when after the early loss of Graham Gooch and Ian Botham, Graeme Hick survived a strong lbw shout and was then caught off a no-ball before powering his way to 83 off 90 balls - the mainstay innings of his side's 252-6 off 45 overs.
The total would have been greater but for South Africa's slow over-rate, which denied England five valuable overs at the death, leaving Chris Lewis and Dermot Reeve (25no off 14 balls) rather cut off as they prepared a final onslaught.
South Africa's chase kept up with the run-rate as Andrew Hudson (46 off 52 balls) bedded in but was always held in check as wickets fell regularly, Richard Illingworth and Gladstone Small picking up a couple apiece.
A 43-run cameo from Jonty Rhodes reduced the target to 47 from five overs before Brian McMillan (21no) and David Richardson brought it to within four big blows. But with the match within South Africa's grasp, the rain arrived, and in a matter of minutes their fate was sealed.
A rain-day was available if the team batting second didn't face 25 overs, but otherwise the rules decreed that a finish must happen on the day so after some quick calculations, the players returned to the field to go through the bizarre final motions of an intriguing match.
McMillan contented himself with a single off the final available ball before shaking hands with Gooch, whose side would go on and lose to Pakistan in the final.
Watch the best of the action on Sky Sports for iPad, Sky Go or by signing in to watch the video above. Then don't miss our extended World Cup Classics series on Sky Sports once the 2015 ICC World Cup begins on February 13.