James Anderson's 500th Test wicket: Sky pundits react to England bowler's milestone
Last Updated: 09/09/17 1:16pm
After James Anderson became the first Englishman - and just the sixth player in history - to reach 500 Test match wickets, our panel of Sky Sports pundits gave their verdict on his achievement and the skills that have helped him reached that milestone…
David Lloyd
It is an emotional time for him, you could tell when they came out down the steps and they all got in the huddle, everyone gave him a high five and a slap on the back, then he got a bit morose as for the first over or so he was messing about with the footholes and the ground staff came on. And then he bowled an absolute beauty!
It was a pearler - a great delivery. I was on commentary with Shane at the time and I said, 'what if it is one of those that's slapped to backward point from a real long hop!?!' But no, he did it justice, it was a really good delivery.
I was doing a Lancashire game with Bob Willis, a domestic match, and when we saw this bloke, Bob pricked his ears up - 'he bowls 90mph!' He was all over the oche, a young lad from Burnley who just used to race in and bowl as fast as he can and then you see an artist emerge. That is what you've got now, the finished article.
David Gower
It is a very special club so he is amongst some very special names and in order to get there you need talent and longevity. And in terms of what is still available for him, he's still fit, keen and he could - if there is nothing untoward between now and then - overtake the two seamers who are above him in the highest Test wicket-takers of all-time.
What is good about Jimmy is that he will take these milestones as they come, we love the moment, he'll love the moment, it'll be one of those treasured memories for all time and will stand out. The way he took the wicket, of course, was a bit extra special. It's all yours, you take complete ownership of that wicket having got through defences and knocked over stumps. That in itself is quite special.
Sir Ian Botham
He got there in a great way, took everyone else out of the equation and got the wicket all by himself by bowling him through the gate. I'm delighted for him and I'm absolutely certain he'll be so much happier now that it is done and he can relax a bit and everyone can talk about a great moment.
He would have been nervous, he having been thinking 'I want to do this, I want to do it well at Lord's' and he has done it. It's absolutely magnificent, I'm very pleased for him and I dare say it will cost me another bottle of red wine!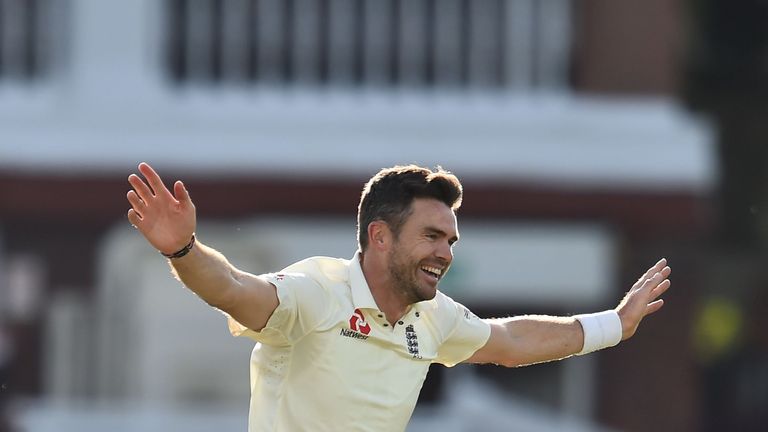 500 wickets, end of story. You don't have to say anymore, the performances are there. As a swing bowler playing the game in the time that he has played, I would suggest that Jimmy Anderson is right up there with the very best of all time.
Shane Warne
I couldn't be happier for Jimmy Anderson, I think he's been such a wonderful bowler and the leader of the attack for some time. He joins a club where there are not too many fast bowlers, there are a few spinners in there, but as a fast bowler to play for that long, it shows that you are pretty tough.
The little niggles, the injuries, leading the attack, the pressure, expectations and being on the road for so long - he has dealt with them all. He has been a wonderful bowler, one of the great England bowlers of all time. He is very, very skilful. He can swing the ball both ways and he has evolved over the years too. He has got better and better all the time.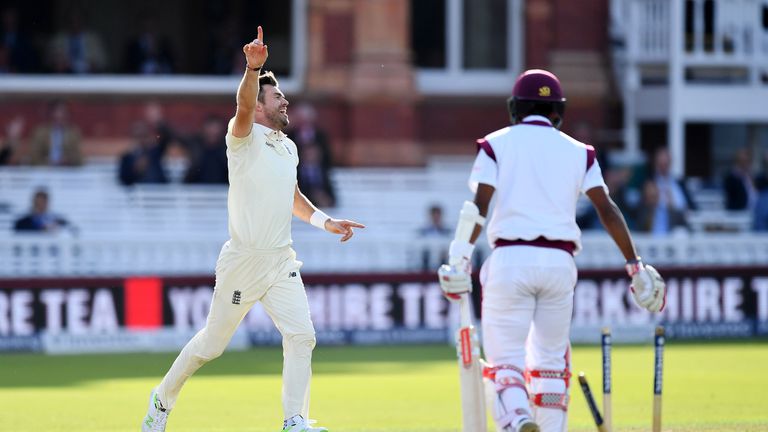 Now he wants to play until he is 40 - another five years! 12 or 13 Test matches a year, four wickets a Test and he'll smash all the records!
Bob Willis
We've seen the crowd at Lord's on their feet for many batsmen over the years but every single person watching this cricket match was on their feet for James Anderson for this quite incredible achievement.
And it was no No 11 caught at cover or long off, he got his wicket in the grand manner, knocking back middle stump and it was no bunny for him, Kraigg Brathwaite - one of the best West Indian batsmen - was completely flummoxed by that delivery. Middle stump knocked back; well done, Jimmy!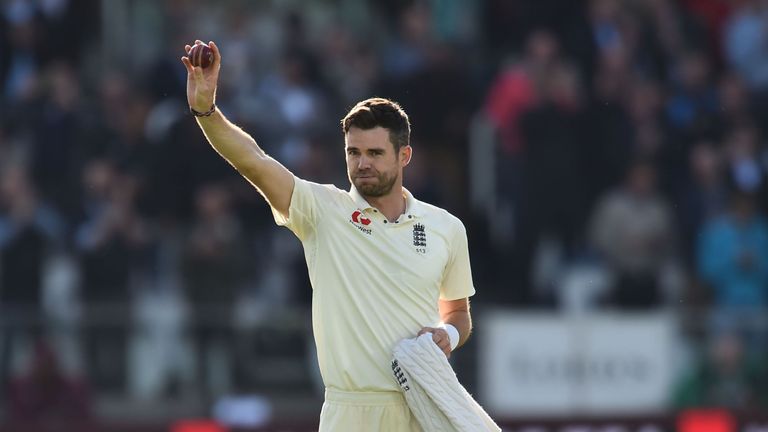 I'm not sure whether he had his tongue in his cheek or not when he said he could go on until he's 40 but he's probably got two or three years left in him. He can certainly go on and overtake Courtney Walsh and Glenn McGrath and become the highest wicket-taker from the seam department, of all time.
I think in English conditions there has never been a better bowler - and that is some accolade.
Nasser Hussain
His skill level is absolutely incredible. David Saker caused a bit of controversy all those years ago, with Dale Steyn still playing, when he said Jimmy Anderson was the most skilful bowler in world cricket.
I now realise exactly what he was talking about because the skill level of the lad - and he had it back when he played his first Test, I was amazed at the skills he has back then. But every year he has just improved those skills, he's added new skills: the wobble-seam delivery, the in-swinger, the out-swinger.
He's a lovely lad, a down-to-earth Burnley lad and he deserves every moment of this success that he's having.
As an England cricket, all these fans here on a Friday night at Lord's to see him and what he has achieved, not just here with that one delivery and one wicket but the 499 before that. He is a very popular member of the side and a hugely skilful cricketer. He's quite, shy but when you put a Duke ball in his hand, there have not been many better.
Michael Atherton
It's a fantastic achievement. I don't think that when he took his first wicket here 14 years he have thought he'd get anywhere near it so it is absolutely fantastic for him to join only two other fast bowlers in the history of the game to take 500 wickets in Test cricket.
He's a great bowler, there is no question about that. His threat is slightly elevated in England, for obvious reasons. There is more moisture in the atmosphere, more moisture in the pitches and you are bowling with a Duke ball, not a Kookaburra ball so you'd hope that he'd get more wickets in England because the conditions are absolutely perfect for him.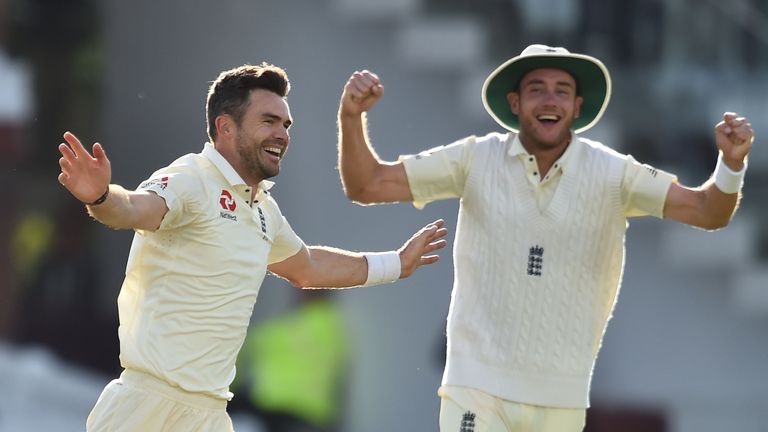 That is why he has become a swing bowler. All cricketers reflect the conditions in which they grow up and learn the game but he is still a great bowler in all conditions, he's just slightly more affective - the stats would say - at home.
It a beautiful delivery to get to 500, snaking in late to beat Brathwaite. A great moment for him, he had to wait a little bit, he was on 499 overnight but I couldn't be more thrilled or happy for him.
Michael Holding
He is absolutely brilliant. It is great to see that he has finally got to 500 wickets because although he will tell you that he hasn't been concentrating on it, it must have been in the back of his mind. So it is good to see him get there so he can just relax and think about his bowling.
He has had a fantastic career. He is a swing bowler who developed his game here in England so naturally the conditions here will suit him a lot better than those overseas. But even though he has not been as successful overseas, he has still been a brilliant bowler for England.
If I was Jimmy, I wouldn't be looking at any other targets going forward, I'd just be looking at representing England as best as I can, looking to the Ashes first of all and see what can happen beyond that.
Until you get close you don't even want to be thinking about another target and I would suspect that he won't be thinking about it. Jimmy is born and bred, all England, he just wants England to do well and I'm absolutely sure that that is all he will be concentrating on at the moment.