England batsman Jos Buttler 'as good as it gets', says Jason Roy
Watch the third ODI between England and Pakistan live on Sky Sports Cricket from 12.30pm on Tuesday
Last Updated: 14/05/19 11:49am
Jason Roy believes team-mate Jos Buttler is so good he is almost "demoralising" England's top order batsmen with his explosive innings.
Roy marked his return from injury with 87 in the high-scoring win over Pakistan in the second one-day international at Southampton.
But his efforts were overshadowed by man-of-the-match Buttler, who hit England's second-quickest ODI hundred.
The innings prompted Sky Sports' Nasser Hussain to proclaim Buttler among the all-time great ODI players, and Roy believes the plaudits are well deserved.
"He's as good as it gets to be honest," he said.
"It's not a shock, in fact it's getting a bit kind of routine for him to come out and play those sort of innings.
"He's almost demoralising the guys at the top of the order that are going at a run a ball and he comes in and just blitzes it.
"He's an extreme talent and works hard for it and deserves everything he gets."
After recovering from a back spasm while batting for Surrey in the Royal London One-Day Cup last month, Roy believes his injuries woes are now behind him.
"I'm 100 per cent fit. I spent six or seven weeks with my hamstring injury, fixing my torn hamstring," he said.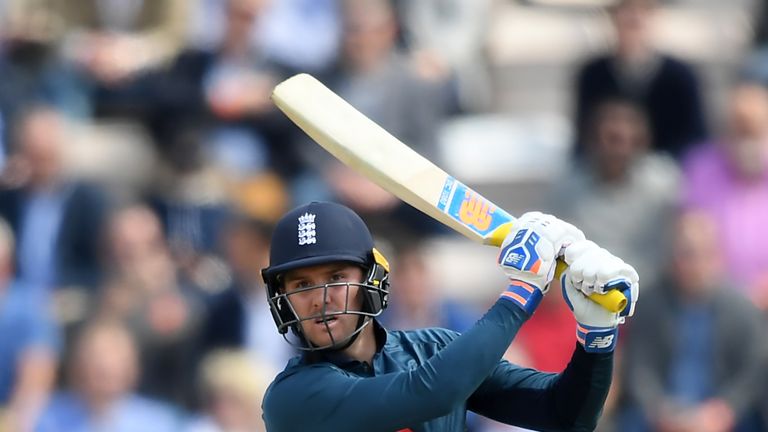 "Then my back was quite a big issue but it was resolved by the great medical staff we have here.
"So I'm back fully, fully fit. I actually feel better than I did before."
Adil Rashid and Joffra Archer didn't train with England on Monday and might be rested for the third ODI in Bristol on Tuesday, live on Sky Sports Cricket from 12.30pm.