Bob Willis demands changes from England following Ashes surrender
Bob Willis has urged England to make wholesale changes for the fourth Ashes Test on Boxing Day.
Last Updated: 18/12/13 12:34am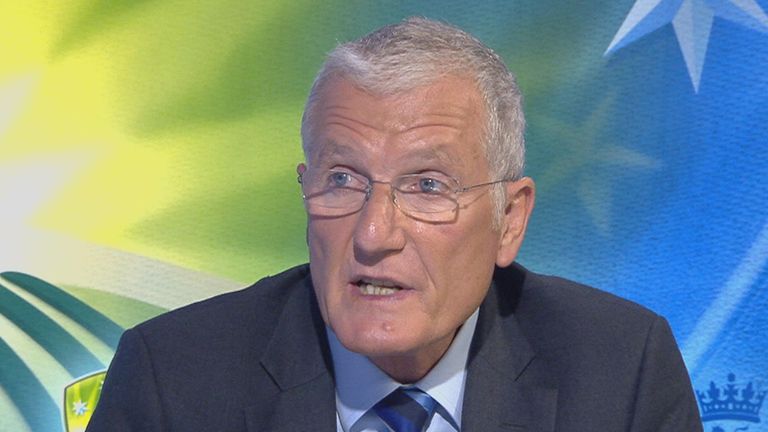 England surrendered the Ashes with a 150-run defeat to Australia in Perth on Tuesday morning as they fell 3-0 down in the five-Test series.
And speaking to Sky Sports News, Bob revealed he would drop Michael Carberry, Matt Prior, Tim Bresnan and Graeme Swann for the Melbourne Test.
His side to take the field at the MCG read: Cook, Root, Bell, Pietersen, Ballance, Bairstow, Stokes, Broad, Finn, Anderson, Panesar.
"I think the public would expect some changes from the side that's been beaten," he said. "I'm not expecting England to follow my advice. They are a very conservative bunch these England selectors.
"I've got Root back in the opening position. It is tough to drop Michael Carberry, but he's not the future for England. He's in his mid-thirties so I wouldn't expect him to be around in 2015. Ian Bell has taken over from KP as England's best player so I want him to bat in the very important position of No 3. Kevin Pietersen needs to get his act together at four. Gary Ballance is someone who deserves a debut in these circumstances.
Pivotal
"Matt Prior is in the worst form he's been in since he was left out when England were in Sri Lanka a number of years ago.
"Since that match-saving century at Auckland his batting form has nosedived. He batted with the tail in amongst the rubble at Adelaide and smashed a few boundaries, but his lack of confidence with the bat has been reflected in the wicket-keeping; two howlers behind the stumps, byes going through, the dropped catch when he sold Cook up the river, everything's just gone to pieces and in the field.
"The wicket-keeper is the pivotal man and as Prior's performance went down, so did England's in the field, with catches going down, overthrows. Yesterday morning when Australia were smashing them to all parts it was possibly the most humiliating sight since Viv Richards took England apart in Antigua in 1986.
"I've dropped Ben Stokes down to No 7 despite his wonderfully controlled innings in Perth because he would bowl more overs in this team and I've also left Swann out.
"I think Monty Panesar would go better against the Australia right-handers in the middle-order. There is a case for resting James Anderson too, but to throw in both Steven Finn and Boyd Rankin might be a step too far, so I've gone with Steven Finn and we hope that Stuart Broad will be fit for Melbourne.
"But if I'm brutally honest I think England are going to lose this series 5-0."