MCC v RoW: Shane Warne suffers broken hand in Lord's celebration match
Last Updated: 05/07/14 8:06pm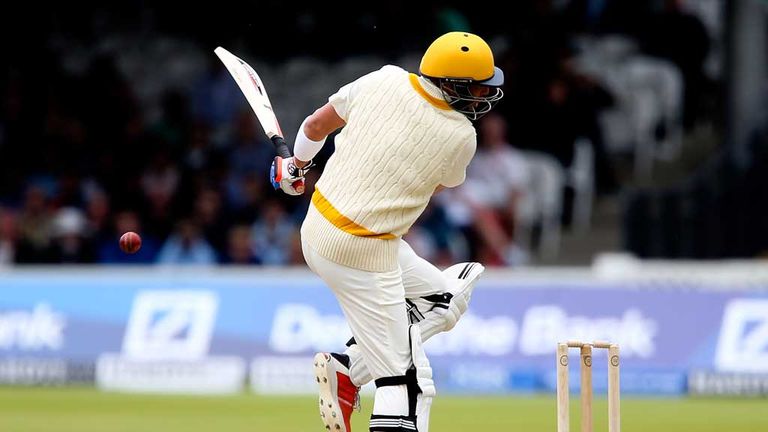 Shane Warne has suffered a broken hand after being hit by a Brett Lee beamer in a game to celebrate the bicentenary of Lord's.
Warne was captaining the Rest of the World side against MCC at the home of cricket when he was struck on the glove first ball by his former Australia team-mate.
The leg-spinner had come in at number nine and faced four more balls, scoring an unbeaten three, before the 50-over innings ended and he was not able to take to the field after the interval.
Warne was taken to hospital before returning to watch the closing stages of the game from the dressing room balcony with his arm in a sling.
Adam Gilchrist took over captaincy duties, with former South Africa all-rounder Shaun Pollock replacing Warne in the field, but they were unable to prevent the MCC from claiming a comfortable seven-wicket victory thanks to a brilliant unbeaten 181 from Aaron Finch.
Warne told Sky Sports: "I haven't seen Binga (Lee) in a while so it was nice of him to say hello and break my hand; put me out for six weeks so thanks very much for that Binga.
"We were good mates although I am not sure if we are going to be good friends after this! Binga didn't mean it, it was just one of those things that happened.
"It was a pretty competitive game, everyone was trying and it's an honour to play in the game, to be part of the teams and just to be part of the whole day was pretty fantastic."