Ashes 2013-14: David Warner admits he 'went too far' in Trott comments
Australia batsman David Warner admits he overstepped the mark in his criticism of England's Jonathan Trott.
Last Updated: 25/11/13 9:01am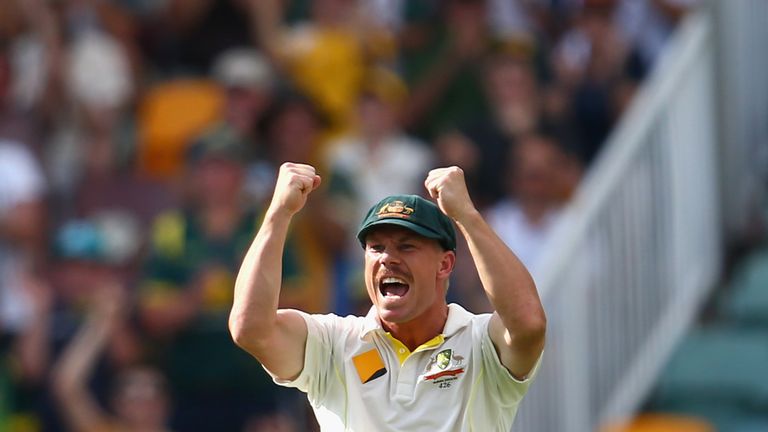 Warner, who scored 49 and 124 in Australia's 381-run first Test victory in Brisbane, described Trott's second-innings dismissal as "pretty poor and weak".
England's No 3 batsman was caught for nine after struggling with Mitchell Johnson's short-pitched bowling.
The comments, made at a media conference on Saturday after stumps on day three, were condemned by England captain Alastair Cook as "disrespectful".
"I made those comments for a reason," Warner said prior to the announcement of Trott's departure from the tour due to a stress-related illness. "Look, yesterday, the bounce and pace got to them again.
"It is Ashes cricket. Probably went a little bit too far with the comments, but it's cricket and now it's in the back of their mind.
"It was good banter. It's always good banter between us and England.
"It's been a tough six months," he added. "The last 10 weeks have been fantastic. It's the start of something new."
Warner may yet be punished for his comments by the ICC for his public comments about Trott.
Sniping
Australia's bowlers caused England's batsmen with a barrage of bouncers throughout the Gabba Test and often followed up the short-pitched assaults with a few choice words.
Tempers threatened to boil over on Sunday as Australia approached victory on day four, with umpires moving to step in and separate players sniping at each other.
Left-hander Warner has strayed into controversy a number of times this year, most notably when he punched England batsman Joe Root at a Birmingham bar in the lead-up to the Ashes in England and was stood down for the first two Tests.
He was also fined by Cricket Australia for an expletive-strewn rant against prominent Australian cricket writers on Twitter earlier this year.