Ashes Tour: Ex-Test bowler Steve Harmison has empathy for Jonathan Trott
Steve Harmison understands the problems being felt by Jonathan Trott, who is suffering from a stress-related illness.
Last Updated: 27/11/13 11:43pm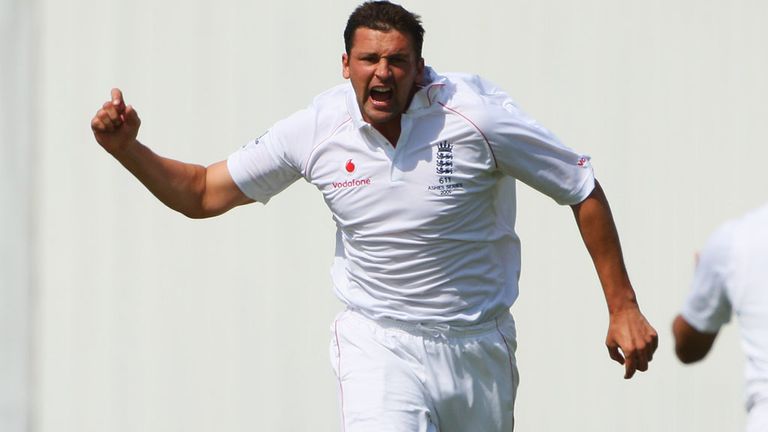 Trott headed home following the Brisbane Test, following in the footsteps of another England batsman - Marcus Trescothick - who also had to leave a cricket tour Down Under seven years ago.
Harmison told the Brisbane Times: "I suffered from depression from an early age, long before my international cricket career began.
"I was not in a very good place whenever I toured, but there were probably two occasions when I thought I was going to have to make the decision Trotty has made.
"But I did not want to be the first one, I just did not believe I could say anything about how I was feeling. Somehow I managed to struggle through.
"I said I was homesick and that was actually used as a stick to beat me with. It was not just homesickness, although that did not help. It is a chemical imbalance in the brain and it is something I battled with for years.
"It tended to be inflamed when I was away from home because I did miss people, I was lonely and I did not have my support network around me.
"When Marcus Trescothick went public with his depression, I was glad somebody had made that step.
Scared
"I wish I had said more but I was scared of the reaction. It is a tough, tough place to be.
"You do not want to eat, you do not want to drink and you rarely sleep. The nights become longer and longer because you are awake for most of them.
"I can remember sleepless nights in hotel rooms where I would be in tears and then going out to play the next day.
"I think the big difference with me and Jonathan is that my refuge was on the field. When I was playing, I was happy. I liked training, I loved the matches, but I hated days off, any time I was on my own for a long period.
"I used to surround myself with people. I took a dartboard with me so that people would come to my room after training or a day's play.
"But Jonathan had the ball hurtling at him at over 150 kilometres per hour and when you are going through this, the body does not move. You freeze, the stomach is churning, you become blind and the brain is muddled.
"His mind is scrambled and that is what this illness does to you.
Managing
"I am out of the game of cricket now but this thing carries on. I am on top of it but it has been hard and it still needs managing.
"He (Trott) will be at home surrounded by people who care for him, his family, friends and his club. He will feel good about himself in two or three days but that is not the end.
"He has identified there is a problem, now he has to get himself mentally and physically right. He has to forget cricket, he has to look after and repair the human being.
"And if he never plays international cricket again and is happy, that is a better outcome than playing and suffering."
During a seven-year international career which came to an end in 2009, Harmison - now 35 - played 63 Tests and 58 one-day internationals.