Cricket Expert & Columnist
Bob Willis rates England's players after whitewash win in Sri Lanka
Do you agree with Bob? Tweet your ratings to @SkyCricket...
Last Updated: 27/11/18 6:26am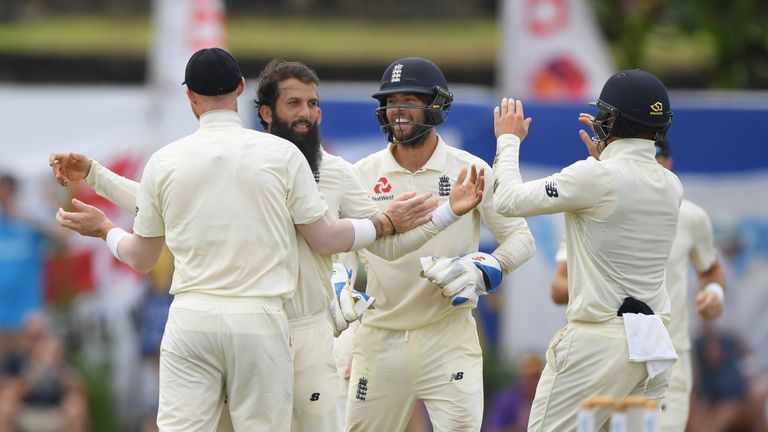 Sky Cricket expert Bob Willis grades England's players after their 3-0 victory in Sri Lanka - who came top of the class?
Check out Bob's player ratings below - then let us know if you agree by tweeting @SkyCricket...
KEATON JENNINGS - 6/10
233 runs @ 46.60 - highest score 146no
BOB SAYS: He made a very important century, it was a big innings but I don't think he has answered any questions about his ability against seam bowling. He was one of the few wickets to fall to seam - he was far more convincing against spin bowling than pace.
RORY BURNS - 5/10
155 runs @ 25.83 - HS 59
BOB SAYS: He had a very good temperament, found peculiar ways to get out during the series and he will have a different challenge come the West Indies and if he survives that he will start the Ashes series. No really substantial scores although he got England off to a decent start a couple of times with Jennings.
JONNY BAIRSTOW - 8/0
125 runs @ 62.50 - HS 110
BOB SAYS: He was absolutely livid to left out of the second Test match when he was fit so it was a remarkable innings under the pressure he must have felt to score a hundred at No 3 in Colombo. He is not going to get the gloves back if he is going to bat No 3 for the foreseeable future, so that is another problem for England. How are they going to get all their bowlers in the side if they have Bairstow and Foakes in the batting line-up?
JOE ROOT - 7/10
229 runs @ 38.16 - HS 124
BOB SAYS: He was reluctant to bat at three so gave England a headache about that position but I thought his captaincy, for the most part, was excellent. Good field placings, a lot of patience with the spinners because Moeen Ali and Adil Rashid aren't that accurate. He also had one very important, series-changing innings.
BEN STOKES - 6/10
187 runs @ 31.16 - HS 62; Five wickets @ 20.40 - best figures 3-30
BOB SAYS: He was fortunate to have the number of innings he did with the no-balls against him - like Burns, he found different ways to get out. He wasn't quite sure whether to play the spinners from the crease or go down the pitch. He made very important contributions with the ball, made the Sri Lankans feel very uncomfortable against the short-pitch deliveries. If he is going to bowl more overs as England's third seamer then he may have to swap places with Buttler in the order and bat at 6.
JOS BUTTLER - 8/10
250 runs @ 41.66 - HS 64
BOB SAYS: He continues to be a revelation and a feather in the cap of Ed Smith for plucking him out of white-ball cricket. He has changed the tempo of England's innings on several occasions - at time accelerating and then others time calming the frenetic innings down. He has brought all his attributes from the T20 game to Test cricket. The difference between sweeping everything at Pallekele and then going down the pitch in Colombo showed what an exceptional talent he is.
MOEEN ALI - 7/10
78 runs @ 13.00 - HS 33; 18 wickets @ 24.50 - BF 4-66
BOB SAYS: A valuable all-round performer. He has proved beyond doubt that he is not a No 3 and there is a question over whether Foakes should bat above him and let Moeen play more expansively with the tail. Very valuable with the ball, not as accurate as Jack Leach, but England's leading wicket-taker and if England revert to one spinner come the Ashes it will be Moeen.
BEN FOAKES - 9/10
277 runs @ 69.25 - HS 107; eight catches, two stumpings
BOB SAYS: It's an incredible story as he wasn't on the tour to begin with. Making a century on his Test match debut and ending up as England's leading run-scorer would be praise enough but his wicketkeeping was almost without blemish. He is in the side for the foreseeable future. It is going to present a problem for England if they want to get all their bowlers into the side.
ADIL RASHID - 7/10
12 wickets @ 28.16 - BF 5-49
BOB SAYS: He is still a little bit of a luxury for England but he has been given a central contract and the national selector, Ed Smith, will want him in his XI if he can get him in. A little like the Bairstow vs Foakes argument about wicketkeeping, it is going to be difficult to find a place for Adil in England but he will obviously have a part to play in the West Indies. Like most leg-spinners, he goes for a lot of runs. He did a good job in Sri Lanka and made some valuable runs with the bat.
STUART BROAD - 6/10
No wickets - BF 0-14
BOB SAYS: He only played in the final Test match but he is a very good squad man. After not complaining about losing his place in the side, he bowled a brilliant new-ball spell in the first innings of the Colombo Test match. His batting has gone completely to pieces. One would ask could Stokes do the job Broad and Anderson did?
JACK LEACH - 7/10
18 wickets @ 21.38 - BF 5-83
BOB SAYS: Very dependable, only had one poor spell of bowling in the second innings at Pallekele. His experience of bowling at Taunton has stood him in good stead and England will have a problem leaving him out of the side when they come to be playing just one or two spinners. He has done a very valuable job in Sri Lanka, giving Root control on every occasion.
SAM CURRAN - 6/10
112 runs @ 37.33 - HS 64; One wicket @ 50.00 - BF 1-31
BOB SAYS: Brilliant with the bat once again but England have a conundrum with him going forward bowling without a Dukes - how effective will he be at swinging the ball? It may mean that Stokes may have to bowl more overs and Sam becomes a fourth seam bowler whose principal hand is to bat. His progress has been excellent.
JAMES ANDERSON - 6/10
One wicket @ 105.00 - BF 1-53
BOB SAYS: He got a little bit of swing in the opening Test match in Galle but very little after that. Any seamer who couldn't bat was a little bit of a luxury on this tour. He will be back in the West Indies and the Ashes.
Comment below to get involved in the debate, but please adhere to our House Rules. If you wish to report any comment, simply click on the down arrow next to the offending comment and click 'Report'.