Trevor Bayliss says Ben Foakes will 'definitely' keep wicket for England in the West Indies
Bayliss on Bairstow: "He has got the goods for [No 3]. The challenge for him will be at home on seaming wickets but he has certainly got the talent to master that"
Last Updated: 27/11/18 2:28pm
England coach Trevor Bayliss says Ben Foakes has cemented his place as wicketkeeper for the tour of the West Indies in January - and challenged Jonny Bairstow to make the No 3 position his own.
Foakes came into the side in Sri Lanka following an injury to Bairstow and finished the series as the top run-scorer after hitting 277 runs, including a debut century in Galle, as the tourists recorded a 3-0 whitewash.
Bairstow, who is eager to regain the gloves, returned to the team for the final Test in Colombo, hitting 110 in his first outing as England's No 3, a spot Bayliss says the Yorkshireman has the "talent" to nail down.
"Even Jos Buttler wants to keep but the way Foakesy has gone in this series he will definitely be there for the next one," Bayliss told Sky Sports Cricket.
Asked about Bairstow's desire to play as wicketkeeper-batsman, the Australian added: "We don't want to put any undue pressure on other people but it does keep guys in the team on their toes. It's a good thing in the long run to have depth and competition.
"Since I've been here, every time Jonny has had a challenge thrown at him he has been able to come out and score some runs. The trick for us is to come up with a challenge every time he goes out to bat!
"He has got the goods. The challenge for him will be at home on seaming wickets but he has certainly got the talent to master that as well."
Buttler, the other candidate to keep wicket, scored a crucial 64 in Colombo to help the side wrap up a 42-run victory in the third Test, the 28-year-old passing fifty for the seventh time in 10 Tests since being recalled.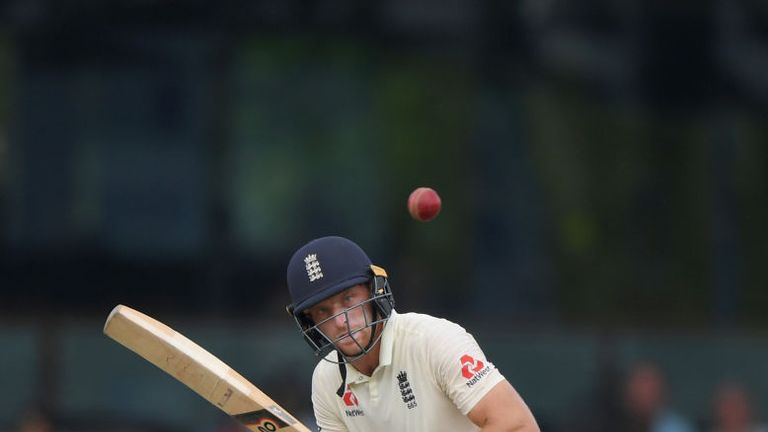 Asked whether Buttler is seen as a leader in the group, Bayliss said: "Very much so - that's why he is the vice-captain.
"If something happened to Joe Root, I'm sure no one would have any qualms about him taking over. He is a very intelligent guy and when he speaks to the group everyone listens.
"The way he and Ben Stokes have gone about their batting in the last 12 months, I think people are beginning to see a different side to them.
"They are renowned for scoring quickly but we have seen innings showing they are turning into Test match players."
England's aggressive intent with the bat was a staple in Sri Lanka as they won a Test series away from home for the first time since triumphing in South Africa in 2016 under the captaincy of Alastair Cook.
"In the past teams have come here, decided to bunker down, wait for the bad ball and bat for a long time," added Bayliss.
"Quite simply, with the spin over here, there is eventually going to be a ball with your name on it so we decided to take the attack to them, put pressure back on them and dictate to them.
"We were a bit frenetic after the first session in Galle [England were reduced to 103-5] and there is a fine line between being busy and looking to score and going over the top and trying to hit good balls for runs.
"You still have to defend well and it's that mental approach - if you are in the right frame of mind your feet move well and you make good decisions.
"Foakes, who has been fantastic, Keaton Jennings and Rory Burns probably haven't quite got the shots of the other boys but they went about their game in a positive manner.
"They were able to rotate the strike and put pressure on the opposition playing their game. When they got a bad ball, they put it away.
"I think there is a lot of improvement in these guys yet, which is an exciting thing for English cricket and naturally over a period of time I think you will see guys starting to work it out, as we have seen from Stokes and Buttler.
"We look forward to the days when we can make 400, 500, 600."
Watch England's three-Test series in the Caribbean live on Sky Sports in January and February.