Peter Manley talks about his time in the PDC and facing an unbeatable Phil Taylor
Love him or hate him, Peter Manley was the ultimate 'pantomime villain' of darts
By Raz Mirza
Last Updated: 03/12/20 4:13pm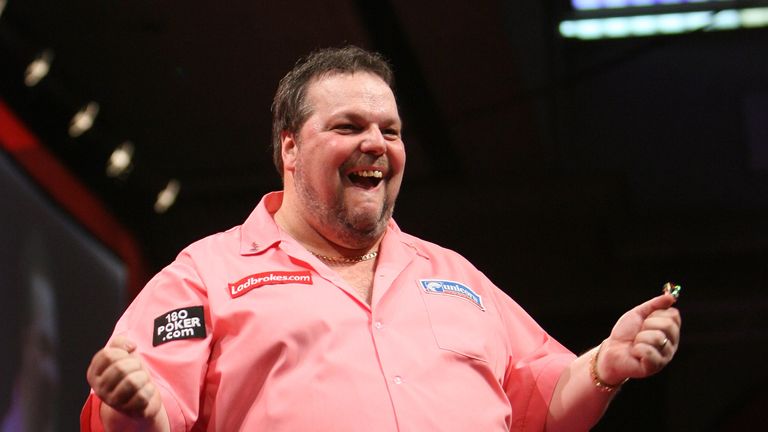 The man, the myth, the legend - Peter Manley opens up to Sky Sports' Raz Mirza about playing his nemesis Phil Taylor, trying every trick in the book to win, how he got his nickname, and walking out to Amarillo.
He's a former world No 1 and winner of the 2003 Las Vegas Desert Classic, but Manley will forever be remembered as a three-time World Championship runner-up to 'The Power'.
There have been some heartbreaking times for Manley during his time in the PDC, and although he may openly admit to being the nearly-man of darts, he looks back on his time with no regrets.
One of the most recognisable darts players ever to have graced the oche, Manley lost his first world final 6-2 against Taylor in 1999 before suffering a series of whitewashes against the same opponent in 2002 and 2006.
Health problems put paid to Manley's time at the top of the tungsten ladder, although he remains an integral part of the game as chairman of the Professional Darts Players Association.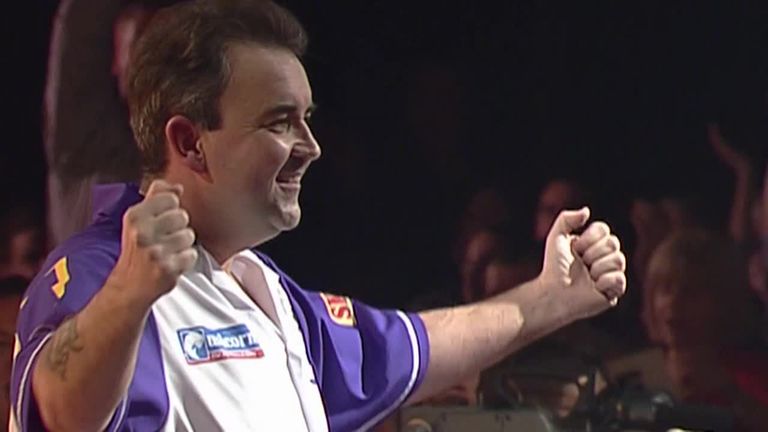 I really got the grit in my teeth when I played Peter Manley. He did wind you up. He was the master at it. I'm not bad myself, but he's better than me. I miss him not being here.
Phil 'The Power' Taylor on Manley
"When I had my heart problems eight years ago I got a message from Phil and he stated 'you've got to get yourself better, I need you here, I need somebody to kick me up the backside all the time' and that's what I did to him really," said Manley.
"It wasn't hatred of the man, or whatever, I was there to beat the guy that was in front of me. I wasn't as good as him, I never expected to be as good as him, but what I tried to do was bring it down to my level so it would make it an equal game. He rose above it every time and all credit to him - that's why his longevity has been fantastic for the game."
Manley was known for his gamesmanship on the oche, and he openly admits to trying every trick in the book to win matches against the dominant Taylor.
"Yeah, I tried everything," admitted the 55-year-old. "I threw the book at him. I actually beat him on TV twice - a World Matchplay semi-final and a Premier League game, and at that time you could almost count on one hand the amount of people that had only ever beaten him twice or more. His record is just impeccable."
One occasion where Manley very publicly stepped over the mark was during his 2006 World Championship quarter-final clash against a young Adrian Lewis.
Manley was accused of gamesmanship against Taylor's protege. He muttered words, resulting in Lewis leaving the stage visibly upset.
"I didn't overstep the mark," said Manley. "To be honest, half the time I didn't need to do anything, all I had to do was say things like 'watch out, you don't know what I'm going to do' during this game. I was trying to ruin his concentration, not so much putting him off. Changing his mind-thoughts and mindsets. Whatever I could do, I would do to anybody.
"I basically turned around and asked Adrian to stop tutting, which he disagreed with, and it quickly turned into a pantomime style 'you was, you wasn't, you was, you wasn't' and he just carried it on. I was beating him and in control of the game. Everything was going my way and I had no concerns, but I had no idea he was going to walk off stage.
"In the end I took him and his family out for dinner and we moved on from it. I worked with Adrian in Scotland just last week. He's a lovely kid who was always going to be a world champion. He's a two-time world champion, but I do hope he can get back to his very best this year."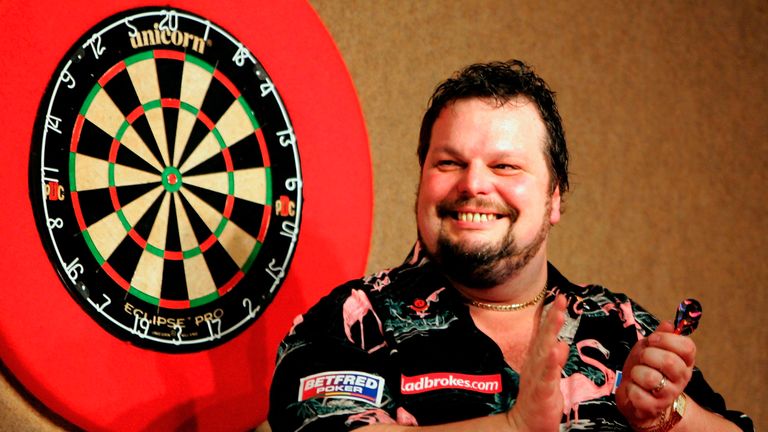 Manley turned his attentions to more a more serious subject when discussing his role as PDPA chairman.
The PDPA has joined up with The Sporting Chance Clinic which provides support, counselling, treatment, and aftercare to sportsmen and women.
"We spend a lot more time on mental health issues and educating players on the Development Tour. These players are young enough to understand that down the line it's not all success, so you need to be there to pick up the pieces for these guys," said Manley.
"Sporting Chance gives them the opportunity to go somewhere should they fall foul on gambling, alcohol or depression. It's that massive now is darts."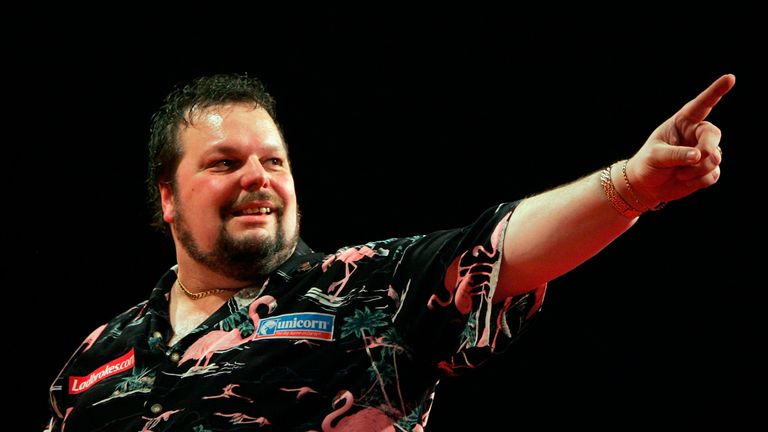 Players were in awe [of my nickname] because they knew that if they missed, I only needed one dart.
Peter Manley
Manley was christened 'One Dart' by commentator Tony Green after the 100/1 shot hit the winning double on a number of occasions with his first dart during his first televised appearance at the 1995 Unipart European Masters against Colin Monk.
"The MC Phil Jones told me to stick with it after I had lost at the World Matchplay to Jamie Harvey. Every time I got to a double the nerves got the better of me, and I missed a lot of one darts at the double quite considerably," he said.
"Jones said 'stick with it, it will frighten the players when you get that sorted out' and I eventually did. It was hard to do, but players were in awe because they knew that if they missed, I only needed one dart."
It became the norm for Manley to walk out to boos after he refused to shake hands with Taylor after losing the 2002 world final, but a change of music ensured they became more ironic and good-natured towards him.
"It stuck with me, but I'm not one of these Paul Nicholsons or Mervyn Kings by putting the earplugs in, I worked with it," revealed Manley. "I knew I could use these boos and put other players off. I lived with it, I worked with it, and I thought it was quite funny actually. It inspired me to go on and want to win.
"The walk-on changed from Chumbawamba's Tubthumping to Is This the Way to Amarillo after the wife watched Peter Kay and Tony Christie singing it on BBC's Children in Need.
"Wayne Mardle said dancing is the best way to come on, so I tried it and it worked well in my hometown in Carlisle in the Premier League. It stuck with us after that."
With Taylor stepping down from competitive darts, Manley admits world No 1 Michael van Gerwen will rule the roost and dominate Planet Darts, although he wouldn't put it past the 16-time world champion from dominating the Legends Tour in the not too distant future.
"Yeah, he will dominate, but he won't win anything like Taylor's success over the years. I haven't got a hatred for Taylor and he might even go and want to win the Legends Tour now."
Keep up to date with the news as the PDC celebrates 25 years on Sky Sports. So get all the latest at www.skysports.com/darts and join in the conversation @SkySportsDarts - don't forget to use #LoveTheDarts
Sky Sports Darts can be accessed across TV, online and via mobile and tablet devices with Sky Go. Non-subscribers can either enjoy one or seven days access to the Sky Sports Darts channel and Sky Sports other dedicated channels contract free on TV and a range of devices with NOW TV.