Chinese GP format to be unchanged despite Shanghai weather concerns
Race scheduled to start at 7am on Sunday; Saturday's qualy hour to begin at 8am; Hamilton had called for format to be ripped up
Last Updated: 08/04/17 6:13am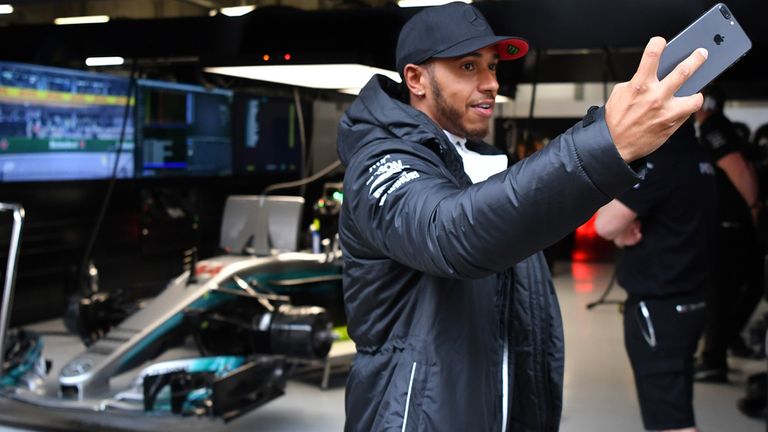 The Chinese GP will remain in its scheduled slot on Sunday morning UK time, despite Lewis Hamilton leading calls for the format to be dramatically revised, after Friday practice was grounded due to low-hanging clouds in Shanghai.
Sky F1 had been told moving the Grand Prix to Saturday was being considered following the abandonment of Practice Two on safety grounds.
But the practicalities involved in moving an event which will be watched by a television audience of millions worldwide at such short notice means the race will take place at 7am UK time on Sunday as previously advertised.
Saturday's qualifying hour, which will also be broadcast exclusively live on Sky F1, starts at 8am.
Delaying the race until Monday has also been ruled out because of the logistical demands of relocating to Bahrain, where F1 is racing next week in the second part of back-to-week event.
However, a meeting between the teams and Liberty Media, the sport's new owners, is expected to take place early on Saturday morning in Shanghai.
Chinese Grand Prix scheduled TV times
| | | |
| --- | --- | --- |
| Session | On air build-up | Session start |
| Practice Three - Saturday | 4.45am | 5am |
| Qualifying - Saturday | 7am | 8am |
| Race - Sunday | 5.30am | 7am |
F1 grounded in Friday Practice
Friday practice for the Chinese GP was abandoned with just 20 minutes of track action completed as the medical helicopter would have been unable to land at the nearest suitable hospital.
The sport's safety rules state that it must be possible for a driver who has suffered head injury to be transported to a hospital with the facilities to treat neurological trauma within 20 minutes.
But with the medical helicopter grounded because of low cloud cover in Shanghai, Practice Two was red flagged without a car making it on track. In total, six drivers failed to set a single timed lap on Friday, including Hamilton and Ferrari pair Kimi Raikkonen and Sebastian Vettel.
Conditions are not expected to improve significantly over the weekend, prompting speculation the scheduled format would be revised.
Mercedes driver Hamilton signalled he would also welcome this weekend's schedule being revised as he called on the sport's rulers to "find a solution to deal with weather issue".
Sat program: 3 practice sessions, qualifying Sunday morning and then race. Who's down for the switch up?

— Lewis Hamilton (@LewisHamilton) April 7, 2017
Seriously tho, this could actually be a blessing in disguise. A chance for new bosses to be proactive & be creative #switchitupF1 #bestfans

— Lewis Hamilton (@LewisHamilton) April 7, 2017
Watch the Chinese GP live only on Sky Sports F1 and in incredible Ultra HD! The race begins at 7am on Sunday. Check out all the ways to watch F1 on Sky Sports for subscribers and non-subscribers - including a NOW TV day pass for £6.99!
Sky customers can now upgrade to Sky Sports and get 12 months for just £18 per month. Upgrade now!