Singapore GP: Mercedes braced for 'tricky' test on Ferrari-friendly track
Ferrari endured a disastrous 2017 Singapore GP which ended their title hopes, but Mercedes say track should suit them this weekend
By Matt Morlidge
Last Updated: 06/12/18 10:33am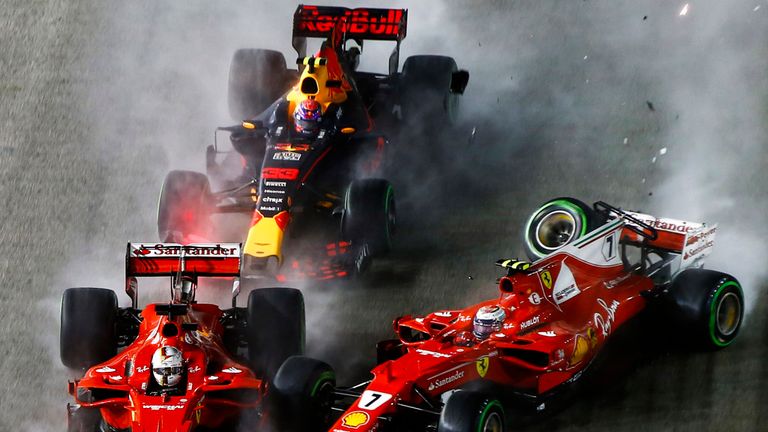 Mercedes are preparing for one of their "trickiest" weekends of the season at the Singapore GP, and admit the track should favour championship rivals Ferrari.
The world champions enjoyed a stellar last race in Italy; moving 25 points clear of Ferrari in the constructors' standings while Lewis Hamilton opened up a 30-point drivers' buffer over Sebastian Vettel to the dismay of the home fans.
And that was despite Ferrari once again appearing to possess the faster package.
"The result in Italy was a great reward for everyone in the team who has been working tirelessly to improve our performance," said team boss Toto Wolff.
"We knew that the race in Monza would be another big challenge for us, after the defeat in Spa, but we managed to prevail through a combination of individual skill and fantastic teamwork.
"However, we also know that we've been strong at Monza in recent years and the track characteristics make the Italian Grand Prix a bit of an outlier"
But this weekend's race should be an altogether tougher test for Mercedes as, like Monaco, it is a tight street circuit which has never truly suited their power-friendly cars.

Wolff continued: "Singapore, on the other hand, has features that we've struggled with in the past. The short straights, the slow, tight corners and the bumpy surface all make the Marina Bay Street Circuit one of the trickiest tracks of the season for us.
"In 2015, we endured one of our most painful experiences in recent years there. Last year, we started the race from the third row - and came home with a win and a third place.
"On paper, the track should favour the Ferraris, but the Championship fight is so close that predictions are almost meaningless."
Last year's Singapore GP was one of Ferrari's most disappointing races in recent memory.
Though Vettel started on pole, he crashed into Max Verstappen and Ferrari team-mate Kimi Raikkonen off the line and his title hopes were essentially ended as Hamilton, sixth on the grid, took an unlikely win.
Are Red Bull also in contention?
A narrow track not reliant on engine power should also give Red Bull a chance of claiming victory, something Daniel Ricciardo has failed to do since F1 2018's last street race in Monaco.
"As everyone knows, I love street circuits," said Ricciardo. "The feeling of driving on the edge, so close to the walls, is something you just can't get enough of.
"I've had four podiums and three second places in a row there [Singapore], so it's about time I win the damn thing."
Verstappen is also confident of challenging Ferrari and Mercedes, adding: "I think the whole team is looking forward to Singapore because we know we have a real chance to have a good result there."