Charles Leclerc replaces Kimi Raikkonen: 'Times are changing', explain Ferrari
Leclerc will partner Sebastian Vettel at Scuderia next year
By
Last Updated: 04/12/18 5:50pm
Ferrari had to look to the future in promoting Charles Leclerc because of the recent surge of young drivers coming into F1, according to team boss Maurizio Arrivabene.
Leclerc, 21 in October, will become the youngest Ferrari driver in half a century when he replaces Kimi Raikkonen as Sebastian Vettel's team-mate next season.
Leclerc replaces Raikkonen at Ferrari
Raikkonen, by contrast, will be the oldest driver on the grid next season by five years.
And Arrivabene has indicated the recent wave of young blood joining the grid was pivotal in the Scuderia's decision.
"Times are changing. The most important thing is to keep our DNA but also to look forward to the future," Arrivabene told Sky Sports F1.
"If you look at the situation in the paddock today, Red Bull took Gasly alongside Verstappen and McLaren have Sainz with Norris who is a rookie."
Leclerc is a graduate of Ferrari's young driver programme, and Arrivabene added: "Looking to the future, Mercedes making the choice two years ago [appointing Valtteri Bottas to partner Lewis Hamilton] they already have an advantage. The best way to be able to gain something is to make that choice and to grow up a talent that was born into the Ferrari driver academy."
Although Vettel has indicated his preference was for Raikkonen to be retained, Arrivabene says his driver's opinion carried no weight in the team's decision.
"Sebastian is our driver, he is not a team principal, with all due respect," countered Arrivabene." My job is to look at the overall situation, to discuss with my bosses, to give to them a long-term plan.
"When we were talking about the long-term plan, the decision is taken by the management and not by the driver."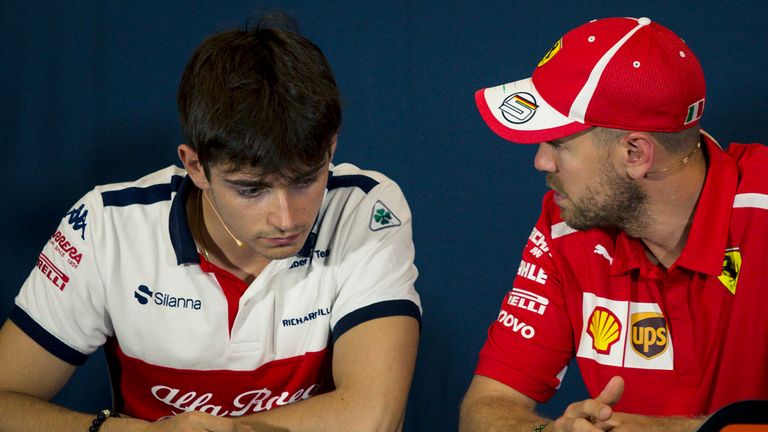 Leclerc ready to learn from Vettel
Leclerc, a former champion of GP2, has enjoyed an impressive debut season in F1 at Sauber.
Predictions the Monaco-born youngster would be promoted at Raikkonen's expense to a 2019 race seat with Ferrari have swirled for months. But Leclerc says he was only told of his promotion on the weekend of the Italian GP.
"Everybody in the paddock thinks l have known a long time but l only learnt last weekend in-between Saturday and Sunday," Leclerc revealed to Sky F1.
"Maurizio rang me that it was done. Before that, it was only rumours. The reality is that l didn't know anything and l was waiting on a decision from Ferrari.
"It feels incredible. It is crazy. Since l was a child, l have dreamt of being a Ferrari driver. It is probably the most wanted seat in the paddock."
Despite his close friendship with Raikkonen, Vettel has also spoken warmly of Leclerc. But while the youngster expects to learn from the four-time world champion, he doesn't expect Vettel to take on a mentoring role.
"As team-mates, it is difficult to act as a mentor. But we respect each other a lot and he has always been very nice with me," said Leclerc. "In the past, we have spoke a lot and we have a good relationship; I will definitely learn a lot from him because to be driving alongside such a champion is always very helpful for a young driver like me."
Who's racing with who in F1 2019?
Sky Sports F1 is the only place to watch every Formula 1 Grand Prix, qualifying and practice session live in 2018. Get Sky Sports F1.