Sergio Perez's Singapore GP battles may prove costly
Sky F1's Mark Hughes examines the Force India driver's battles in the Singapore GP and explains why they could spell trouble...
Last Updated: 04/12/18 5:50pm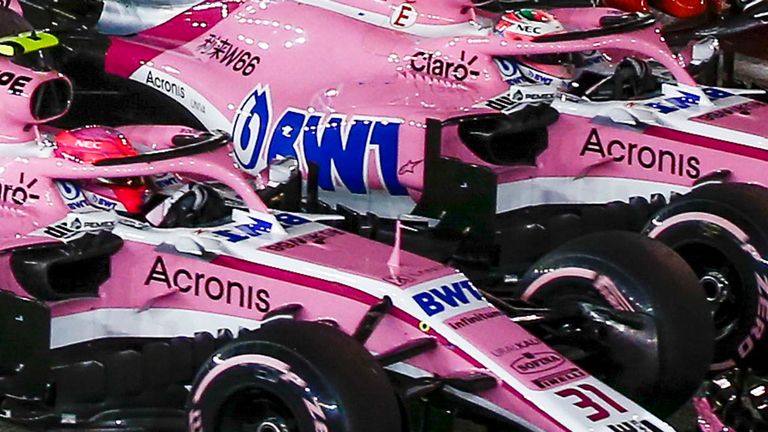 Sergio Perez made something of a splash in Singapore, but not in a good way.
After a collision that put Force India team-mate Esteban Ocon into the wall on the first lap, he was later given a five-second penalty for his far less ambiguous collision with Sergey Sirotkin's Williams.
Nudging Ocon may - as he insisted - not have been deliberate, but as Anthony Davidson's SkyPad analysis highlighted, the room for doubt is very much there.
Was that movement of the steering wheel to the right an oversteer correction, or a cynical shove to prevent Ocon getting around his outside and being in place then to have taken the position fully into turn five?
The Sirotkin incident came after many laps of Perez becoming increasingly frustrated at being stuck behind the very slow Williams. His radio messages suggested he was in a somewhat emotional state of mind about how his race had gone south, having in initially led the 'Class B' division until his hypersofts began to wilt before there was enough field spread for him to have cleared the slow cars after pitting.
Perez finally got a move going on the 33rd lap, but the tenacious Sirotkin retaliated at the next corner and the Force India was only slightly ahead when Perez simply turned sharp left into his rival, inflicting bodywork damage to the Williams and a puncture for himself.
For such an experienced and accomplished driver, it seemed a bizarrely hot-headed and immature performance, but a stubborn refusal to surrender space in battle has always been a trait and it's one that can still be uncovered in him in the heat of a moment. All the drivers have traits and peculiarities underlying their performances, revealed in moments of extremes - and this is one of his.
As an excellent points-harvesting machine of a driver, with a tough combative spirit - and the associated sponsorship money his high standing has earned him, he has been a super-valuable asset for Force India in its last few cashflow-challenged seasons. He's been a major part in how the team has kept its head above water financially - both through the direct sponsorship and his consistent ability to deliver the points that have contributed heavily to the consecutive fourth places in the Constructors' Championships of 2016 and '17. Those positions pay the team big money.
But his relationship with the team is not a conventional employer/employee one. As the agent of the sponsorship moneys he brings and the provider of the driving services, theirs is more of a mutually beneficial partnership.
Perez has brought a very high degree of value to the team through supplying both those services, especially given the team's otherwise vulnerable position. This mutual dependency has brought a certain degree of empowerment to his position. He has been much more than simply an employed driver at Force India. Hence, when push comes to a bit of wheel rubbing shove with whoever the team-mate might be, he's had no compunction about doing it (see most obviously Spa last year, but also several smaller incidents).
But that was all under the previous team ownership.
Under Lawrence Stroll, the finances have already been freed up and the team is set to expand. Obviously, any driver that can deliver performances of Perez's calibre and also provide useful sponsorship is super-valuable - but it is probably no longer absolutely crucial to the team's survival.
So the power dynamics have changed subtly. In the heat of battle with a rival from another team, all he has to answer to are the race stewards (and a drive-through penalty for the Sirotkin incident has to be considered lenient). But when it comes to fighting your team-mate, given that his future team-mate is potentially Lance Stroll, that first lap touch with Ocon could turn out to have been very expensive for him.

Read more from Mark Hughes:
Why is Sebastian Vettel making mistakes?