Sebastian Vettel 'gift-wrapped' F1 title for Lewis Hamilton, say papers
Monday's papers also claim championship was 'unfair fight' between Hamilton and Vettel
By
Last Updated: 04/12/18 5:27pm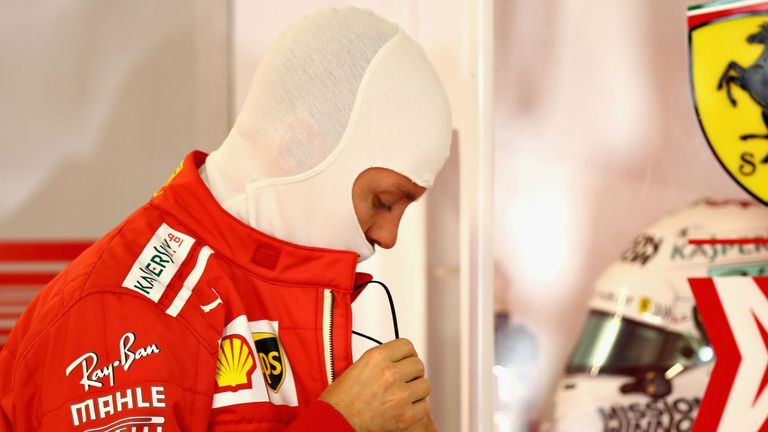 Sebastian Vettel has "gift-wrapped" the F1 2018 title to Lewis Hamilton with a string of high-profile driver mistakes, according to Monday's papers.
It is even claimed that Vettel's errors, the latest of which coming at the Japanese GP, means it has been an "unfair fight" between the two four-time world champions.
Hamilton has stamina for F1 marathon
Where did it all go wrong for Vettel?
Hamilton, winner of six of the last seven races, can claim a fifth crown at the next race in Austin if he outscores Vettel by eight points.
The Daily Mail. Headline: 'Hamilton's in a league of his own'
The Mail don't take it easy on Vettel after his lunge into Max Verstappen at Suzuka.
"It is a measure of Lewis Hamilton's total mastery of the track that Sebastian Vettel has been reduced to the type of self-damaging, gung-ho gamble that practically gift-wrapped the world title for the Briton here on Sunday," writes Jonathan McEvoy.
"The mistake reflected precisely the predicament weighing on Vettel's slim shoulders. Simply, Vettel cannot match Hamilton."
Vettel insisted that he did not regret the move, claiming the Red Bull driver was to blame, but McEvoy adds that the German was a "broken man" when speaking in the paddock afterwards.
He also described Vettel as a "four-time world champion being exposed as mortal".
The Telegraph. Headline: 'Hamilton profits from latest Vettel error'
Press Association writer Phil Duncan continues on that theme in the Telegraph, claiming Vettel's attempted overtake "smacked of desperation".
"It was his seventh mistake of an increasingly erratic campaign which has unravelled since the summer break," he explained.
The Sun. Headline: 'One-way traffic'
"Lewis Hamilton should be gearing up for the biggest battle of is Formula One career," writes Ben Hunt in The Sun.
"Instead, after a dominant win at Suzuka, he is coasting towards another world crown - with Sebastian Vettel's capitulation making this season's championship an unfair fight."
Ouch...
Hunt also claims Vettel's move was a "ridiculous dash" up the inside of Verstappen, and was "another spectacular example of just how Vettel crumbles under the pressure."
The Guardian. Headline: 'Hamilton closes in on title as Vettel falters under pressure'
Giles Richards adds to that theme in The Guardian, writing: "Certainly it is Vettel who has repeatedly faltered and Japan was no exception."
He also points to Ferrari's failings.
"Ferrari have arguably had the better car for the majority of the season, certainly it was quicker after the British Grand Prix," notes Richards.
"Yet Hamilton and Mercedes have repeatedly come out on top, with the Scuderia coming to look operationally flawed in comparison to the Mercedes machine."
He continues: "Ferrari have let this slip through their fingers."
The Times. Headline: 'Hamilton takes a giant leap towards greatness'
Rebecca Clancy focuses on Hamilton's form as the Englishman closes in on joining only Michael Schumacher and Juan Manuel Fangio as an F1 driver to claim five titles.
"Hamilton has made few mistakes this season and none of them have cost him early," she writes.
"With his ninth win of the season, Hamilton record the 71st of his career, 20 race wins shy of Schumacher's record. That figure had once seemed out of reach for any driver. Nothing seems beyond Hamilton at the moment, this championship least of all."
Sky Sports F1 is the only place to watch every Formula 1 Grand Prix, qualifying and practice session live in 2018. Get Sky Sports F1.