George Russell joins Williams for Formula 1 2019
British youngster to join Lewis Hamilton and Lando Norris on next year's grid; Williams yet to name second driver
Last Updated: 04/12/18 4:55pm
George Russell has signed with Williams for the F1 2019 season.
Williams have confirmed the British youngster, a Mercedes protege who is leading the F2 championship, will form one half of their driver line-up but have not yet revealed his team-mate.
Russell has signed what Williams describe as a 'multi-year' deal, with the length of his commitment likely to have been a factor in the team's decision to sign him ahead of Esteban Ocon.
Ocon, though, was among the first to congratulate Russell on his appointment, tweeting: "Well deserved and great news for our sport."
But Russell's own initiative may have been pivotal in his appointment, with the Norfolk-born racer revealing an opportunistic phone call to Williams set in motion the deal.
Sergey Sirotkin and Robert Kubica are the front-runners for Williams' remaining seat.
Russell's move means there will be at least three Englishmen in F1 next year, with the 20-year-old joining Lewis Hamilton and Lando Norris on the grid.
Williams will be hoping for a drastic improvement next season after a dismal 2018, and have utilised their Mercedes partnership to scoop a highly-rated member of the Silver Arrows' young driver academy.
Although their decision has seemingly closed another avenue for Ocon, with the Grove team believed to be favouring either current driver Sirotkin or reserve Kubica to partner Russell next year, the Frenchman is one of the drivers in contention to fill the vacancy.
Ocon, set to leave Force India despite an impressive two years, has held talks with Williams but they are unlikely to sign two Mercedes-affiliated drivers for 2019.
There are now just four seats up for grabs on next year's grid.
Lance Stroll, who currently drives for Williams alongside Sirotkin, is expected to join Force India next year after his father led a buy-out of the team.
What's being said about Russell's appointment
George Russell: "It is a huge honour to join a team of Williams' prestige and heritage. Formula One has been a life-long dream. From watching the races when I was a child, it feels surreal that I will now be lining up on the grid, alongside drivers whom I have admired for years."
Claire Williams: "We have always tried to promote and develop young talent at Williams, and George fits that ethos perfectly. He is already highly regarded in the paddock and a driver whose career we have been watching for a while."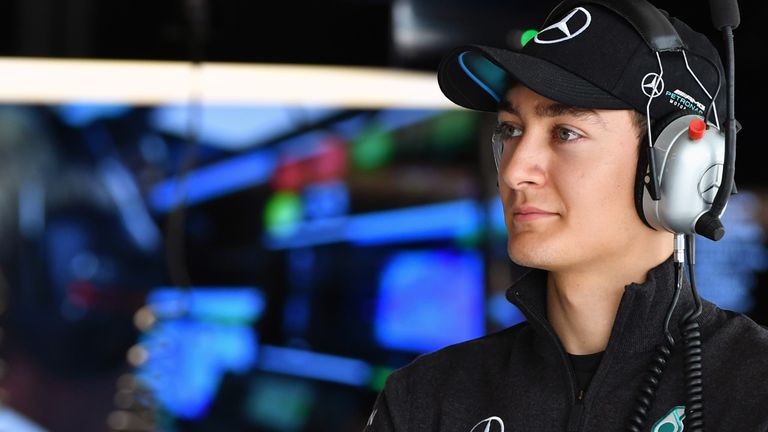 The rise of Russell
Russell enjoyed plenty of success in the junior categories even before he was signed to the Mercedes programme in January 2017 - but it's fair to say his career has taken off since then.
The Briton won the GP3 Series at the first attempt, and now leads the F2 championship by 37 points with just two races remaining despite fierce pressure from Alexander Albon and McLaren's Norris.
If he holds to win the title, Russell will join Charles Leclerc (2017) as well as, going back to when F2 was called GP2, Nico Rosberg (2005), Lewis Hamilton (2006) and Nico Hulkenberg (2009) as drivers to have won that series in their rookie year.
He has also impressed in an F1 car before.
Russell took part in two practice sessions with Force India at the end of last season, not finishing far behind his team-mate on both outings, while he has also had four official F1 test days with Mercedes.