US GP: Lewis Hamilton's title advantage after Vettel penalty
By James Galloway in Austin
Last Updated: 04/12/18 4:23pm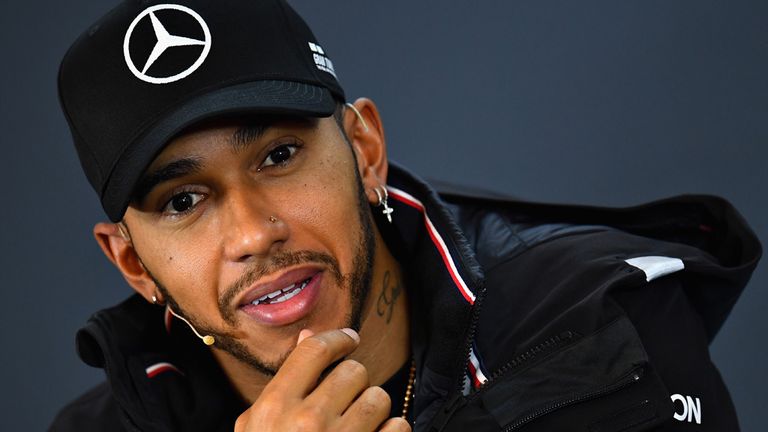 Lewis Hamilton's chances of securing a fifth world title in Sunday's US GP have increased after the opening day in Austin, despite the world champion himself barely featuring on track.
With persistent rain heavily restricting teams' running time in Friday's two practice sessions, Sebastian Vettel three-place grid drop for not slowing sufficiently for red flags proved the day's most significant event.
By contrast, title rival Hamilton's day was fairly uneventful - although the world champion still imperiously topped both wet sessions despite completing just nine laps in total.
He said those laps in the rain "provided a little bit of excitement" on an unusually quiet Friday at one of his favourite venues.
"It's not really been an eventful day - which is a shame because a lot of people came out today," said Hamilton, a five-time Austin race winner.
"The weather was miserable this morning; it looked like it was going to dry up going into P2 but then all of a sudden the heavens opened again.
"In P1 I only did a few laps because we need the tyres to last until P3 and there's very little to learn in the rain. In P2 I waited to the end before I went out to see if the track had changed or the tyres had dropped off a little bit for the next run from my previous laps. The car still felt good, but the track seemed a bit bumpier than in the past.
"Overall, I still enjoyed it - I love driving this track and it's great in the wet as well, so I got a little bit of excitement today."
While there is a threat of more rain showers affecting Saturday's qualifying day, forecasts for Sunday's race are far more favourable.
"I don't think that doing well in today's conditions is going to have a lot to do with winning the race on Sunday," said Mercedes technical boss James Allison.
What's at stake for Lewis
Sunday could prove Hamilton's latest date with the F1 history books.
The Englishman will clinch his fifth world title if he outscores Vettel by at least eight points.
Vettel's penalty means the Ferrari driver will start no higher than fourth on the grid, whereas Hamilton's form of recent weeks, in addition to the ease with which he topped Friday's times, makes him the clear favourite for pole position.