Sebastian Vettel admits survival strategy was key to snatching second at German GP
Vettel started day in 20th but ended with a fifth podium of the season
By Ben Grounds
Last Updated: 28/07/19 7:07pm
Sebastian Vettel admits his unlikely second place at a thrilling German GP was "about surviving" after an epic comeback from the back of the grid.
Max Verstappen claimed victory in an enthralling, rain-hit race as championship leader Lewis Hamilton finished 11th and his Mercedes team-mate Valtteri Bottas crashed near the end at Hockenheim.
Vettel finished second despite starting last, taking advantage of a disastrous afternoon for Mercedes at their home Grand Prix.
Vettel told Sky F1: "I was not so happy at the beginning, despite the first lap. I was a bit like, 'come on, you need to make some progress here otherwise the race will slip out on my hands'.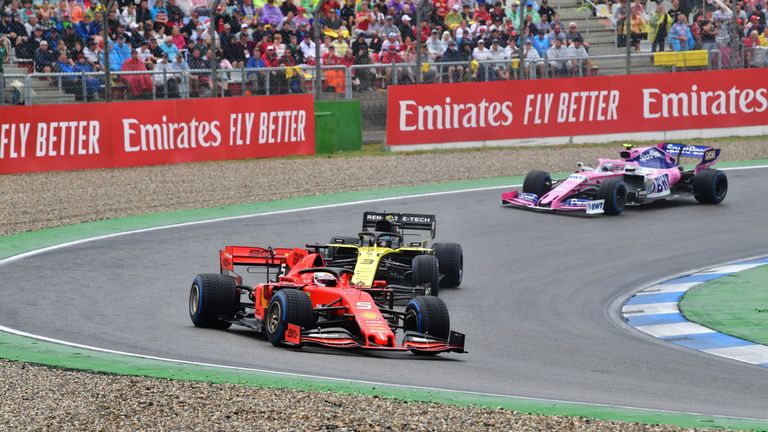 "But then all of a sudden the safety car came out and people were flying off. A lot of the time it was about surviving and pushing at the right moment.
"Eventually it was good that the afternoon took so long and I stayed tidy for most of the race. For me, it was just a case of 'go and get the next car, and then the next'.
"When it started to dry up and in the mixed conditions I started to feel confident. The first corner was very tricky and a lot of people went off, but I thought it was here where I had to hammer it as I felt good."
For Vettel it was a remarkable turnaround, and almost the opposite to last year when he crashed near the end after leading the race from pole position. He made six places on Lap One as a resurgent Verstappen hounded Bottas for second.
Lance Stroll eventually took fourth place ahead of McLaren's Carlos Sainz and Toro Rosso's Alex Albon, but it was Vettel who produced a very assured, calm drive on a damp track as those around him struggled.
Pitting under safety cars caused by spins and breakdowns proved the key tactic as shrewd stops took Charles Leclerc from 10th to the front-runners before the Frenchman crashed out of the race.
Vettel: I always felt there was more ground I could make up
With the track finally ready for dry tyres, Vettel vaulted into the podium positions to the delight of the Ferrari fans and the home crowd.
The German added: "I always managed to get good speed and get into the DRS to close the gap at the second corner and get in range so that I could pass on the back straight, and it was quite straightforward to pass.
"It was a long race with a lot of decisions to make, but overall I'm very happy. I could really feel the people as I was passing, they were jumping up.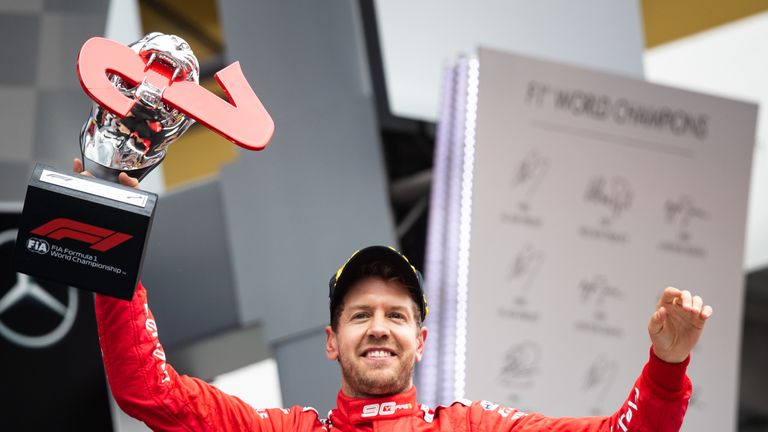 "I was really enjoying it but I had to keep my head down. On a day like this, it was two hours, thinking 'this is great'. If you're at the front, you want it to end, but I always felt there was more ground I could make up."
Ferrari team boss Mattia Binotto continued: "It was a very crazy, chaotic race. We're very happy for Seb. It was important for him to have a very good weekend here.
"It was very disappointing yesterday, but what he achieved from the back of the field is certainly a good boost for him. He's very happy on the podium, and we're very happy with him.
"I'm, sure it will help him in the next races. We're still looking for our first victory, so hopefully it will come soon."
Sky Sports F1 is the home of live and exclusive F1. Find out more here to watch the 2019 season live