Monaco GP: Charles Leclerc relying on Ferrari for shot at home glory
What chance does Monaco's very own have of getting in the victory mix? Sky F1's Mark Hughes assesses Ferrari's Principality prospects
Last Updated: 31/05/19 10:49am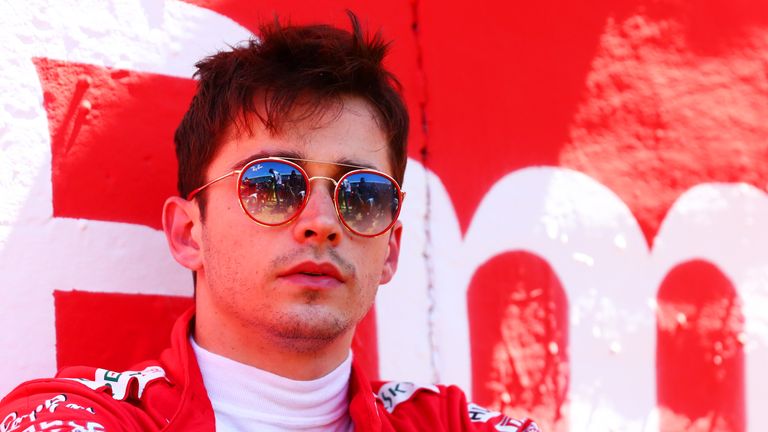 The ultimate fairytale Monaco story this weekend would probably be based around Monegasque Charles Leclerc taking his maiden victory in his sixth race for Scuderia Ferrari.
The chances of it happening that way look slim - and not because of any shortfalls in his own performance in his sophomore F1 season. He arrives at Monaco with only an electronics problem having denied him victory from pole in Bahrain; two races later he set the Baku track alight until his infamous qualifying crash there.
But the pattern of performance of his Ferrari to date suggests that the tight, sinuous Monte Carlo streets could have been specifically configured to expose his SF90's biggest weakness - its slow corner performance.
Leclerc's resonance with the track extends beyond it being set in his home town. His late father Hervé finished eighth in the 1988 Monaco F3 race here, the highlight of his racing career before devoting himself to helping Charles get established in the sport.
In the 2017 Monaco F2 race, shortly before his father's passing, Leclerc set a scintillating pole position and led the race going away until an unfortunately-timed safety car dropped him back and a subsequent suspension failure put him out.
Last year, he qualified his Sauber in Q2 and was going well in the race until a brake failure resulted in a spectacular collision with Brendon Hartley's Toro Rosso on the approach to the chicane.
Watch Part Two of this feature with Leclerc in Sky F1's Monaco GP Qualifying and Race shows this weekend as Ferrari's rising star shows us around his home town
Leclerc is quick pretty much everywhere but seems particularly attuned to street circuits hemmed in by walls.
But even those skills will probably be insufficient this weekend - unless Ferrari has made a breakthrough.
Its speed through the slow final sector of Barcelona - usually a good predictor of Monaco form - was a whopping 0.65s short of that of Mercedes. All season the car has been carrying an understeering balance that is particularly debilitating into slow corners. It's a weakness that has only been made more apparent by the rival Mercedes' ability to devour such corners with fantastic agility, particularly so for such a long wheelbase car.
It will also be interesting to see how the Red Bull stacks up around a track at which the team is traditionally super-fast - Daniel Ricciardo taking victory from pole here last year.
The RB15 has not been without its problems, with rear instability on corner exits being the main complaint from Max Verstappen and Pierre Gasly - but it has remained supremely fast under braking and into the corners, often the fastest of all.
At the least power-sensitive circuit on the calendar, a resurgent Red Bull would only add to Leclerc's challenge. It's not inconceivable that the Ferraris could be starting from the third row.
Being able to attack the entry to the slow, short-duration corners of the street track is a crucial part of building up the rhythm necessary to be quick around Monaco - and an unresponsive front end will be the last thing Leclerc will need in attempting to do that.
Speculation continues that Ferrari is working on an alternative front suspension that will address this weakness but even if true, will it be readied and made to work in time for this race? As things stand, Leclerc's best hope could well be the potential randomising of the race by the weather, with plenty of rain forecast for the weekend.
Back in 1996, over a year before Leclerc was born, Frenchman Olivier Panis grabbled the opportunity provided by the Monaco rain to win a grand prix for the first - and, as it turned out, the last - time.
Even if Leclerc could win it that way, it would be an enormously popular outcome.
Sky Sports F1 is the home of live and exclusive F1 - Find out more here to watch the 2019 season live