The British GP will remain on the F1 calendar at Silverstone after a five-year contract extension was agreed to keep the race at the iconic circuit.
The race's future was in doubt after the circuit activated a break clause in its agreement with F1 two years ago - and this weekend's grand prix was set to be the last unless a new arrangement could be found.
But a new deal to keep the sport at Silverstone until 2024 was finally confirmed on Wednesday as F1 chairman Chase Carey said that the event would be "staying at its longstanding home".
Britain staged the first F1 world championship race in 1950 at Silverstone, while the Northamptonshire track has been the permanent home of the event since 1987.
"We always have said that, if it to have a long-term future, our sport must preserve its historic venues and Silverstone and Great Britain represent the cradle of this sport, its starting point back in 1950," said Carey.
"Today, Formula 1 is a global sport, held on five continents, watched by an audience of over 500 million fans around the world and our aim is to grow this number by bringing the sport we love to new countries, while also maintaining its roots: Silverstone and the British Grand Prix are an integral part of that vision."
F1 agreed a deal with the British Racing Drivers' Club, the circuit's owners, and BRDC chairman John Grant added: "We believe Formula 1 is stronger with Silverstone and we believe Silverstone is stronger with Formula 1."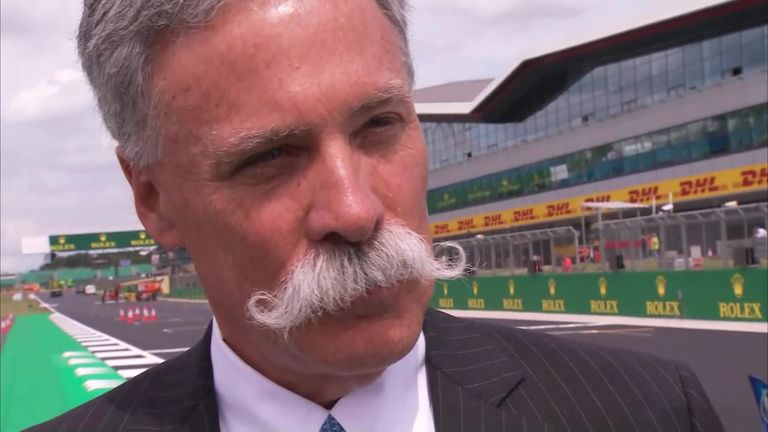 Great news for Silverstone and all F1 fans. Immense track, suits GP cars perfectly, and another massive crowd due this weekend, and for the foreseeable future I fully expect. Well done to all concerned. I believe that's what's called a 'no brainer'. https://t.co/se5wyqjs78

— Martin Brundle (@MBrundleF1) July 10, 2019
Great news on Silverstone F1 GP for next 5 Years. Well done John Grant, the board of the BRDC and all at Silverstone plus Chase Carey and Liberty Media for this agreement..

— Johnny Herbert (@johnnyherbertf1) July 10, 2019
The track will be celebrating its 70th anniversary of F1's first race next season.
F1 has stated that it wants to retain classic European circuits on the calendar, but the contracts for races in Spain and German are set to expire in 2020.
Lewis Hamilton, who is looking for a record sixth British GP victory this weekend, had previously described the Silverstone event as "a Grand Prix we can never lose".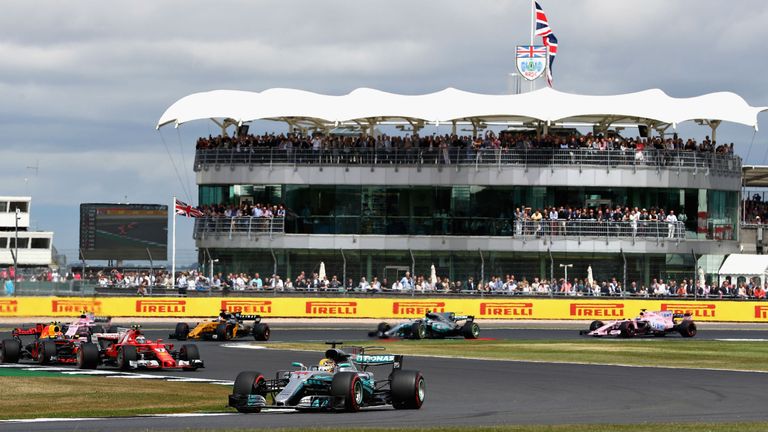 Could London race 'coexist' with Silverstone?
One of the major stumbling blocks for the contract is believed to have been F1's ongoing discussions regarding a London race - but Silverstone's owners say the new deal "protects our interests" when it comes to having two races in the UK. And they've even spoken about the races coexisting "side-by-side".
Grant said that while the BRDC were "concerned" about the commercial impact of a London grand prix, he recognised F1's desire to have 'destination city' races.
"We think there is room for the two races to coexist side-by-side as long as they had sufficient separation in time and as long as our commercial interests are recognised in some reasonably flexible way," he explained.
Carey, meanwhile, told Sky Sports News' Craig Slater: "We think clearly there are unique elements that would be involved in a London race. We look forward to continuing those conversations."
Which track has staged the most F1 races?
| | | |
| --- | --- | --- |
| Monza | Italy | 68 |
| Monaco | Monaco | 66 |
| Silverstone | Britain | 52 |
| Spa | Belgium | 51 |
| Circuit Gilles Villeneuve | Canada | 40 |
Sky F1's Ted Kravitz on Silverstone renewal
"It's fantastic news for British motorsport. Even the idea that the British GP might have been lost from the home of British motorsport at Silverstone was incredible. Thankfully Formula 1 and the BRDC have come to an arrangement.
"It's taken a year, a year and a half, and I'm sure the negotiations have been tough and uncompromising over several meetings. But it's great that they got it done because this is where all the teams are based, where you get these huge fans. It means a lot to the country and the region as well.
"It's up to Formula 1 to give the races to whoever they want so they had the edge, but they knew that it's possible, in fact probable, that we're going to lose Spain and Germany next year, in place of races in Zandvoort and Vietnam.
"Something's got to give. If you are going to lose Spain and Germany, you've got to keep some of the other marquee events and that was in Silverstone's favour."
F1 2019 heads to Silverstone this weekend for the big event of the motorsport summer. Join Sky Sports F1 for extensive coverage across nine live shows from Thursday to Sunday, when the race starts at 2.10pm. Find out more here to watch all the season live.