Mayo manager James Horan questions culture of drinking bans in GAA
Last Updated: 24/04/19 7:01pm
Mayo football manager James Horan has rubbished the concept of drinking bans for intercounty GAA teams.
The issue arose last week when Mayo star Lee Keegan questioned the culture around alcohol in GAA, lamenting how county stars struggle to lead "a normal life". Horan echoed Keegan's sentiments.
"If you need that sort of stance or position, I'm not quite sure where the motivation of the players is at," said the Mayo boss of bans on alcohol, which are far from uncommon at the top level.
"I'm lucky enough that the guys that I'm working with, this stuff never comes up. It actually never comes up.
"You are not going to train every day or prepare your body every day and then do daft stuff. You'll naturally or organically fall off a panel if that stuff is happening.
"It is not an issue for us. Maybe, I am just lucky as a manager to have such a motivated bunch. That's certainly where we are."
Player sacrifice has been a hot topic in recent times, with a GPA survey last September stating that intercounty stars spend up to 31 hours a week on sporting commitments, with many questioning if it is sustainable for amateur players on top of a full-time job.
"It's the wrongest word going," Horan said of the conversations around 'sacrifice'. "You ask any player, they love what they're doing.
"I think it's important that their work-life balance integration is right. We've tried to look at that and we've done a lot of good work with the GPA to make sure that's right for players.
"The age profile of the team we have, Seamie O'Shea is getting married on Friday, Chris Barrett got married at Christmas, Kevin McLoughlin is just recently married.
"There is a lot of that happening. You can't section away certain things; it's got to align as much as possible.
"We're very conscious of that."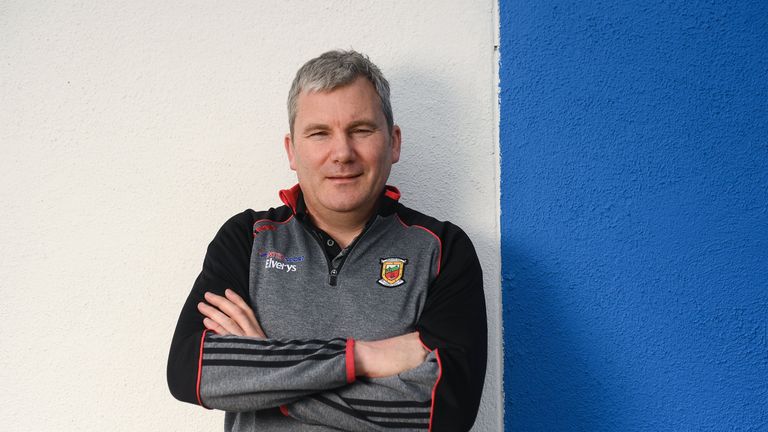 The Connacht side are currently preparing for the championship opener away to New York, off the back of a league triumph. After integrating a host of young talent into the side, they picked up a first national title since 2001.
"We were absolutely delighted to win it for sure," explained Horan.
"We got some new players in there as well, and that was more important than anything else, improving on those things and getting new players.
"Thankfully we got results as well, so it worked out a very strong league for us. We were delighted to get a national title.
"[We used] 35 players. It was not as strategic as you might think. You have a lot of injured players throughout a league, and you have Sigerson [Cup] and other things, so some of that is a necessity as much as anything else.
"But we certainly tried to get as many guys who were in form in training on to the field as well. It worked well."
Meanwhile, Mayo have relatively few injury worries ahead of the summer, with Seamie O'Shea and Cillian O'Connor on the comeback trail. Tom Parsons continues to make progress.
"Seamie O'Shea is making a recovery," outlined Horan.
"Cillian O'Connor had some game time with Ballintubber, a few knock and bangs but no far off. It's coming. You always want your injured players back quicker but you have to be patient with them too.
"Tom Parsons is making a good recovery. It's difficult to know.
"He's making huge progress. I know there are other guys who had similar injuries that are back playing at a professional level. Tom has got the best level of medical care going so he is working hard and every day he is making progress."