GAA dual players: A phenomenon consigned to history?
Derry's Brendan Rogers: "You might need a break, and you don't know how tired you can be...that mental strain while you're actually living your own life"
Last Updated: 31/05/20 11:43am
As Gaelic games have continued to evolve and modernise throughout the decades, one aspect which seems to now belong to the past is the concept of a dual player.
Once commonplace in the association, it would be frequent for players to represent their county in both hurling and football.
For example, Con O'Callaghan's exploits on the hurling field with Cuala in recent years are evidence enough to suggest that not only would he walk onto any county side in the country, but he would be the star man.
In a different era, the 24-year-old would perhaps be taking his place on both county panels. But it seems to be viewed as non-viable in Dublin - Conal Keaney, Shane Ryan, Tomás Brady and Mark Schutte all spent time on the two squads in recent years, but never on both simultaneously.
Of course, in 1990, Corkman Teddy McCarthy reached the pinnacle - becoming the first player to win Celtic Crosses in both codes within the same year.
In 1999, Seán Óg Ó hAilpín fell short in his bid to replicate his countyman's achievement, losing the football final. Two years later, Galway's Alan Kerins featured in both deciders, but the Tribesmen's hurlers were defeated by Tipperary.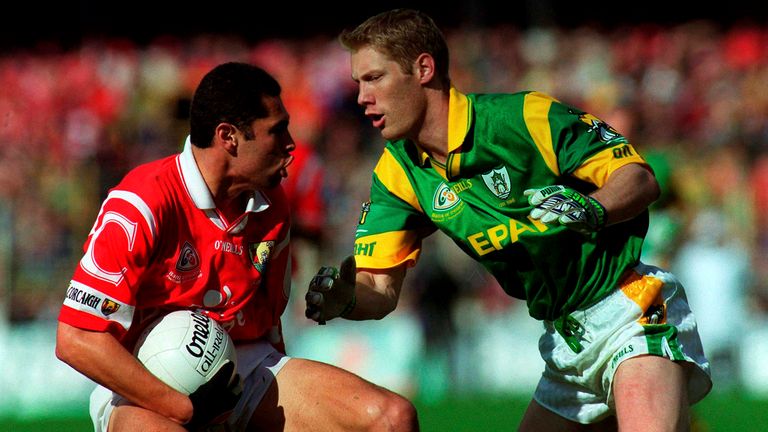 But 19 years on, it would appear that it's further away than ever from someone recreating McCarthy's feat. Growing demands ensure it's virtually impossible.
Playing intercounty requires a 31-hour commitment of your time per week on average, according to a survey in 2018, and that's only playing one sport.
Many have tried combining the two in recent years, but more often than not have given one up.
The reasons?
Physical demands, mental strains and logistical roadblocks are the most common which are cited.
The breaking point
"It's very logistically hard," Derry's Brendan Rogers told Sky Sports. The Slaughtneil man is one of the last players to have attempted dual codes, but hasn't represented the Oakleafers' hurlers since the 2019 league final.
"That was taking a mental toll. There was more than just going to training and recovering from training. There was so much more background of organising, and ringing people, [asking] when can I train and when can I not train. Can I go to this game? Can I not? If I play a football game on the Saturday, do I have to get in a car and go over to the hurling game on the Sunday?
"When really you might need a break, and you don't know how tired you can be...that mental strain while you're actually living your own life.
"I tore the sole of my foot. It's quite an unavoidable one on your day-to-day mobility.
"It got to nearly 10 months to get around that.
"It took me so long to get over that. It was so difficult from game to game to say how I was going to be fine. Some weeks I'd be fine, and then on other weeks it would flare up on me and I'd be out.
"I was starting to think, it is the body telling me it's too much?
"There was other factors - time - but ultimately when the body is telling you no, you've got to listen."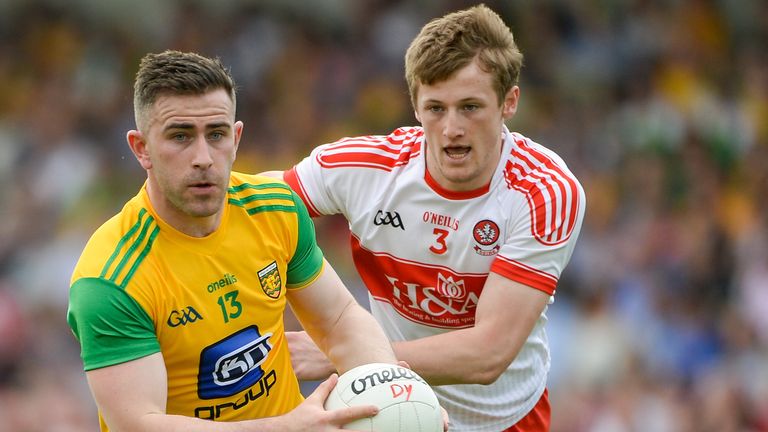 For others, their hand was forced earlier.
"The call was out of my hands," Ó hAilpín recalls. "Up to 2001, I was still trying to convince myself that I could do it. The hurling had been going fairly okay. In the football, I was still trying to establish myself. I felt like I could still, that was my goal to get on the two teams on a continuous basis.
"That was grand until 2001, I was in a car crash. I made complete smithereens to my knee. I was out for a year and a half.
"I was lucky enough to walk, let alone run after the car crash. When I harboured ambitions to the medics that I wanted to go back playing, they said 'look you can, but your days of doing X-amount a week are finished, that knee can only sustain X-amount'.
"So in a nutshell, not the way I wanted to call it, but it was the car crash that forced my hand. From then, it was an easy decision for me, because the hurling team back then always had a good crack of doing well in the championship.
"I had a lot of success underage, and had won an All-Ireland at senior in 1999. It was an easy decision for me to make to go with hurling."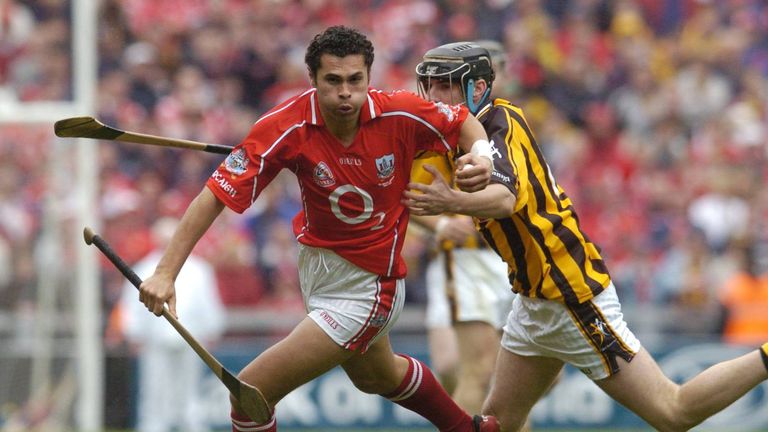 The mental and physical tolls of pursuing both codes are tough, but that's before you consider what the managers are looking for.
Podge Collins found that it all got too much.
"In championship 2016, Davy Fitz was the manager of the hurling [team] and my father was manager of the football. Obviously they wanted me to the best I could be for each team," Collins said in 2019.
"I like playing both. I've friends on both teams. It's something I always wanted to do.
"Although managers do care about the individual, for the most part, it's about the results and if you're not good enough, that's it. I wasn't able to give my full commitment. You're obviously missing trainings, because they're clashing on the same night.
"Both managers knew that me splitting my time wasn't good enough.
"The fixtures came out, and we'd Roscommon on the Saturday in the football and Galway on the Sunday in the hurling. I knew after that year I couldn't do both."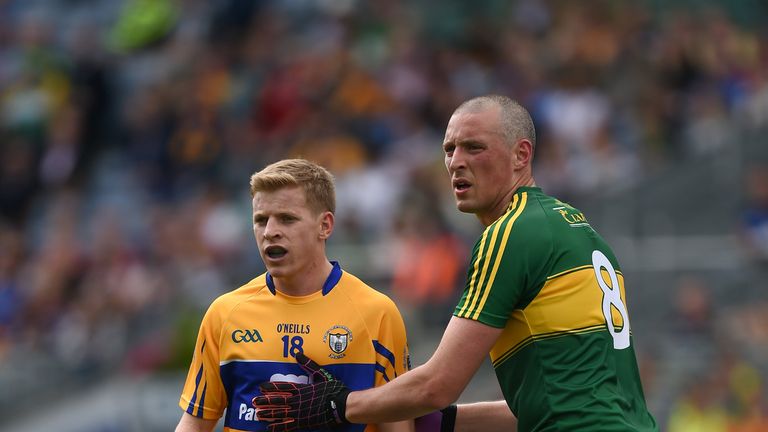 So how is it managed?
For those attempting to undertake the commitment, it requires clear communication pathways and an understanding between the two sets of management.
"I would have always wanted to play county. I never specifically said I want to play hurling or football for Derry," explained Rogers. "I was just fortunate I got to play both. I played hurling first for Derry. I started off just out of minor, I got the call from Ger Rogan to the Derry hurling team. And I played it for two years. Then Slaughtneil had a good run in the club football, and that's when I got the call about county football, and I transferred over.
"You get to the stage where you want to represent your county, and you don't care what code it is, because it's all for the same cause, of Derry."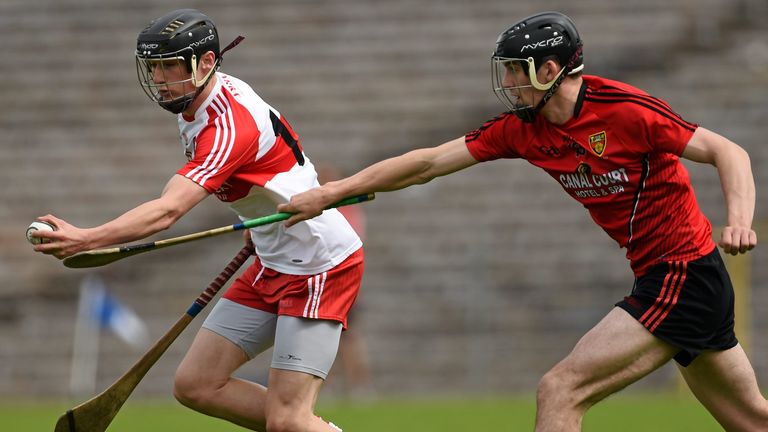 Under previous incarnations of the GAA calendar, it was perhaps more feasible for those who hail from predominantly-footballing counties, given the lower-tier hurling competitions were ran off before the big ball fully clicked into gear for the summer.
This benefited Rogers in 2017, as he helped the Ulster county to a Nicky Rackard Cup title.
"Given the position that Derry were in in the Nicky Rackard and things like that...fixtures fell into place really well," he explained.
"All we had to do was manage our own body between when we could play and when we couldn't. That was the only way it was possible - to have a primary focus of football, that's essentially what it was, what we'd committed to first.
"In the football, you get beaten and you're into the back door, and there was an opportunity to win a Nicky Rackard for Derry there.
"We took the chance with it. A lot of people weren't on-board with it, because they thought it would deter performance in football, and you're sort of taking a back seat for Derry football.
"It wasn't really the case. It's not often you get the opportunity to play as a dual player at county level, given that it's so hard logistically, because most championships are run very, very close.
"It's pure chance."
Battling on two frontiers
"I struggled to cope with it," noted Ó hAilpín.
"I wasn't getting regular football game-time, and any football games I did get, the performances weren't up to scratch. On the flip side to that, my hurling then was the opposite. I was getting regular game-time on the hurling team, I was enjoying a good bit of success, winning Munster Championships and All-Irelands, whereas on the football side, silverware was a bit thin.
"To be honest, even though the hurling was tipping along nicely, it was only when I stopped football - I didn't think my hurling could go up another few gears but it did.
"That was for the plain reason that I had more time to invest, more time to spend doing hurling, going full-time hurling, I took my game up to another few levels. If I was to still try and juggle the football, I don't think I would have reached those levels."
And it simply became too great an ask.
"I just think the reason why the dual player has become extinct is because you don't have enough time to spend with both camps," he said.
"When I started 30 years ago, it wasn't the winter training you see now. The winter training started after Christmas, in the early year in January.
"Now there's set-ups, they're getting back in October, and they put a huge emphasis on the three months before Christmas as a big foundation before the year.
"You could afford to jump from camp to camp to camp, because your body was able to withstand the demands back then.
"There's an expectation from a manager that they'll see players 100 per cent of the time. And if they don't see a player giving commitment 100 per cent of the time, it's an easy call for a manager. If it's a toss of a coin, who'd get picked or not.
"The training demands is a deterrent for players to not play the dual route.
"Hats off to anyone that still is!"
So is the dual player a phenomenon that will soon be consigned to the history books?
"In my opinion, as much as I like the romantic idea of a dual player, it's impossible at the very top level," said the Fiji native. "If you're playing Liam MacCarthy Cup and you're in the Super 8s in the football, it would be impossible."