GAA: Peter Canavan's team of the year
Last Updated: 20/09/17 12:51pm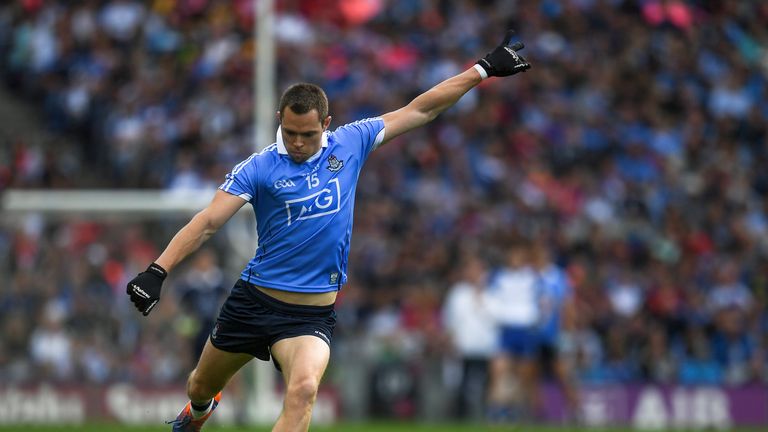 It was a fascinating end to a season that struggled to catch fire at times.
The Kerry and Mayo semi-finals were interesting, but, truth be told, Mayo's run this season was sensational and kept us all on the edge of our seats.
It's hard to come up with a best 15 at the end of it all but here are my thoughts.
Some players might be slightly out of position but I wanted to get my best team on the field.
Stephen Cluxton
Little doubt here. Record breaker. Leader. Captain. And I would say there is plenty more in him yet. Cluxton may have struggled with his kick-outs against Mayo but he was composed as the game went on and his shot stopping was sensational again.
Keith Higgins
Keith has consistently been one of the top performers in the game over the last number of years and his speed, dash, defending and bravery have epitomised this Mayo side over the seasons.
Johnny Cooper
In his interview after the All-Ireland final Johnny Cooper warned that Dublin were not finished yet. And Cooper is one of the reasons why they are not finished. Tenacious, attacking, and confident of his own ability in the air, he is one of the mainstays of the Dublin team.
Chris Barrett
Chris has been one of the unsung Mayo heroes but his All-Ireland final display catapulted him to a different level. Rock solid at the back, his tackling, blocking and turnovers were a textbook template for any youngster willing to learn the game.
Jack McCaffrey
It was such a pity that Jack had to go off so early in the final but his loss showed exactly what Dublin were missing. Until James McCarthy drove forward late in the game, Dublin missed those attacking runs from deep. A class act, Dublin always look likely to score more goals when he is there.
Colm Boyle
The man was taken off early again in the final but he looked to be limping as he made his way off. He was sensational for most of the season, a real bull in the heart of the Mayo defence and a player I have great time for. No nonsense, he is one of the most exciting players around.
Lee Keegan
So too is Lee Keegan who had another big game on the big day with a scorching goal and a great job done on Ciaran Kilkenny. Lee is a versatile player and he showed that more than ever this year. He saved the team's bacon against Roscommon and he had another brilliant year.
James McCarthy
James was one of those in contention for man of the match on All-Ireland final day and he weighed in with some crucial scores when it looked like Mayo could stretch ahead. He is not afraid of the physical battles but he looks so comfortable soloing forward and shooting on goal.
Colm Cavanagh
I know Tyrone malfunctioned against Dublin but Cavanagh kept going until the end. He did all he could to drag his team back into that game and he was their best player this year in many ways. Edges out Tom Parsons for this second midfield spot.
Con O'Callaghan
What a year for Con. All-Ireland titles at club hurling, under 21 football and senior football level. He will find it hard to every see a year as successful again. Two great goals in both the All-Ireland semi-final and final reminded us of the class he possesses.
Aidan O'Shea
His finest year in the Mayo shirt? Certainly right up there. Dominated the early stages of the All-Ireland final and was a colossus all the way through the game. Starred in several different roles this season.
Paul Mannion
Paul is an out and out finisher and from the start of the Leinster Championship he has been in clinical form. He is economical and clever in possession and he is not afraid to track back and graft either.
Dean Rock
The team depends a lot on Dean now and not just for his free-taking. His work rate and mobility have improved and so too has his accuracy from the placed ball. That is down to the huge effort he makes off the field in his preparation.
Paul Geaney
Is there a more exciting full forward out there? Paul was clinical in Munster and he always looked lethal when he got on the ball in 2017. Can make scores out of nothing and is a joy to watch.
Andy Moran
Andy is up there for Player of the Year, no doubt about that. It was his best year in a distinguished innings in the green and red shirt. Clever, sharp, good off both feet, he never stopped making runs for his teammates and that work rate ensured he enjoyed a prolific year.