Peter Canavan column: Tyrone showing promising signs
Last Updated: 10/05/19 12:36pm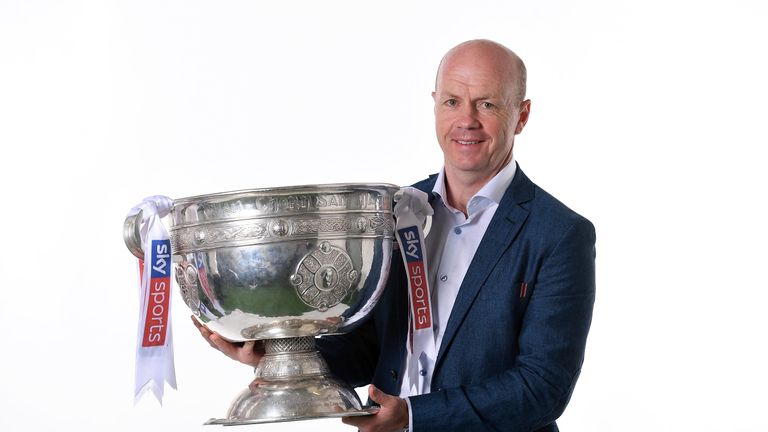 Sky Sports GAA analyst Peter Canavan looks ahead to the weekend's Gaelic football action.
I expect Tyrone to come through Sunday's clash with Derry. It's an Oakleaf team that are very much rebuilding. Damian McErlain is working for the future.
Derry are a team that you'll see competing in two or three years' time. They've made progress this year. They're winning matches, and appear to be enjoying their football. They'll be competitive, they have quality and experienced players.
But the bottom line is that Tyrone should have enough. I expect a close enough first half, but I'd be expecting Tyrone to pull through with something to spare in the second half.
We saw the good and the bad of Tyrone during the Allianz League.
In their first two or three games, they were lethargic. There was no spark about them. They looked like a team that was still enjoying their holiday. It took three or four games until they really clicked into gear. And they had to, as they were looking at relegation after the first couple of games. But they kicked into gear and they did so in style.
The Red Hands did so by kicking the ball and moving it much quicker than they have in previous years.
The inside men in particular have been very effective. The mark helped Cathal McShane, but Mattie Donnelly has also been very effective as a target man. The fact that Tyrone are kicking the ball in much quicker is giving them another dimension moving forward.
The performance against Monaghan in Omagh, in particular, was first-class. They went down to Croke Park and beat Dublin.
Against Galway they had to come from behind, and dig deep to finish the Tribesmen off, which they did in style.
The second half of the league was very promising from a Tyrone point of view. The break probably didn't come at a good time for them, as they were building momentum. Certainly, we're looking for an exciting performance moving forward. We know what they can do defensively. But again, we're now getting our scores from different methods of play, and that's something I hope will continue in the championship.
Super 8s contenders
This weekend, Kildare, Meath and Roscommon are among those to kick off their summer campaigns.
The Lilywhites need to build on last year when there was very little expected of them. This year is different. They have quality players, they are a physical side in terms of their physique. They have a lot of tall players and a lot of ball-winners. They would see themselves very much as a team who would be able to compete in the Super 8s.
Upcoming live GAA games on Sky Sports
| | | | |
| --- | --- | --- | --- |
| Kilkenny | vs | Dublin | Leinster SHC |
| Cavan | vs | Monaghan | Ulster SFC |
| Mayo/New York | vs | Roscommon/Leitrim | Connacht SFC |
| Cork | vs | Waterford | Munster SHC |
As for Meath, they're probably one of the most improved teams. Not too many at the start of the year would have said that Meath would have come out of a very competitive Division 2. They've done that, and their performance for long periods against Donegal in the Division 2 league final would tell you that they're a team who can move the ball much better, they're able to get scores.
The way the Leinster draw worked out, the Royals are expected to get a rattle at Dublin in the Leinster final. I think in terms of reaching the Super 8s through the qualifiers, it's an advantage for the team who lost the provincial final. So Meath will likely play Dublin, that will mean they'll only have one game to play in the back door. With the right draw, they've every chance of getting there. So I would think Meath are in pole position to do that.
There are seven teams who are very strong and I'm sure will make the Super 8s. They all play in Division 1. That last spot will be closely fought over by three or four sides, and Meath and Kildare will certainly be in that mix.