A question of nerve
Reporter Tim Barter marvels at Augusta's contours - and explains the art of sensitive interviewing...
Last Updated: 06/04/11 9:14am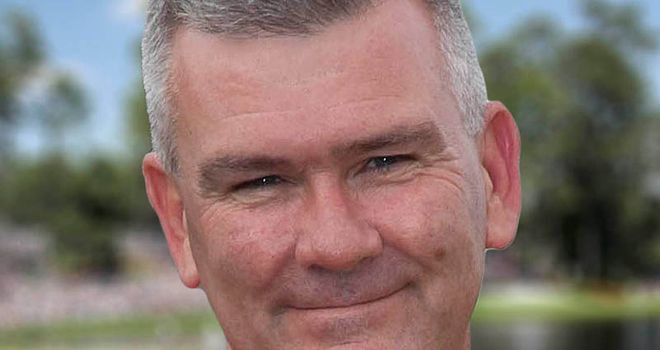 This year you can watch the Masters like never before in the company of Sky Sports' esteemed commentary team.
In part five of our 'My Masters' series, Tim Barter marvels at Augusta's greens and explains the art of sensitive interviewing...
skysports.com: How is your Masters schedule shaping up?
Tim: I'll be interviewing the players pre-tournament, to get some feature material for our Masters preview show, and then I'll catch up with them pre-round and post-round once the competition is underway. It's a great job and one that I enjoy very much, although very different from walking the course and commentating on the players as they go round.
skysports.com: Do you spend a lot of your time treading carefully?
Tim: I'm lucky enough to have built up a good relationship with the players and an understanding of what mood they are likely to be in. Every player is different so you need to have an appreciation of what to ask them when, which ones will give you an honest appraisal, and who would rather avoid the fact that they've had a horrible day. Obviously, you base the questions accordingly. After being on Tour for so long, they know they can trust me and that I'm not going to ask them ridiculous questions!
skysports.com: In your role as a coach, what makes the Masters so special?
Tim: The challenge that the manicured course presents is unique, in particular the greens which are incredibly quick. It asks questions of the players that they don't get asked anywhere else. They have to be very astute tactically. Some of the guys say they are still learning about the course some 10 or 15 years after they first played there. Your course management has to be spot on to the point where you say 'when the flag is back left at nine, you don't hit it there and you don't hit it there'. It's very much a game of chess; if they hit it 20 yards short and right of the flag at nine, they've meant to do that. They didn't mean to go at the flag because it's too dangerous if they miscue.
The Masters also has its own special atmosphere, in part because they don't allow anybody within the ropes apart from the player and the caddy. That gives it a very clean feeling - there is only a man, his bag and the caddy. It is also unique in the fact that it is a major that is held at the same course each year; going back year after year stirs up all of the memories that have amassed down the years, for example the Sunday charges that we've seen. A few years ago they perhaps made the course slightly too difficult; they've rethought that now because they like the fact that a guy can be six shots behind with nine holes to play and still have a chance of winning. That wasn't the case when the golf course was too difficult, therefore an element of the atmosphere was lost. Part of the magic of Augusta is when someone eagles 13 and then birdies 15 on that final afternoon and suddenly they are challenging for the lead.
skysports.com: Have you played there?
Tim: I've been there a couple of times but never to play. I managed to wangle a couple of tickets for my 40th birthday, which was brilliant; one of the things that struck me first of all was how different it looks when you get there from how it appears on television.
Ten years ago we'd seen relatively little of the front nine on television, so I decided to walk around the back nine because the holes are more familiar and I wanted to see what they looked like in reality. When I saw the 18th green I couldn't believe it and said to my wife 'they've halved it in size - why have they done that?' So I went and found a member and asked him and he told me the green was the same size it had always been - it just looks twice as large on TV!
I also couldn't believe the changes in elevation, which were twice as dramatic as I'd imagined. The undulations are something that 3D will highlight incredibly well.
I walked off the 17th tee for about 100 yards and looked to my left and there was a tiny, tiny green which was incredibly undulating and I thought 'that must be the par-three course'. So I walked through the trees and found a green the size of a handkerchief but I couldn't see the tee. So eventually I enquired and was amazed to be told that this was the seventh hole of the main course. At that stage it was a drive and a wedge par-four and the green would seem to be sloping unbelievably for a hole of that length; now it's a drive and a mid-iron! The size and the slope of the greens are beyond your comprehension until you see it.
skysports.com: Is there a Masters moment that sticks out for you?
Tim: Jack Nicklaus was my hero growing up - he was the guy who was setting all of the benchmarks that players still aspire to. His Masters victory in 1986 remains the most remarkable thing I've seen in golf. To mount a back-nine challenge in the way he did at the age of 46 was absolutely incredible.
I went and watched Jack as a spectator in 2000; in the first round he drove it into the left-hand rough on the seventh and was under some trees with little option but to run it up the path, which was only three-and-a-half feet wide. Needless to say he did it and the crowd went completely nuts. On the following day he found the right-hand rough on the same hole, but he improvised again and ran the ball up a two-foot wide path and onto the green again. If you had a million attempts, you wouldn't be able to do it. Jack was laughing as he walked up to the green because he knew what a special shot it was.
The other one that sticks with me is Jose Maria Olazabal's win in 1999. I got quite close to Ollie at one stage and he told me how he was crawling to the bathroom on his hands and knees because he couldn't stand on his feet. I was in floods as he went on to win his second Masters only a couple of years after he'd been through that.
skysports.com: Who do you think will lead the European challenge?
Tim: The usual suspects. Only an inspired Phil Mickelson stopped Lee Westwood last year. Lee's traditionally a slow starter and he's been building towards this Masters ever since the PGA last year. I've got a feeling he will come out firing and launch another strong challenge.
Kaymer is an interesting case because he's one of the most talented golfers you'll ever see in your life but he moves the ball from left to right in the air, which doesn't suit Augusta. He's been there three times and missed three cuts, so he's been learning how to draw the ball. That's quite a big challenge for him but if he learns to do it he will be another big threat because his mental capacity is incredible and every other department of his game is stunning.
Rory McIlroy hits the ball left to right naturally so Augusta is a perfect golf course for him but I just wonder whether his chipping and putting is as sharp as it needs to be. You have to be in control of your trajectory and your spin around the greens at Augusta to have a chance. When Rory's hot, he's hot and he could easily win the Masters if he got in one of those hot modes but sometimes the putter is a bit cold, so we'll just have to see.
Normally you would look at Luke Donald and think the Masters golf course is too long for him but he is getting a little longer and his short game is sharp too, as he proved at the WGC Match Play. He is somebody you look at and think that with his consistency he should be challenging. Graeme McDowell has to be in there as well; he moves the ball to right left, he's a great putter and has a fantastic temperament.
I've got a strong feeling we are going to see one of those players put on the Green Jacket this year because Mickelson isn't at the top of his form and while I'm expecting quite a lot from Tiger Woods, it would take an exceptional effort from him to win it because his game is still in transition in a technical sense and he is still overcoming the barriers he's had in his private life as well. The Nick Watneys, Dustin Johnson's and Hunter Mahans will do America proud but I wouldn't be surprised if there weren't at least a couple of Europeans in the top five, nor indeed if one of them went on to win.
Click here to find out how to watch the Masters in HD, 3D and behind the red button.